Whether you have taken my mini-training on amla by subscribing to my newsletter or not, you are here because you are wondering where to buy amla oil, powder, food, etc. and what form to use.
Thanks to a question from one of my readers, I had the idea of listing in this short article the best uses of amla.
You will find both the use, the best product and the link to buy it.
Check back regularly for new information and updates.
Combine this information with your own experience to find the use that suits you best.
Click here to download the FREE amla PDF to find out which product to use for which benefit!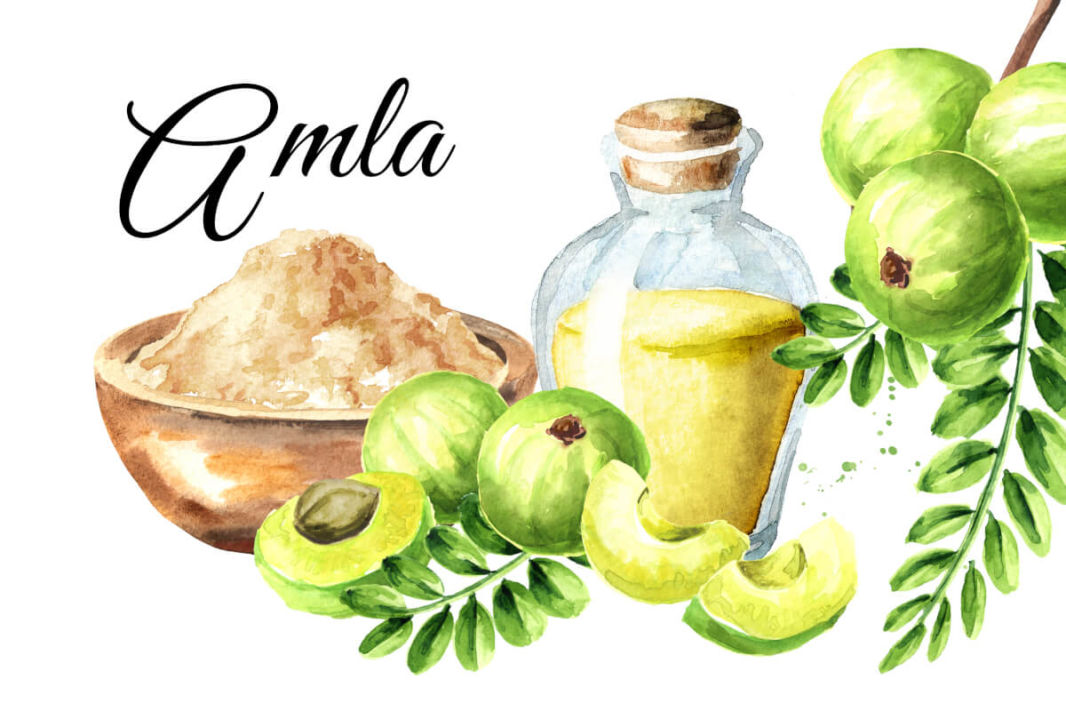 Amla oil for dark hair.
For dark hair, nothing beats an amla/coconut oil mask twice a week the day before your shampoo.
Simply mix the two oils in the palm of one hand and insist on the most fragile parts, usually roots and tips.
You can order these two oils in organic version below, either by clicking on the photos or using the text links.
For more information on amla oil for hair, read my article here or my video article here
amla powder mask against white hair.
In addition to oil masks, if you have white hair, you can use amla powder to cover it.
Prepare a green or black tea, add amla powder and boil to thicken the mixture. Leave to cool and then apply to hair after adding coconut oil to the mixture. Leave on for at least 30 minutes before washing your hair.
I recommend the powder below since it is both organic and edible.
For other uses of amla powder, especially for the face and health, see my article here
Kachur sugandhi oil for light hair.
For light hair, use kachur sugandhi oil instead of amla.
My fair-haired readers are very happy about it.
Do not hesitate to mix with coconut oil to see if the result is even better.
Use kachur sugandhi oil in the same way than amla oil, twice a week, as a mask the day before your shampoo.
You will find below an organic oil.
Amla oil to preserve skin youth.
Amla is the fruit containing the most antioxidant in the world.
Instead of your serum or anti-aging cream, you can completely use the organic amla oil, alone or in addition with other oils such as argan oil. You can even add hyaluronic acid. It dilutes very well in the oil. Let your imagination run wild and create your own serum recipe inspired by those currently on the market!
You will find organic amla oil in the dark hair section. Below you can order the hyaluronic acid and argan oil.
For more information on all the virtues of amla for the skin, please read my article here
Chyanwanprash or amla caps for health.
To boost your immune system, use Ayurvedic marmalade with amla, chyawanprash, or amla capsules. These two products can be used as a cure.
You can order either by clicking on the pictures below or on the text links.
To learn more about amla for health, including its anti-cancer and anti-diabetic properties and all the scientific studies on the subject, read my article here
You can also read this article to know how to use amla tablets
Amla juice for diet.
My Indian friends who want to regulate their weight do regular amla juice cures. It's very effective.
Be careful however, dilute the juice well with water. You can also cut it with other fruit juices because the taste is not very pleasant.
Amla juice, drunk on an empty stomach at breakfast, will allow you both to regulate your weight and to nourish your body from the inside (thus your skin and hair, as well as your immune system).
Conclusion – Where to buy amla and why.
You now know the best use for each cosmetic or food form of amla, and where to buy amla.
Feel free to send us your feedback and tips on how to use them!
This article contains compensated links. As an Amazon Associate I earn from qualifying purchases. Consult the disclaimer on the site for more information.
Save on Pinterest for later.