In this Bali travel guide, I share with you the best things to do in Bali Indonesia, through my opinion and a few anecdotes.
After a few days in Java during my first independent trip in Asia, I went to Bali on a road trip.
In this travel guide, I will tell you:
why I chose to visit Bali.
my itinerary in Bali.
my favorite places to visit in Bali and accommodations.
my best and worst memories.
my general opinion about Bali…
Why did I choose to visit Bali island?
In my review of Java, I explained why I chose Java and more precisely Indonesia. But there was also a particular reason to choose Bali…
You have surely heard of the nickname of Bali: the island of the Gods. As much as the nickname of "land of smiles" is overrated for Thailand, the nickname of Bali fits like a glove!
And for a lot of reasons: the religion, the religious processions at every street corner, the temples everywhere, the colors, the scents of flowers, the magnificent offerings, the sweetness and the beauty of the Balinese, their slow gestures…
In summary, for my first time in Asia, I dreamed of a tropical, lush and colorful change of scenery. Bali has fulfilled me!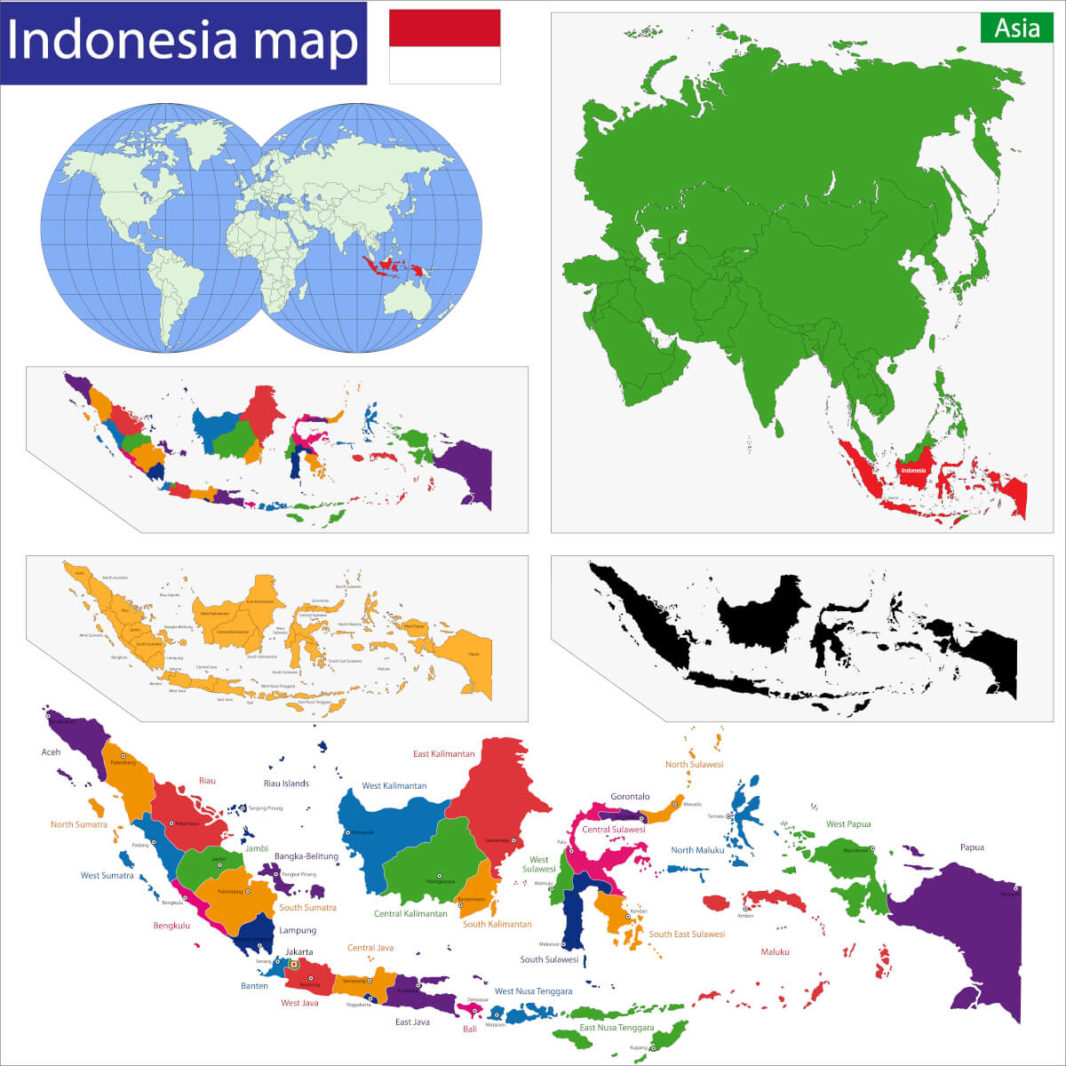 For which type of travelers?
Bali is accessible to all travelers with some knowledge of English, as is Java.
In particular, Bali will interest :
Independent travelers looking for a first destination outside Europe where it is easy to travel without a tour operator – ditto Java.
Lovers of preserved and rich culture.
Lovers of nature, splendid landscapes, rice fields, waterfalls, volcanoes, walks in the nature.
those who like small traditional villages, taking their time, talking with the population, attending religious celebrations…
for its architecture, sculptures, paintings, handicrafts.
for its food, always nicely presented and served.
for the temples and their atmosphere.
those who want to travel by scooter – but beware of the many accidents.
those who want to discover paradisiacal beaches.
divers and surfers.
party people in the south: beaches, night clubs, etc. You won't find anything about this in this article, it's not my thing at all.
Bali is ideal for honeymooners, lovers, families, friends…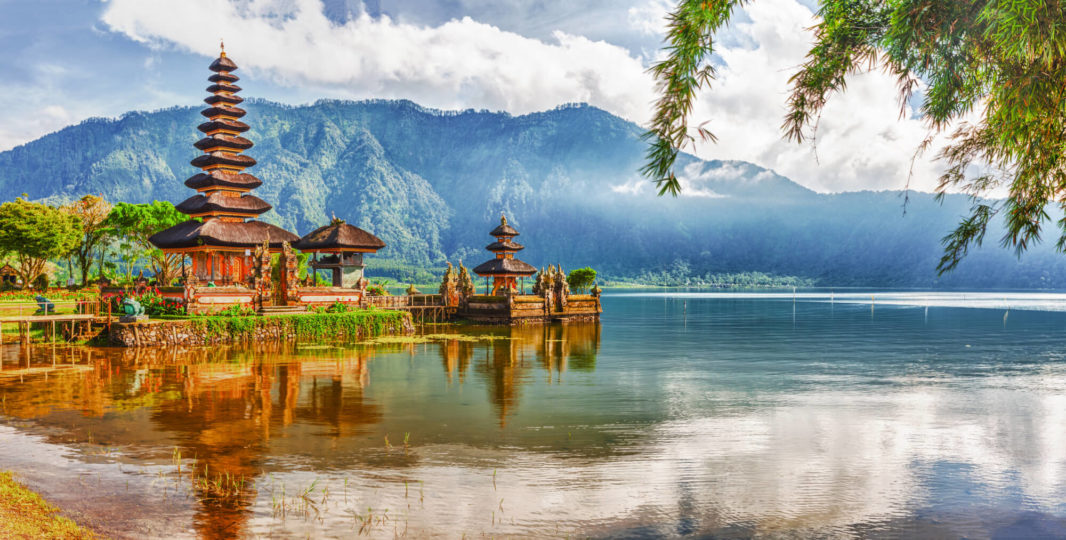 My road trip in Bali.
If you look at the map of Bali, you will see that the island is quite extensive.
We can schematize as follows:
The west is very wild and less explored, with a national park and mountains. I really regret not to have traveled by day in this region to reach Ubud!
The North, rather mountainous, with notably Munduk.
The East, with beautiful quiet beaches and ideal water for diving.
The cultural center, with Ubud.
The South of the party people, with Kuta and Sanur.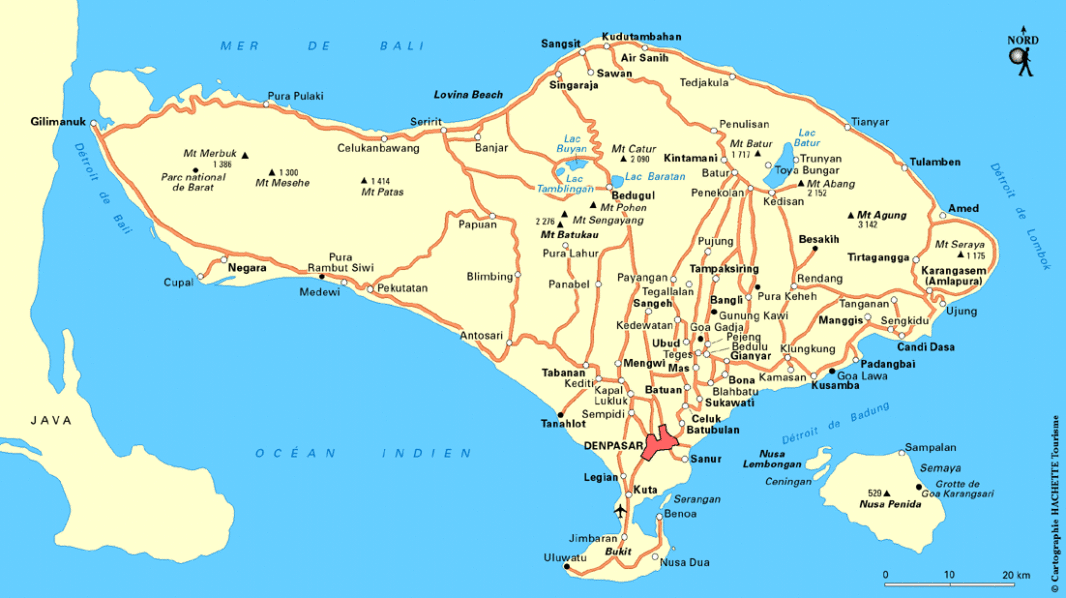 Arrival in Ubud in the middle of the night, in a heavenly guesthouse with a view on the rice fields, the jungle, and very traditional.
Day of relaxation (internet, laundry, etc.) and preparation of the next days (car rental). Improvised excursion in the jungle near the guesthouse for me…
Road trip to Padangbai, making several stops to visit (Tirta Empul in Tampaksiring, Penglipuran Bangli). Night in Padangbai.
Road trip to Amed, with several stops to visit (Tirta Gangga). Two nights in Amed and meeting with Ketut.
Road trip to Munduk. Hiking in the jungle with the children, waterfalls, etc. Night in Munduk.
Road trip to Ubud, via Lovina and hiking to Buyan and Tamblingan lakes, Bedugul, Batuan.
Stay several days in Ubud.
Departure to Denpasar airport, with a stopover at Tanah Lot.
Best flights to Bali.
A few years after my trip, a student I was training for the season wanted to go surfing in Bali.
I recommended her a round trip flight from Paris to Bangkok with Qatar Airways, then a flight from Bangkok to Denpasar with Air Asia. At the time (2010 I would say), Qatar Airways was offering a Paris-Bangkok promotion at 302€. She was traveling in September. Her return flights from Paris to Bali, including surfboard, cost her about 400€!
You can also check out the flight deals to Kuala Lumpur. Bangkok and Kuala Lumpur are the two hubs for Asia.
Click here to share availability and prices for your trip
My favorite on the island of Bali.
My stay in Ubud!
Thanks to our meeting with Ketut in Amed and the discussion that followed – we explained that we did not like Ubud, too touristy – we have discovered the Balinese culture in depth. I attended his wife's and other family members' tooth filing and their big birthday party.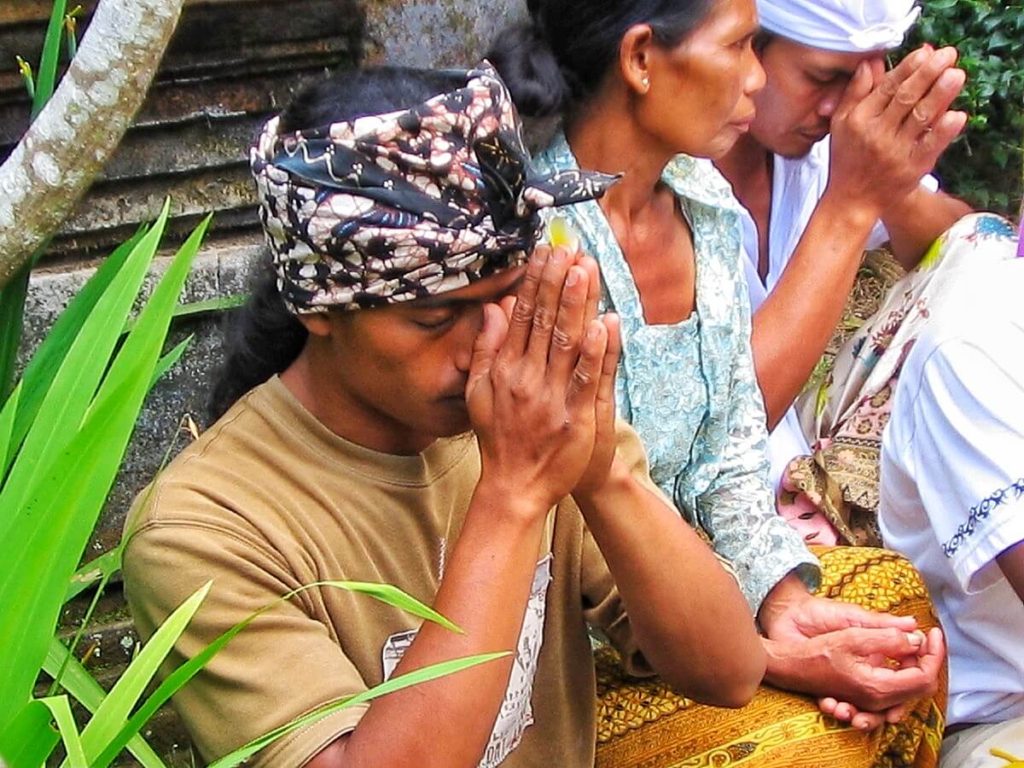 My best things to do in Bali.
I do not give any order of preference or visit.
Tirta Empul in Tampaksiring:
the bath of the devotees in the pool of sacred water.
scenes of prayer and preparations for offerings.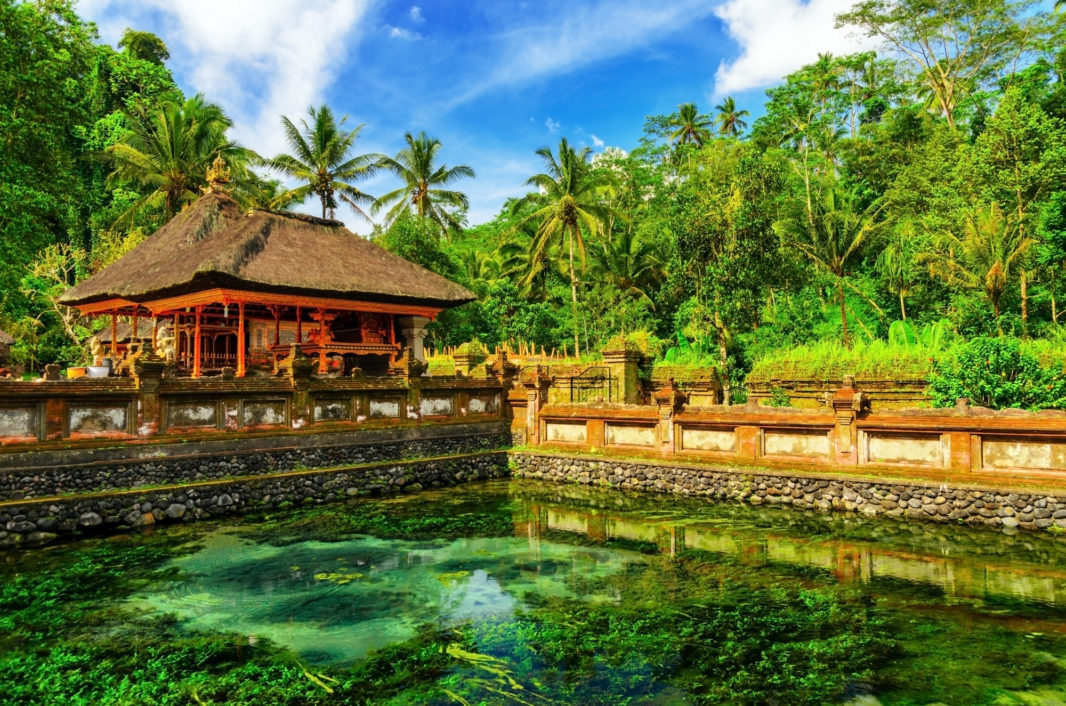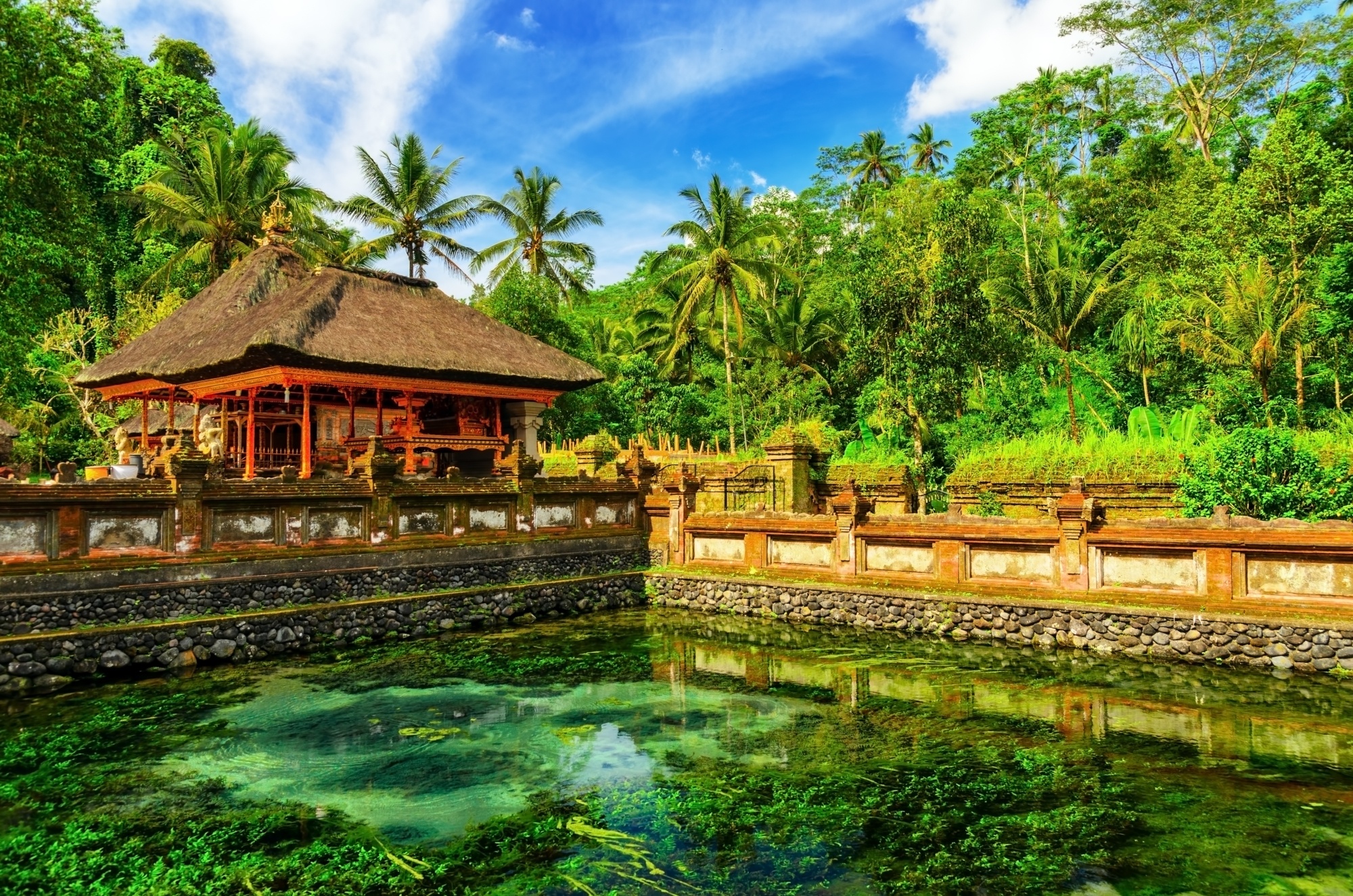 The village of Penglipuran Bangli:
its preservation of the traditional life.
its houses.
its incredible cleanliness.
the women carrying the offerings on their heads to the temple.
What we learned about traditional funerals in Bali.
Taman Tirta Gangga Karangasem:
the beauty of its location.
the pond on which you can walk.
the magnificent statues on the water.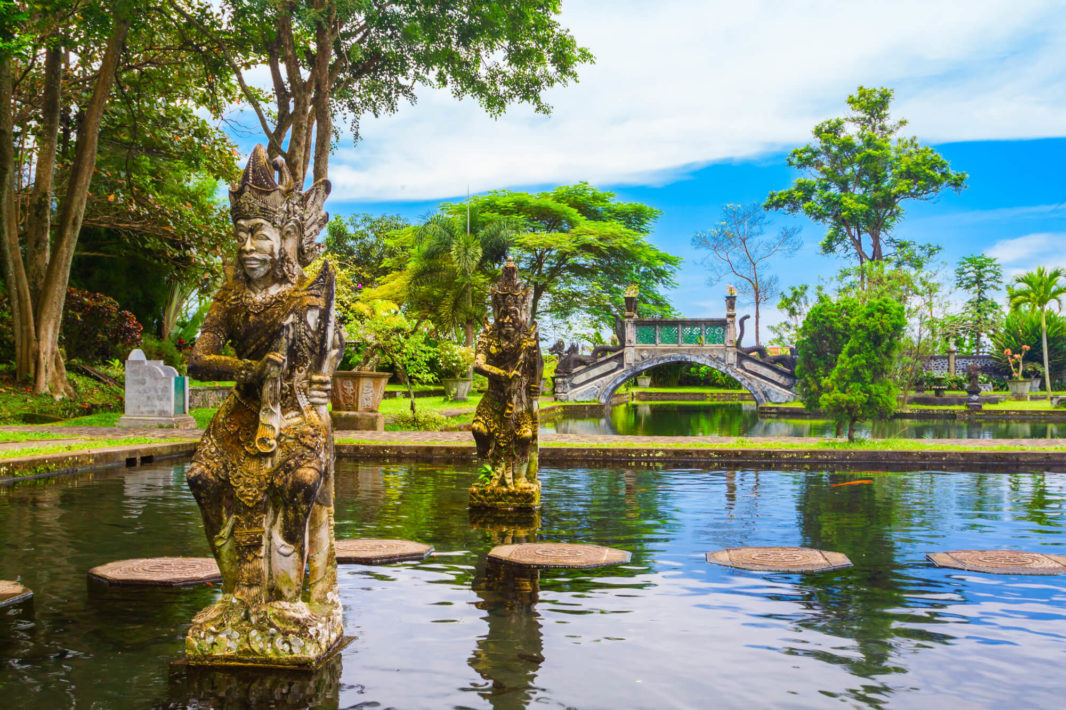 If, once there, you don't want to organize these visits yourself, there is this extremely good tour that allows you to visit all my favorite sites in the area in one day.
Amed:
its magnificent beaches.
its colorful outrigger canoes with triangular sails.
its sunsets.
the Agung volcano as a backdrop.
the incredible blue water mixed with lush vegetation.
its traditional carved wooden bungalows on the beach.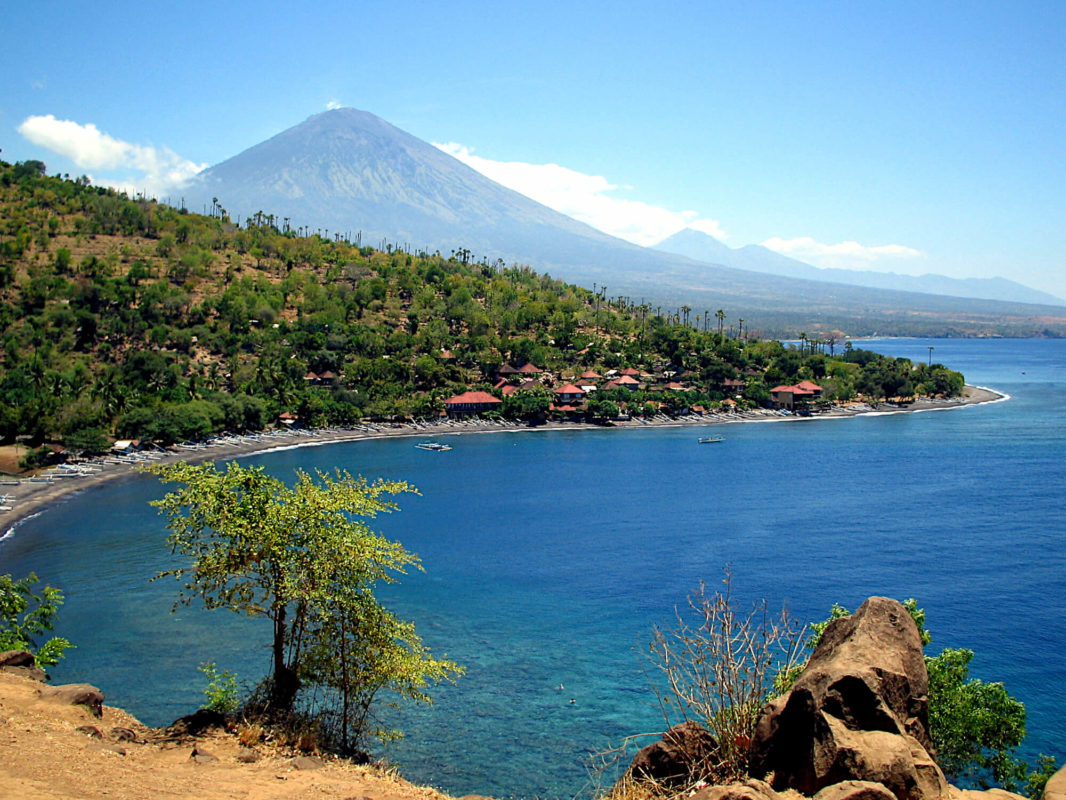 Ujung floating palace:
Its immaculate white buildings contrasting with the green and red of the vegetation.
The mix of rice fields, coconut trees and outrigger canoes on the beach!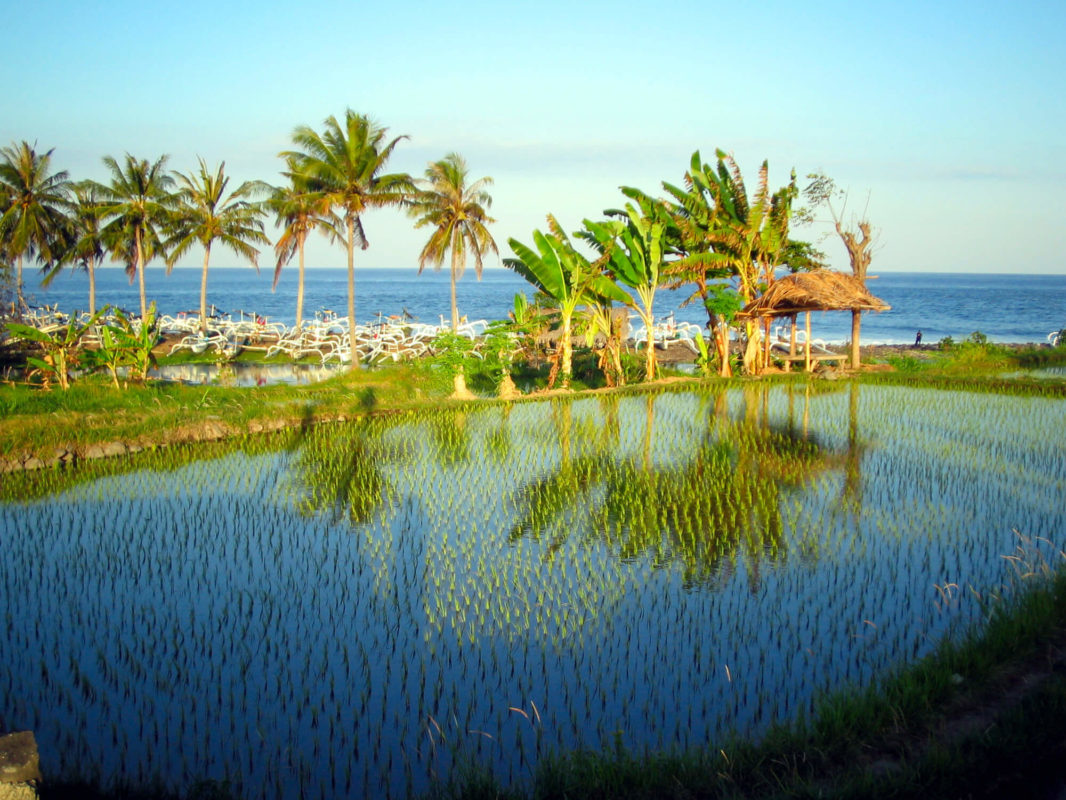 Munduk:
Its location, in the northern mountains.
Its wild nature, its waterfalls.
Its cooler climate.
The spices and coffee drying on the roadside.
Tanah Lot:
Its beauty.
Its location above the sea.
Its religious atmosphere.
What do you mean I put all the places I visited in my favorite places?
Well, yes, I admit that we are not far from it… But Bali deserves so much to be classified as a paradise on earth!
You may notice the absence of the Pura Ulun Danu temple on the Bratan Lake in Bedugul, in the Kintamani area. On the photo illustrating the article and included in it, you can see that it is a beautiful place but…
At the time I visited the temple of Ulun Danu, there were no women preparing offerings, bringing offerings, devotees praying, Brahmins discussing… And the presence of the locals, their spirituality, is what makes the charm of Bali!!!
My best memory in Bali.
When I met Ketut in Amed, his Italian friend Guiseppe promised to show us the "real Ubud", as opposed to the overly touristy and popular one we had seen on our arrival.
During the night, while I was taking the air on the terrace of the bungalow facing the sea, Ketut came to discuss with me and invited us to the ceremony of his wife's teeth filing.
I was surprised… The paper guides claimed that you can't get married without having your teeth filed down, which is absolutely false.
In the Balinese culture, man is born a demon. In order to reach the status of human, he must have his teeth filed down. If he dies before this, he will not be able to benefit from the cremation rites.
Ketut explained to me that he still remembered the pain, showing me the place on his skull where it had hurtduring his own tooth filling ceremony…
Balinese tooth filing ceremony.
When the day came, we all met in Bedulu. All the Balinese present were wearing their most beautiful and colorful traditional outfits. The men wore the Udang, the traditional turban. Ketut's wife Made, one of her sisters and her cousins wore a white batik and a simple orange-yellow blouse. Her cousins wore a yellow cloth covering their bodies up to their armpits.
A large platform decorated with an altar, offerings, bamboo and cloth was set up in the courtyard and tables were covered with beautiful offerings made of chicken, pork, flowers, bamboo, coconuts etc. Festivities are always an opportunity to show the wealth of a family, even if it means going into debt.
We started in the courtyard, where rituals took place. Even Ketut, who was studying to become a Pemangku, could not explain their meaning to me, relying more on the repetition of the elders' gestures.
The whole family then prayed in the family temple. Every home has its own temple, modest or lavish, depending on the family's wealth. In Made's family, the temple is big and very beautiful. The priest, of "level" pemangku, and his wife, led the ceremony.
The actual tooth filing began. Two by two, the celebrants took turns on the platform, lying down on the mats. Alternating chisel and hammer with the file, the pemangku files the canines, aligning them with the other teeth, and taps with the chisel so that they are all at the same level.
When it was Made's turn, Ketut, with a serious face, held her ankles, as if to share the pain with her and give her strength. As soon as she was up and the betel nut blocking her jaw was spit out, Made was again wearing her usual wide smile. She is radiant and proud.
We could not share the meal with our friends. This one was made of the offerings having macerated in the sun all morning…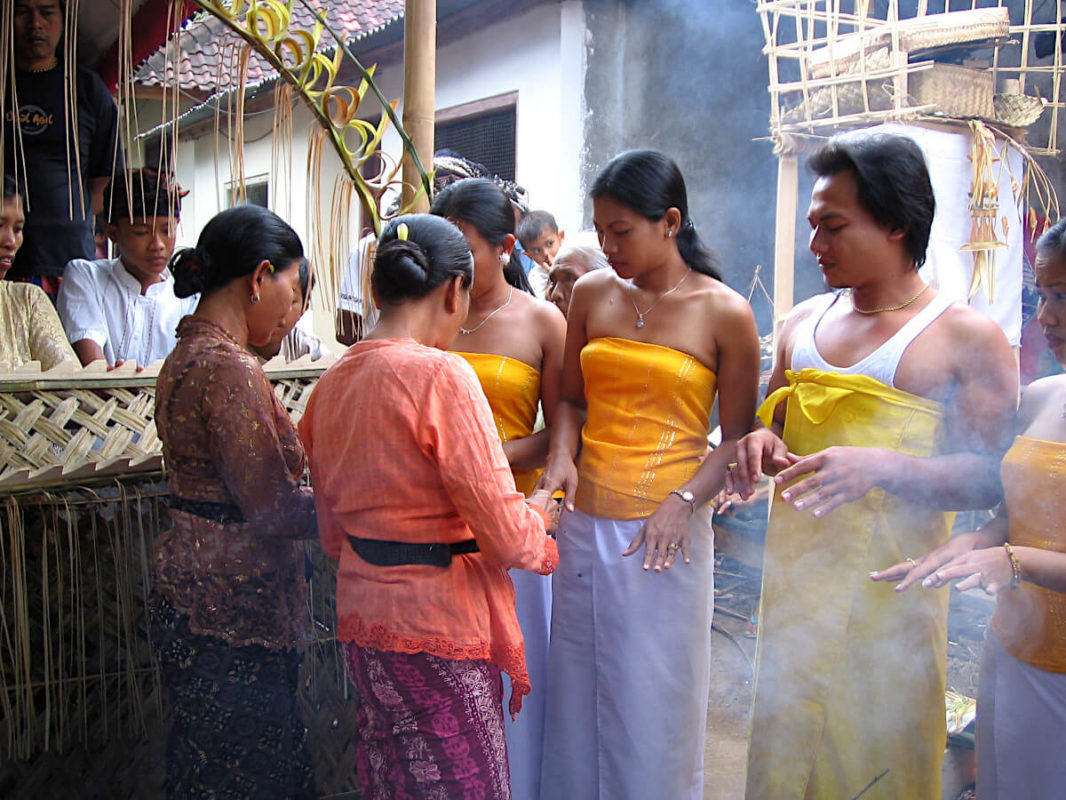 You can see the video of the whole ceremony below. At the time, I only had my camera to film, hence the poor quality of the image…
Balinese Big Birthday.
In the afternoon, I came back for the Big Birthday!
The big birthday is a particularly important moment for a Balinese. Although they have a small birthday every 6 months, the big birthday comes only once in their life!
The celebrants had changed their outfits. This time, the girls looked like princesses with their golden crowns decorated with a rose. A puppeteer and musicians had set up on the terrace of the house, probably playing scenes from the Ramayana. Their presence is an integral part of the rituals and they too have a sacred role in the ceremony. This time, it is a Brahmin of higher rank than the pemangku who officiates.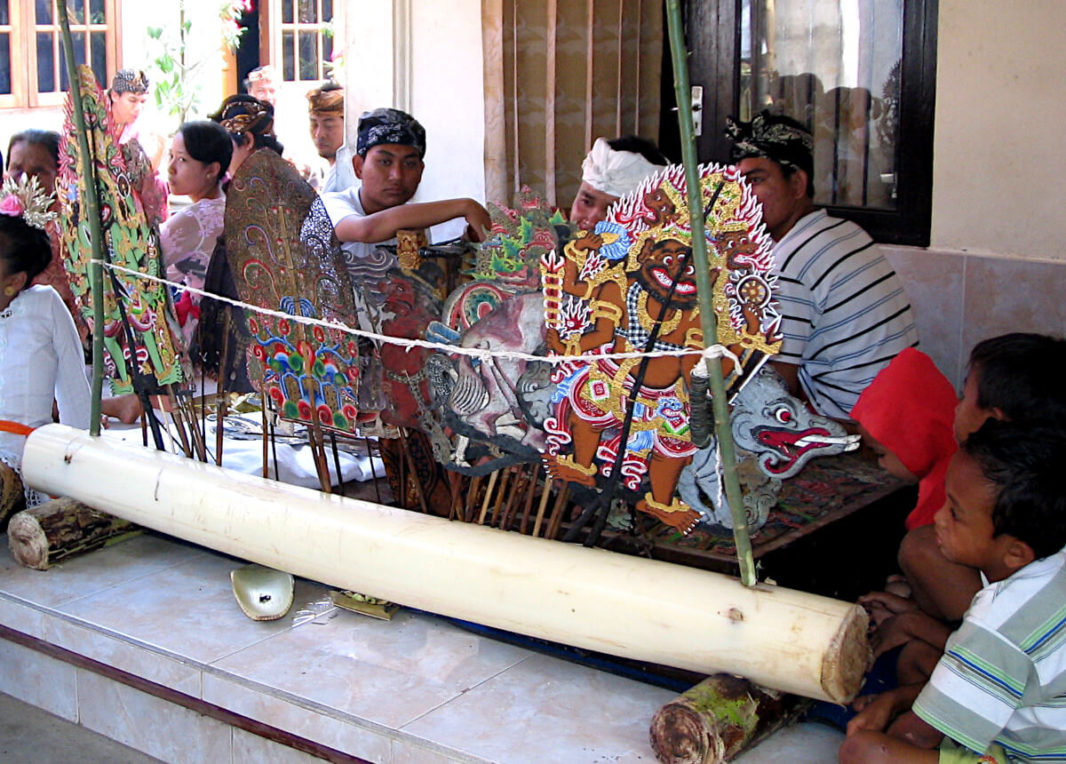 As with the teeth filing, you can see the video of the big anniversary on my YouTube channel.
Additional information.
It had been several months since Made and her family had begun celebrations. The first one was the cremation of her father, who died a few years before and was buried temporarily. In Bali, cremations are often "collective", meaning that each village will have a periodicity – every 3, 6 years – to celebrate cremations. This way, certain expenses can be shared, for example the travel expenses of the Brahmin. For the richest and most important, on the contrary, and in contrast to Thailand, the cremation takes place very quickly and there is no transitional burial stage.
Any celebration will be as lavish as possible. Everything will be done to make it better than the neighbor's, to show his wealth. I let you imagine the money that the family had to save and then disburse for these long months of festivities…
In the afternoon, for the big birthday party, we had to wait for the Brahmin to finish officiating in the neighborhood.
Where to stay in bali?
All three are located in or near Ubud. Ubud is the best place to stay for exploring Bali and you don't necessarily need to stay elsewhere if you are exploring the island with your own vehicle.
Ala's Green Lagoon.
Formerly Ala's Hibiscus 2, this is the place where we spent our first nights when we arrived. The setting is beautiful, in the middle of rice fields and near the jungle. The rooms are beautifully furnished, with a terrace overlooking the rice fields. The welcome is charming and attentive, all in softness, with slow gestures in the Balinese way. We eat extremely well. Since our stay, a swimming pool has been added, hence the name "Green Lagoon".
Agoda's photos don't really do justice to the place and it's a shame…
Click on this link to check availability on Booking
Yeh Pulu Guesthouse.
When I met Ketut and Made, Yeh Puluh Café was already in existence and Ketut had his little store selling his wood sculptures on the grounds. Ketut carves beautiful works, usually on his favorite medium: crocodile wood.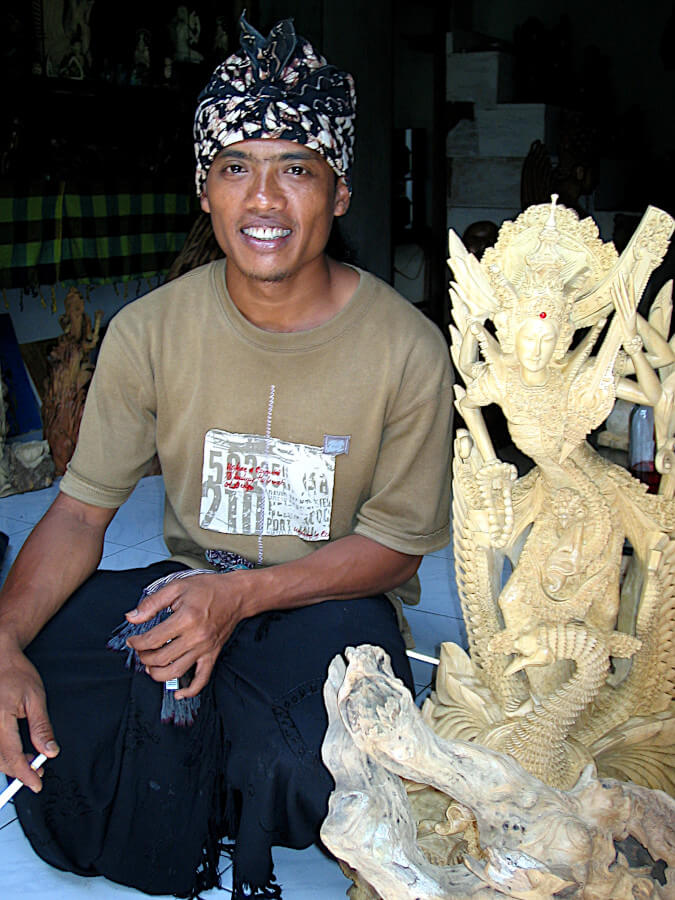 The environment was beautiful and since then, Ketut and Made have made a guesthouse. Ketut also works as a guide and transportation is included in the price.
Again, Agoda's photos don't do the place justice; but you can see more on Booking.
Click here to check availability on Booking
Amandari.
If your budget allows it, you can, like my travel companion and her ex-sister-in-law, spend your stay at the beautiful Amandari. They both rented a suite for a few days and were delighted with their stay.
Click on the link to check availability on Booking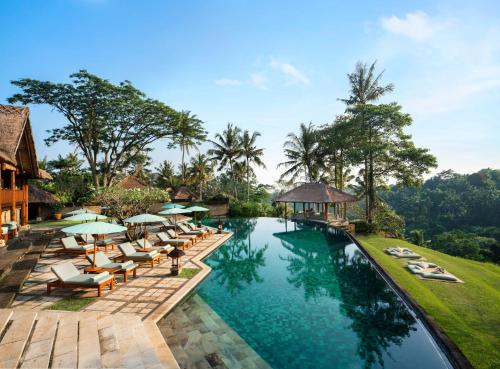 Travel anecdotes.
Naked on the hiking trail.
Ah the surprising Bali…
It was late afternoon and I had walked in the villages around Ubud. I had passed many colorful processions to the temples. I had just asked for directions to Ubud and was told to continue along the water, or more exactly along a water corridor. I was walking quietly when I saw in the water a man standing, back and totally naked…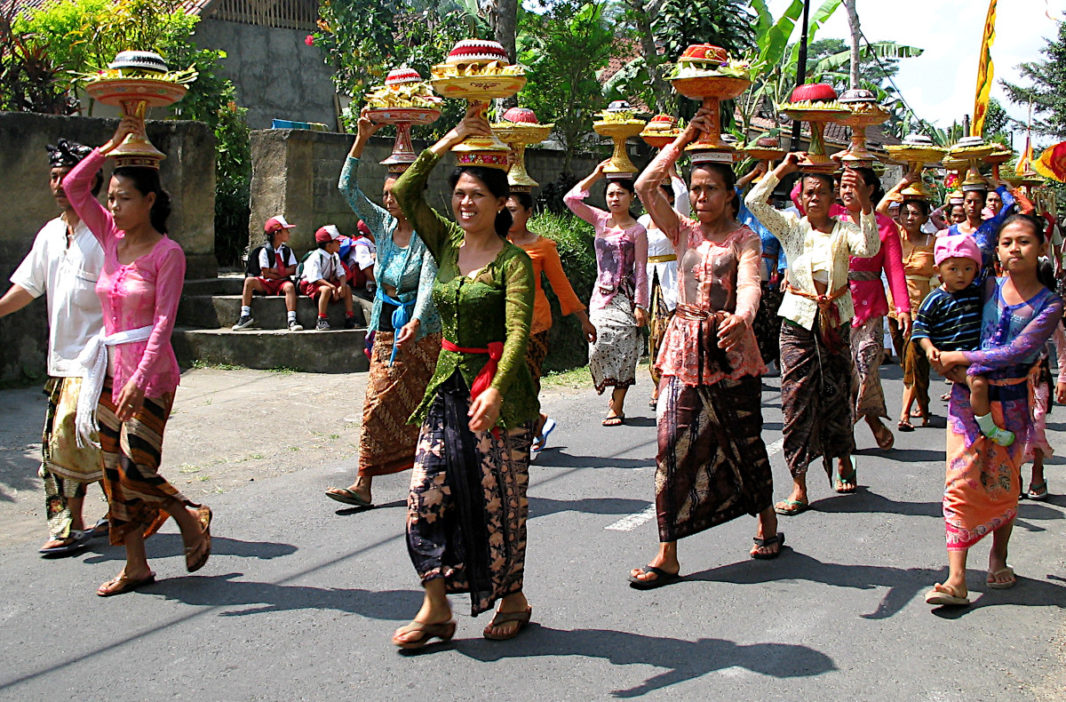 I was very embarrassed because I had to walk past him. Fortunately, turning my head and seeing me, the young man sat down in the water.
Nevertheless, when I passed by him, I was not very comfortable. In Bali, everyone is used to greeting each other. When I got close to him, I stammered a shy "sorrre", with the rolled r and the last syllable very long, a contraction of "Selamat sore", the end of afternoon greeting…
Obviously, the young man answered me and started to talk to me as if nothing had happened, asking me the usual questions "you come from where, you go where…" When I answered that I was going back to Ubud by following the river, the young man immediately exclaimed "I'll bring you back by scooter!". His scooter was indeed parked there, but to be proposed by a man washing naked in a stream to be driven back to your destination is destabilizing and not ordinary! But it was quite normal for him. Most Asians are very surprised to see us walking for fun and have difficulty understanding this concept. In Asia, one moves "useful".
Also note that, even if many Balinese have a bathroom at home, they prefer to wash in the river. It makes them feel cleaner. Water is very important in Bali and has an important purifying role.
"I love President Chirac so much!"
One day while I was walking in the rice fields around Ubud, I met a lovely woman, who invited me for tea. She had a small shop in the middle of nowhere and loved to chat with passers-by. She met a lot of French people "they like to walk in the rice fields so much!" Her television was on all the time: she loved to watch the international news.
"I love President Chirac sooooooo much!!!".
When I told her that we had just had an election and that Jacques Chirac was no longer president, she was very disappointed. "Oh, and what does the new president look like?" I described Sarkozy as a snarling little dog, barking louder than he bites. I think her hilarity at hearing my words quickly replaced her disappointment that Chirac was no longer president and that many French people must have heard themselves describe Sarko as a little dog who barks a lot 😀
My worst troubles in Bali.
Bali is a very safe island. However, one must be careful about two things:
Arak.
In Amed, the evening I met Ketut, we all ate together a big fish that he had brought from the south, with rice cooked by our guesthouse. Guiseppe wanted to offer us an arak-lemon cocktail. Very quickly, everything started to swirl around me, especially the stars… I went to bed but the bed was rocking. I had to get up and sit on the terrace facing the sea. It was Ketut's passing in front of the bungalow and our discussion that helped me to get out of my state.
Two assumptions:
Either the arak was adulterated – it did smell strange despite the lemon – and contained methanol, either intentionally (cutting) or unintentionally (bad distillation process). Ingestion of arak with methanol, depending on the quantity, can cause blindness or even death.
or my glass had been voluntarily drugged by one of the waiters. He was telling his friends that I was his fiancée – I had gone to Ujung with him – and wanted me to join him at a beach party at night.
In both cases, the danger is real and proves that, despite my precautions not to consume alcohol or very little while traveling, one can find oneself in great difficulty. I had never felt in such a state, and especially not after so little alcohol.
Jungle.
In Ubud, the morning after our arrival, I wanted to photograph the guesthouse from the rice fields. I was in Bermuda shorts, T-shirt, flip-flops, with just my camera. I heard the sound of water, apparently a waterfall. I approached and a Balinese man waved me to follow him. Believing that he was going to take me to a nearby waterfall, I followed him and we climbed in the jungle again and again…
Despite his age and lack of shoes, he was walking very fast. I had a lot of trouble keeping up with him and had to regularly grab onto the vegetation to move forward. We crossed a river and he kindly carried my shoes… and forgot to give them back to me. So I found myself following him barefoot through the jungle!
When we got back to his house, where his two daughters were making local handicrafts, all three of us looked at my legs and arms: I was covered in scratches everywhere! My impromptu guide took out a bottle containing a kind of brownish paste, rubbed it on my wounds and then took me back to my guesthouse.
The evening arrived, I could not eat anything. Back at the guesthouse, I spent the night vomiting.
The lesson of this story: I was told that in the jungle of Bali, some plants are harmful. By grabbing all these plants and being scratched everywhere, one of these plants had intoxicated me!
My favorite Balinese dish.
Balinese cuisine.
Quite honestly, it's hard to pick one dish better than another. I have always eaten very well in Bali, whether it is food prepared in guest houses, in small warungs or other more touristy restaurants.
Note that Balinese dishes are always beautifully presented, sometimes even with offerings.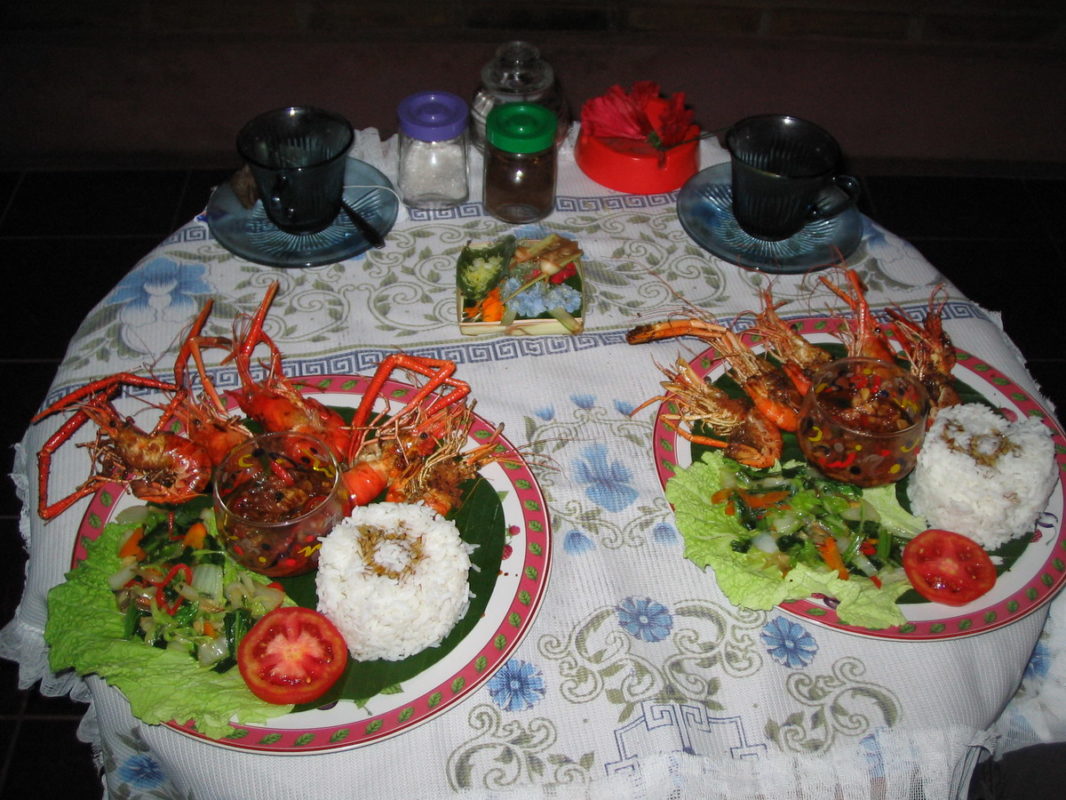 Kretek.
This is not a dish, but the Balinese clove cigarette. Its taste is deliciously fragrant and leaves a sweet sensation on the lips. Its smell is extremely pleasant and perfumes the atmosphere, mixing with the scent of incense and flowers.
Tips for traveling to Bali.
Nothing special, everything is beautiful in Bali. A simple recommendation: take your time, enjoy, stroll, discuss, learn, live in the moment!
Best time to visit Bali.
September is ideal as it is at the end of the dry season. This season starts in May and is reputated as the best time to visit Bali.
Nevertheless, the rainy season can also be a good option, especially for Nyepi festival.
Is Bali safe to visit?
As in Java for Bali, you will hear some Javanese tell you that Bali is dangerous. Java and Bali are very safe islands.
Apart from the important seismic and tsunami risks in Indonesia, as everywhere else, it is important to listen to the advice of the locals and to follow your instinct.
As in many Asian countries, corruption is barely concealed. If you ride your scooter without a helmet and are a foreigner, you will most likely be fined, or have to pay to avoid the fine instead. Ketut, when we were traveling by car, had to pay to avoid a fine. He paid less by pretending that I was his girlfriend.
Would I go back to Bali?
Yes, yes yes, and yes again!
Bali is the most beautiful place I have visited, whether for its landscapes, its population, its culture, its gastronomy, its atmosphere, its smells…
What if I could do it differently?
While I loved this trip and it was a very easy and comfortable introduction to solo and independent travel, here's what I would change or do differently if I had been on my own:
I would do the whole tour of the island, that is to say that I would also go to the wilder and less touristy west.
As for Java, I would have dedicated my 4 weeks to visit Bali only.
Conclusion – Bali Travel Guide.
If I had to choose the paradise on earth in the destinations I visited, it would be Bali without any doubt!
By visiting Bali, all the senses are solicited almost permanently. It is a treat for the eyes, for the nose, for the ears (music, bahasa indonesia), for the taste… The atmosphere of Bali is at the same time particular, bewitching and unforgettable forever…
Do you know Indonesia and would you like to visit Bali?
What do you think of this Bali travel guide? Do you like this new format of article taking back one of my trips with advices and my feeling? Are you interested in having me do such an article for each of my trips?
For more articles on Indonesia, check out this category.
Ultimate Guide to the Things to do in Bali Indonesia