Ethno Travels is the travel blog of Stephanie Langlet, a French consultant, bilingual tour guide and blogger passionate about ethnographic travel, especially in the Basque Country and Asia, leadership and customer relationship.
Summary.
Stephanie Langlet's journey.
During my law studies at the University of Reims, I had the opportunity to work during summer as an escort for international sleeper trains.
Once my degree was in my pocket, my decision was obvious: I would work in the field of tourism and customer relations…
I applied to the French railway company in 1997 and joined the commercial manager program at Gare de l'Est in December…
Sales team manager, sales assistant, trainer, lecturer, reception service manager in an international station, representative for institutions…
After 19 rich years, refusing to be suddenly confined to the role of a bureaucrat and needing to reconnect with the field, I decided to leave the company to fly on my own.
Combining my expertise in customer relations with my 15 years of travel blogging and solo trips, I created Ethno Travels in June 2017, a bilingual French-English blog on ethnographic travel in the Basque Country and Asia.
I applied the methods of optimization for readers and search engines taught by my Australian coach, her advice on developing partnerships with brands, I learned the principles of community management…
At the beginning of 2018, strengthened by my recognition in India as an expert in Indian tribal culture, I went there for three months to work on several partnerships and the organization of a tour during the longest festival in the world.
I discovered how difficult it can be to work with a country with such a different culture and, a few months after my return, I decided to focus on my activity in the Basque Country.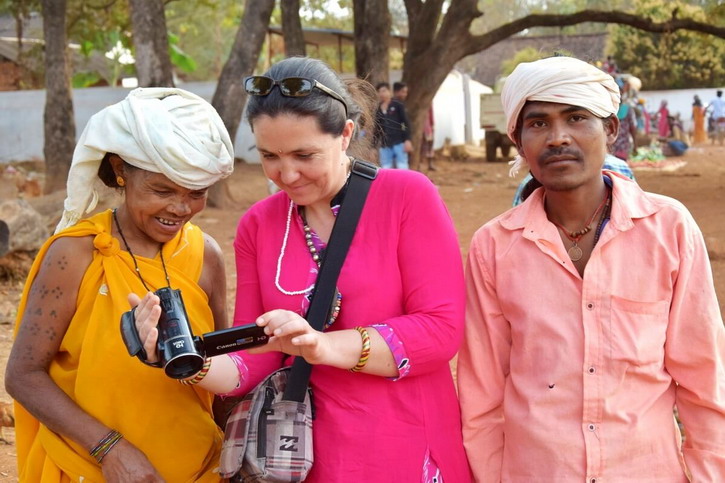 At the end of December 2018, I published the agenda of the most traditional Basque festivals on which I had worked for several years!
My objectives:
to provide travellers with this information that I heard them asking for without success, to make it easier for them to prepare their trip by providing them with all the information they need.
to help local companies to make themselves known outside the Basque Country, while providing them with my expert advice on customer relations on their services.
You can see an example here with the Javierada.
Her areas of expertise.
Traditional Basque festivals;
Tourism in the Basque Country (places to visit, culinary specialities, local crafts, hiking);
Indian tribal culture, especially in Bastar and Telangana;
Independent travel (organization, realization);
Indigenous peoples of Asia;
Using one's influence to help people outside an NGO (the virtues of positive communication);
Customer relations and management (trained by Accor group);
E-reputation;
Everything related to blogging: SEO, social networks, etc.
On these topics, I am open to these kinds of opportunities.
Conference speaker,
Expert interview,
Contributing articles,
providing quotes.
My services for companies and travelers.
I offer services to address the two challenges below:
Improve your services.
Attract more customers.
If you prefer to tell me about your current challenges and needs so that I can offer you a personalised service, you can fill in and send me the survey here
You can visit my "work with me" page to learn more about these services.
If you are an individual interested in visiting the Basque Country, I also offer guiding services (French or English) and trip planning help. Check the dedicated page here
Ethno Travels is a self-owned company, registered under Siret number 850 645 441 00013.
Contact Stephanie Langlet.
A few testimonials that especially moved me…
It is very heartwarming to see someone not from India, spreading love for India.
I have always admired you for it and with this article, I know that I am not the only one.
Thank you so much for sharing the brighter side of life in my country.
Ami Bhat India – Thrilling Travel
You have taken travel to an altogether different plane and have been doing an admirable job, there are not many of your tribe, I can only say, may your tribe increase.
Vyjay Rao India – IM Voyager
What a perfect analysis of how one can be perceived by a group and how to leverage that trust to share their stories and positively influence a whole world of travelers.
I particularly love that you're able to share stories and broaden the views of children.
It's amazing when one can be respected and at the same time publicly promote a culture, both for awareness and to increase tourism in a dignified manner.
One more reason we love following your travels and work.
Rob Taylor USA – 2 Travel Dads
No hard work ever goes waste Stephanie. I love your passion and the beautiful work you do in my country while many people still think India is undeveloped and not worth their time. Appreciate your time and efforts!
Priyadarshini Rajendran India
Hi Stéphanie Langlet It's really appreciable that your genuine analysis of the word sustainable tourism……. It actually helps to aware others about the unheard and unseen cultures & traditions of of such remote as well as naturally blessed and pristine places with serene environment ….. Your mission is really sacred and Express my deep gratitude & respect to you …. you came as an angel in this sustainable tourism …… I really wish to study a lot from you and allow me to join hands with you in your noble ventures.
Sebastian Kuruvilla, India.
One life will be enough to taste all these wooden peaks! Sharing and pleasure of the senses… What happiness this Basque Country… Thank you again for your articles Stéphanie… Ah you love your Basque identity… San Sebastian will be one of my next destination before it is invaded from all over the world… and elsewhere… if it is indeed the best culinary experience in the world according to Lonely Planet. Now the Basque Country is pointed, stuck! On the world map as an essential culinary destination.
Charles Ichkanian – reader of the blog.
You can also find me here.