This article is for you if you want to visit Yangshuo in South China and its surroundings or if you are wondering if you can hike alone in China without speaking Chinese / Mandarin.
During my first trip to China, I first slowly acclimatized to Hong Kong and Canton – Guangzhou, where I had no difficulty moving and visiting without speaking Chinese.
Then I took the bus, in the middle of Qingming festival (feast of the dead) to the beautiful Yangshuo, in Guangxi province (1).
As in Canton, I was in contact with French people living there, the adorable Vincent twins with whom I am still in contact 15 years later.
Thanks to one of them, Luc, I learned to tame my fear to hike and move alone, even in places where English is totally unknown. It is thanks to him that I have become today this serene and eager for human interaction traveller!
Article updated on 13.05.2023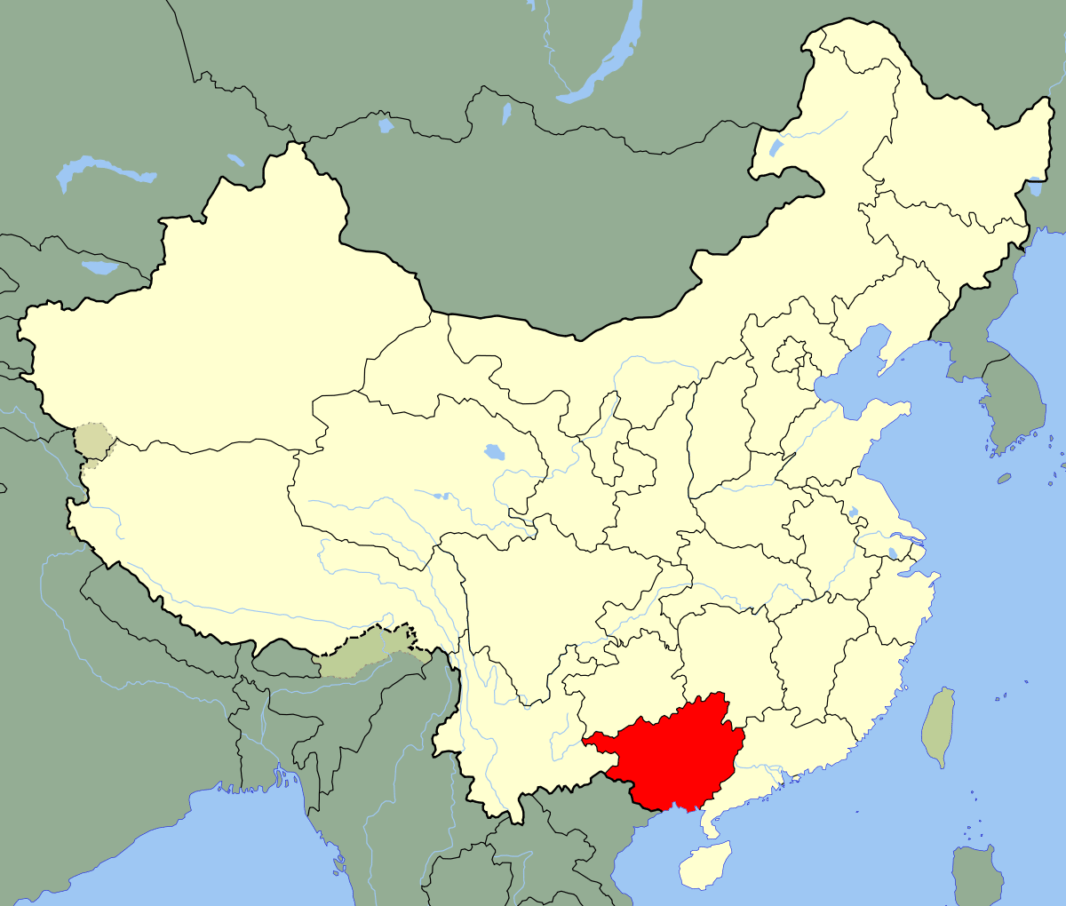 In this article, which combines travel narrative and practical information, I will take you on a journey of discovery of Yangshuo, its surroundings and its culture. You will learn about :
Yangshuo during Qingming
Cycling to Fuli village and discovering its market
Moon Hill
The Dragon Bridge and the Ming village of Jiuxian
The temples of Confucius in Gongcheng
Hotels in Yangshuo
The weather in Yangshuo and South China
Note: I get commissions for purchases made through links in this post at no extra charge for you.
Yangshuo during Qingming, the feast of the dead.
It will take my bus 14 hours to reach Yangshuo. I decide to stop there instead of continuing towards Guilin, my initial destination an hour away.
It is already 11pm, it is dark, but the city is still very lively.
As usual, I was lucky and met a young assistant English teacher. She invites me to spend the night at the English school, in a large apartment.
The next day, Joyce takes me for my first traditional breakfast in a small shop by the roadside: a large bowl of Chinese noodles topped with meat, vegetables and spicy sauce. After helping me find the hotel I was looking for, Joyce asked me to share their meal, prepared by one of the school officials, a former cook. Several dishes of meat, vegetables and fish cooked in different ways are placed on a turntable, and each guest picks directly with his chopsticks what he wants. All it takes is turning the table to access the food… Everyone has a bowl for the essential sticky rice that accompanies each bite. A real delight.
In the afternoon, I go to discover the banks of Yangshuo, accompanied by one of the young teachers. Nick has just arrived at school and knows little about the city.
Like Qingming (2), the Chinese Feast of the Dead, has just begun, karst peaks and mountain resonate with thousands of firecrackers that families blow up in memory of their ancestors. Ancestor worship is indeed extremely important in China and a family would be negligent if it did not honour its ancestors regularly.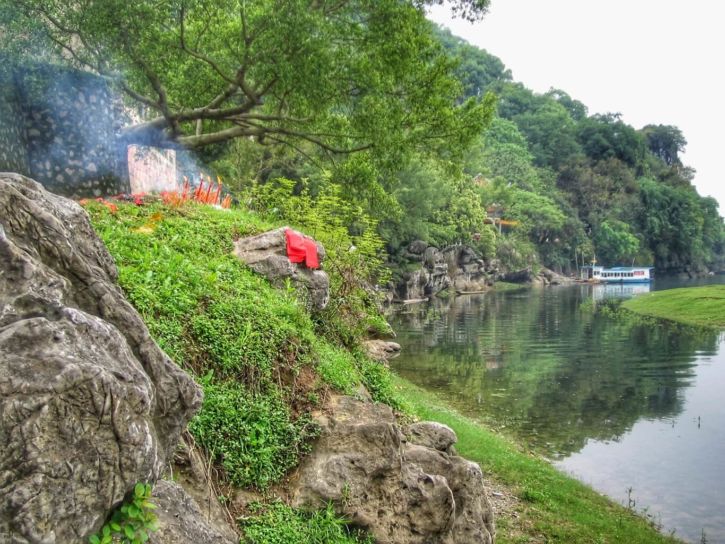 This cult mixes beliefs and superstitions. The Chinese believe that the ancestors are still among them. They always choose a place with a good feng shui and a superb view, to set up their tombs, a real home for their ancestor. I would notice the same custom in the Toraja country on Sulawesi island Indonesia.
Entire shops are dedicated to grave items. There are paper houses, washing machines, cars and a multitude of everyday accessories made of cardboard. In Hong Kong, I will discover a whole street dedicated to those articles and beautifully crafted coffins.
On the occasion of the multi-day Qingming festival, families clean the graves, hang red papers, tickets and firecrackers, and place offerings of flowers, food and drink on them. The explosion of firecrackers must be as noisy as possible so that the ancestors can see how their families think of them and honour them. It is not uncommon for the mountain to be on fire…
Qingming was one of the favorite themes of traditional Chinese paintings. Under the Song (960 to 1279), Zhang Zeduan made a famous painting, entitled "Qingming Shanghetu" (3) (Scene of life along the river on Qingming day). This silk painting (5.5 m long by 0.25 m wide), one of the most precious in China, is housed in the Imperial Palace Museum (the Forbidden Purple City) in Beijing.
It represents a panoramic view of the social life of the time: a busy road by the river, fairs on the fields, lively villages, narrow streets crowded with people of various professions and ages: civil servants, merchants, soldiers, scholars and porters, as well as men, women, young and old. The picture shows about 500 people and about 20 animals, not to mention vehicles, sedan chairs, bridges and boats.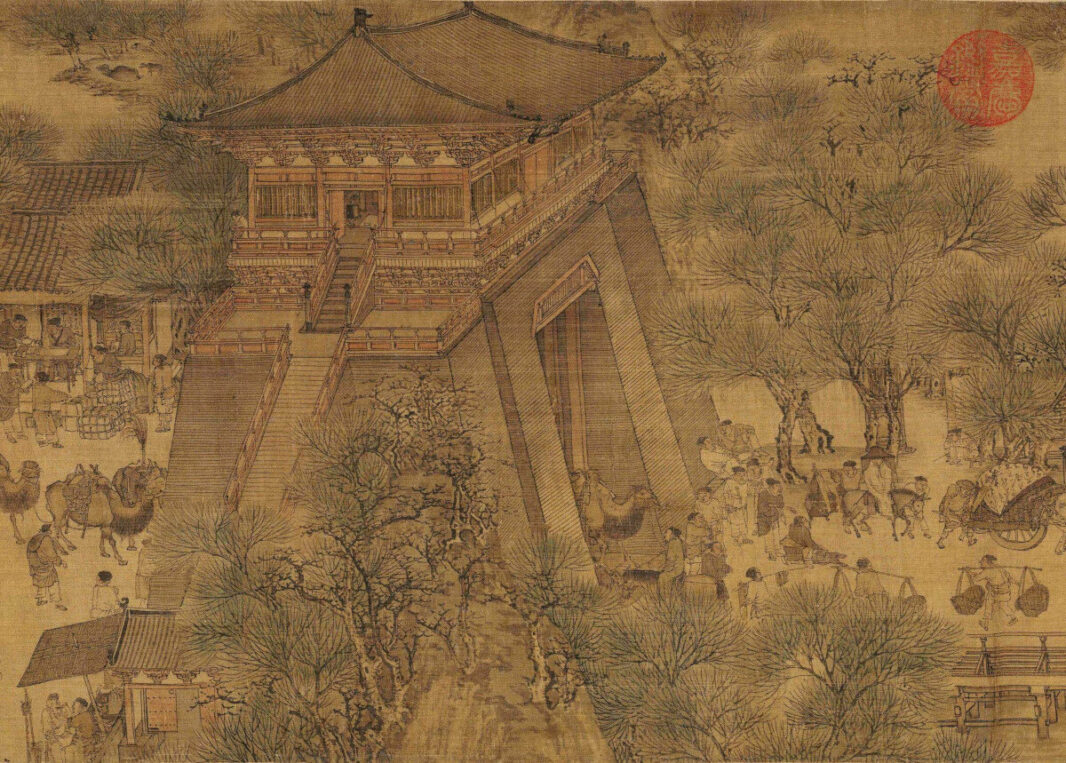 More than 700 years later, I have the feeling that I am transported in this painting! Li River on my right, a road crowded with people of all ages and conditions, sometimes carrying poultry in cages (civilians dressed more or less richly, soldiers,…), the passage of a few vehicles, boats, street vendors, the mountain punctuated by graves and firecrackers' smoke…
Qingming is not only the day of the ancestors' worship, but also the harbinger of spring.
Han Hong, poet under the Tang, dedicated a beautiful poem to it:
Kittens bloom profusely throughout the capital,

A significant scene in the spring landscape.

Under the breath of the east wind on Cold Food Day,

The weeping willows bend over in the imperial court.

When the night falls slowly,

The candlesticks are lit in the Han Palace.

To the five great houses of the nobles,

The silver smoke from the candles flies away.

Han Hong
The day before Qingming is called Hanshi (cold food).
This name has its origin in a historical anecdote: During the Spring and Autumn Period, in the 7th century, Duke Xiao, the monarch of Jin State, intended to deprive Crown Prince Shen Sheng, his eldest son, of his inheritance rights in favour of Li Ji, the child of his favourite concubine.
Later, Shen Sheng was murdered, and the second son Chong'er fled, having learned that the same fate was in store for him. The fugitive and his entourage lived vagrancy for 19 years, "without fire or place". One day, he was in agony after several days of famine. One of his faithful people, Jie Zitui, took a piece of flesh from his own leg and served it to his master, who quickly recovered from his extreme weakness.
In 636 BC, Chong'er finally succeeded in ascending the throne, with the official title of Duke Wen of Jin State. The day after his enthronement, he rewarded his followers of the time, without however recalling the offering of Jie Zitui. This one, with a broken heart, left the country.
When the Duke later remembered Jie's fidelity, he sent people to look for him. Having learned of his residence, the Duke went there in person to ask him to forgive his negligence and return to the ducal palace. But Jie refused his offer and retired to the depths of the mountains, so no one found him anymore.
Officials proposed to the Duke to burn down the mountainous region to force Jie to leave it and ensure a comfortable life for him. The proposal was accepted. They set fire to the mountains. The fire lasted three days. Jie Zitui was found, leaning against a large tree and carrying his mother on his back. But they were both dead…
Deeply sorry, the Duke decreed the construction of a monastery in memory of his most faithful subject and the prohibition of lighting the fire on the anniversary of his death. The whole country had to eat the cold food that day, which was called "Hanshi".
Cycling to Fuli village.
The next day, Nick borrowed two bicycles from school and we cycled among the karst peaks to a village about ten kilometres away, Fuli.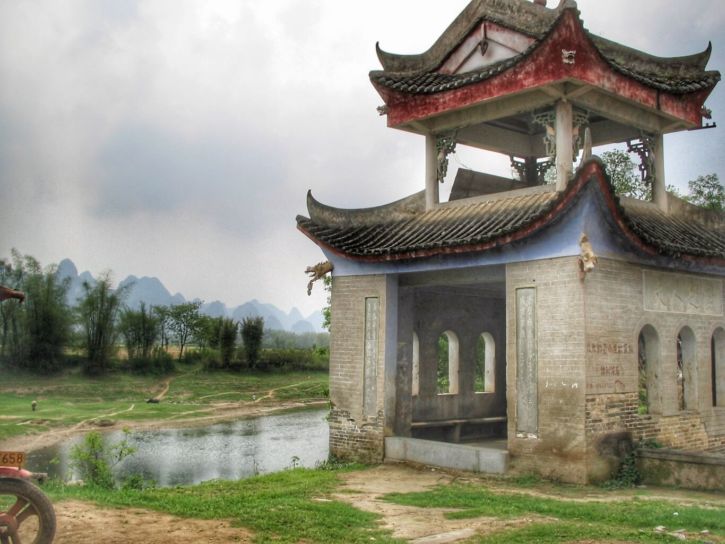 The market is unfortunately over and we are having lunch in one of the few open and hygienic places that seems correct. Only two large round tables and a television occupy the vast room and I notice that the other guests are suddenly totally captivated by the television show.
What I think of as a political forum is actually the broadcast of a criminal trial. Nick explains that it is not uncommon to be able to watch this kind of "educational" program… This is a broadcast of a trial with a death sentence! All the phases of the trial are broadcast, whether it is the testimony of the accused, the victims, the prosecutor's indictment, the deliberation or the final sentence. They even go so far as to interview death row inmates in their cells just before their execution, so that they can testify to their mistakes and show their repentance.
Through these educational programs, the Party aims to impress people's minds so that others do not commit the same mistakes. Nick tells me about a trial that had a big impact: that of a taxi driver who had stolen and molested a tourist. At the end of the televised trial, the driver was sentenced to death.
I can't imagine the guilt this tourist will feel all his life, and I'm relieved not to have alerted the police during my Cantonese mishap… I also understand better why the taxi driver opened his trunk and left like this: he wanted to hide his license plate…
Television now broadcasts what I first think is an advertisement. I must say that it is very similar to the one we were broadcasted at the time in France on the French Army…
Nick explains to me that it is actually a video clip praising the administration's merits. A young woman in winter military dress sings a long patriotic song, as images of the latest disaster flash on the screen. We see cities and countryside covered by snow, army helicopters loaded with food and blankets to supply the hungry and frozen population, electrical technicians thawing the electrical cables that bend under the frost, firefighters rescuing people trapped in their homes and the most deprived.
This is to reassure the population and show them that the country is capable of overcoming the most difficult challenges and even braving the elements, that the Party is taking care of its people at all costs…
Before continuing our walk along the Li River, I take a detour to the toilet next to the kitchen. I open the door and find myself face-to-face with… caged chickens. The tenants of the premises can thus directly deposit their droppings in the toilets!
We walk around chatting on the quiet banks of the river. Nick is surprised that I travel while my parents worry when I leave. At 28 years of age, the young man must systematically ask his parents' permission if he wants to be absent…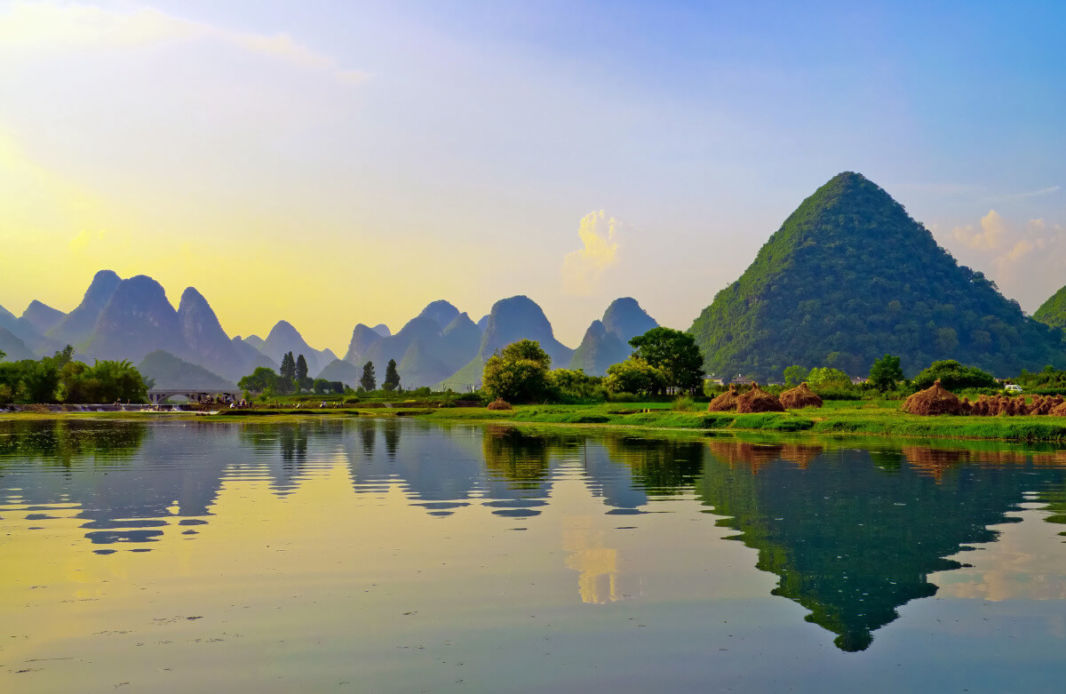 When I come back, I meet Luc and we spend the evening chatting. At the time, he was the owner of the Hong Fu Palace Hotel. I had visited him to give me tips on how to visit, we had sympathized, talked about travel, and I decided to move into one of the beautiful rooms of his hotel, the former home of a wealthy merchant.
Yangshuo hotels
Here are 3 options depending on what you prefer:
Would you like to reside in a very beautiful historical residence?
Choose the Governor's Mansion.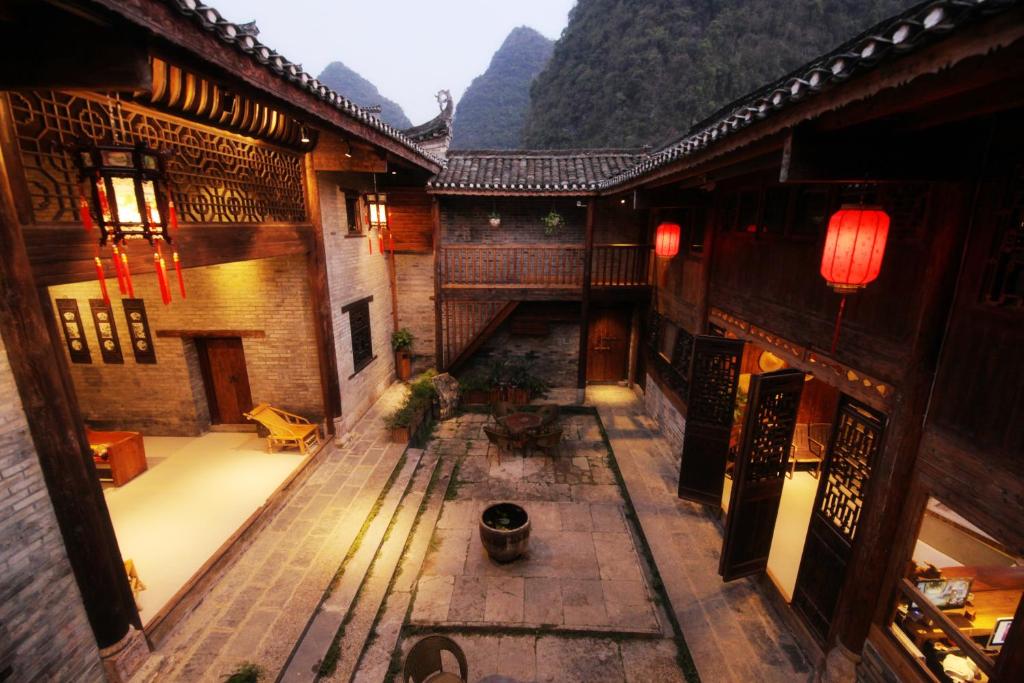 Do you want to spend your time admiring the karst peaks from your hotel as well and stay in an enchanting setting?
Choose the Bamboo Leaf Yangshuo.
Click here to check availability and book your room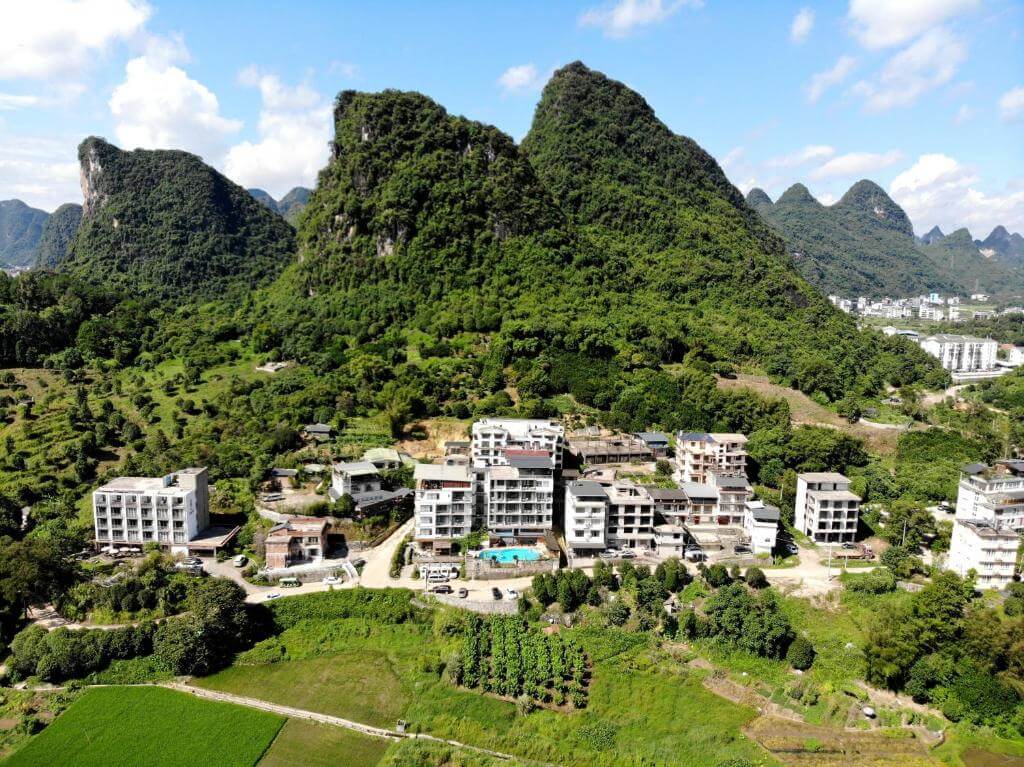 Would you prefer to stay close to the centre of Yangshuo and the entertainment of West Street?
Choose Yangshuo River View Hotel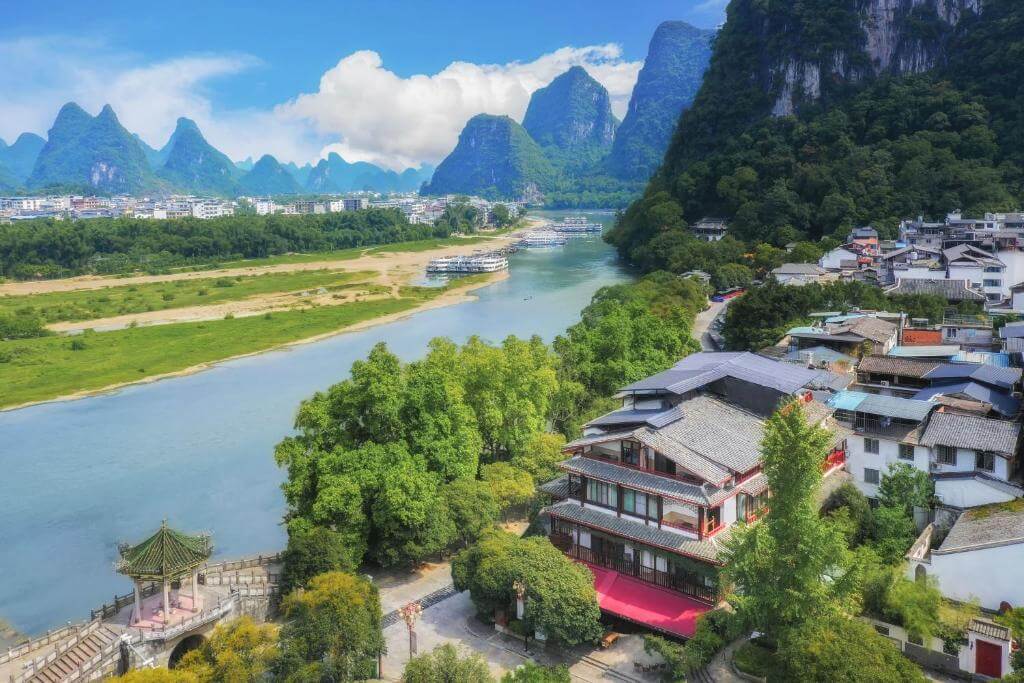 My first solitary getaway: Moon Hill.
The next day, I moved into the superb Napoleon suite at Hong Fu Palace, Luc's favorite room. He gave instructions and I am already welcomed as a friend.
One of the guides working with him, David, a former English teacher of Chinese origin, gave me many tips so that I could discover the surroundings of Yangshuo by walking and using local transport. I listen to him and wonder how I could be capable of such a thing without speaking Chinese. Suddenly, I exclaim, "But David, I don't speak Chinese. I'll get lost if I hike alone!" David reassures me: "No, look, just follow the river, you can't go wrong. And if you're afraid of being lost, tell people the name of the place you're going to, they'll show you the way. I will also write down the names in Chinese characters".
Here I am, and I quickly realize that the locals are doing everything they can to make it easier for me to discover. I take a very pleasant road to get to Moon Hill. It is not surprising that these magnificent landscapes have inspired painters and poets so much. It is only karst peaks covered with greenery and sometimes surrounded by mist, small traditional dwellings, vast green fields.
I cross the Jingbao River and the place is so magical that hordes of bamboo boats have invaded it. I stop for a moment to watch one of these boats slide on the water. The soft traditional melody sung by a woman on board adds to the charm of this moment of contemplation…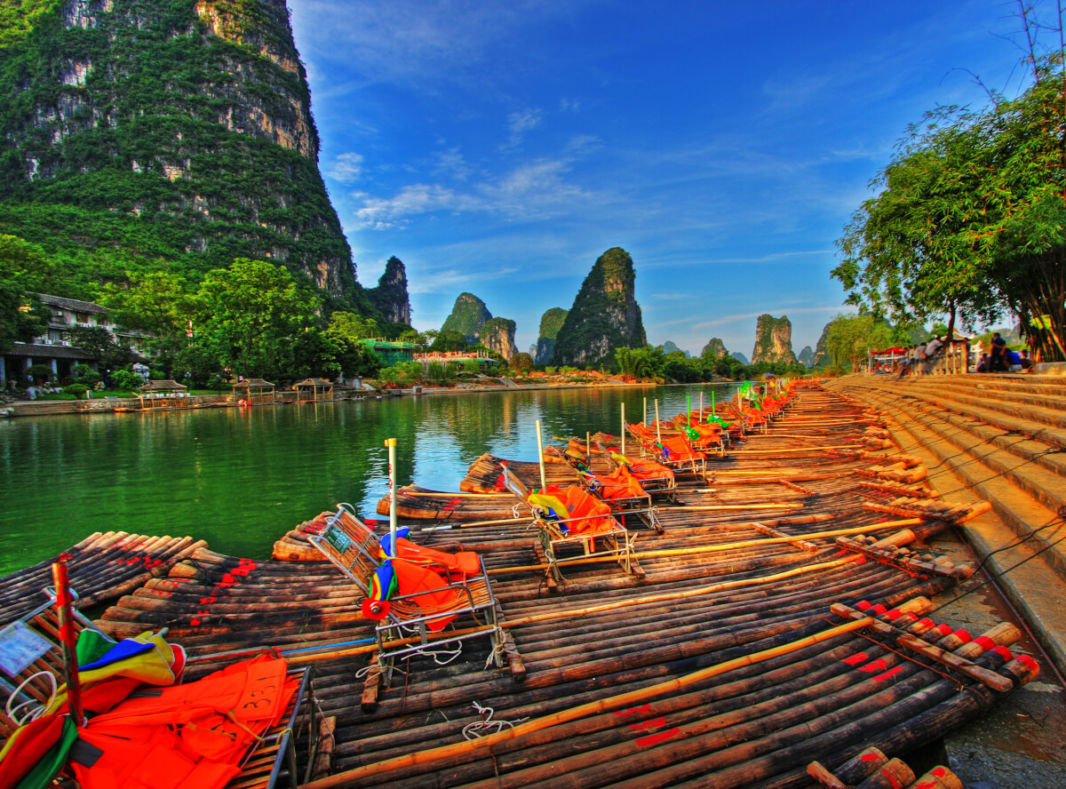 Around me, the hills bear the poetic names of Jade Lotus Peak or Brush Holders Peaks.
After passing the site of the Great Banyan, a banyan so old that it eventually became a forest on its own, I arrive at the bottom of Moon Hill. I sit down for a few moments to read and rest, soon joined by a small lady of an advanced age. She insists on coming up with me and selling me water. I start the ascent in the hope of losing her but she is tenacious and much better trained than me, and above all, she is sparing herself unlike me!
After a long and difficult climb, encouraged by those who go down, I reach the top. My effort is greatly rewarded. The panorama over the peaks, rivers, villages and fields is splendid and the arch that forms the hill adds to the charm and uniqueness of the place.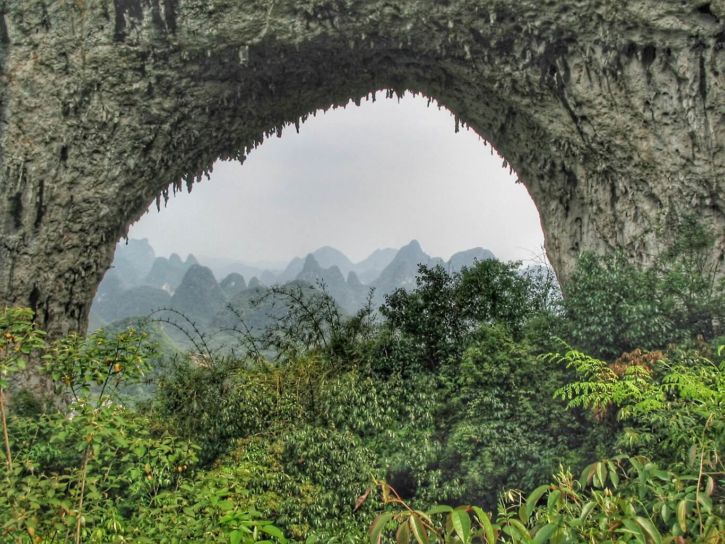 I decide to continue towards the village of Gaotian (pronounced Gaotine). Just in front of Moon Hill, I discover fish farmers in the middle of their work. Dressed in large green raincoats and straw hats, water up to above the waist, a couple and their daughter sort the fish in different nets. Seeing my interest in their work, the young girl keeps giving me pretty smiles. Her attitude is a clear invitation to film and take pictures.
A little further on, it is the contemplation of the work in the fields that stops me for a moment.
As I approach Gaotian, I see a woman and her big baby sitting by the roadside. She must be waiting for her husband who works in the fields. She answers my "Ni hao" with a big surprised smile. She is so happy, curious and surprised to see a Westerner walking around here that I decide to sit down as well. Without us needing words to communicate, I understand that she is happy that her baby can see my western face so closely and that I say hello in Chinese. I take a picture of this big, surprised face. The mother is amazed and proud to see her child on the small screen of my camera. We spend long minutes together communicating without a word, the magic of simple encounters…
The people of Gaotian and the surrounding area seem unaccustomed to the presence of tourists, the children accompany me with their smiles and laughter, the charm of Asia…
This kindness and hospitality is well worth all these splendid landscapes, which would otherwise be bland…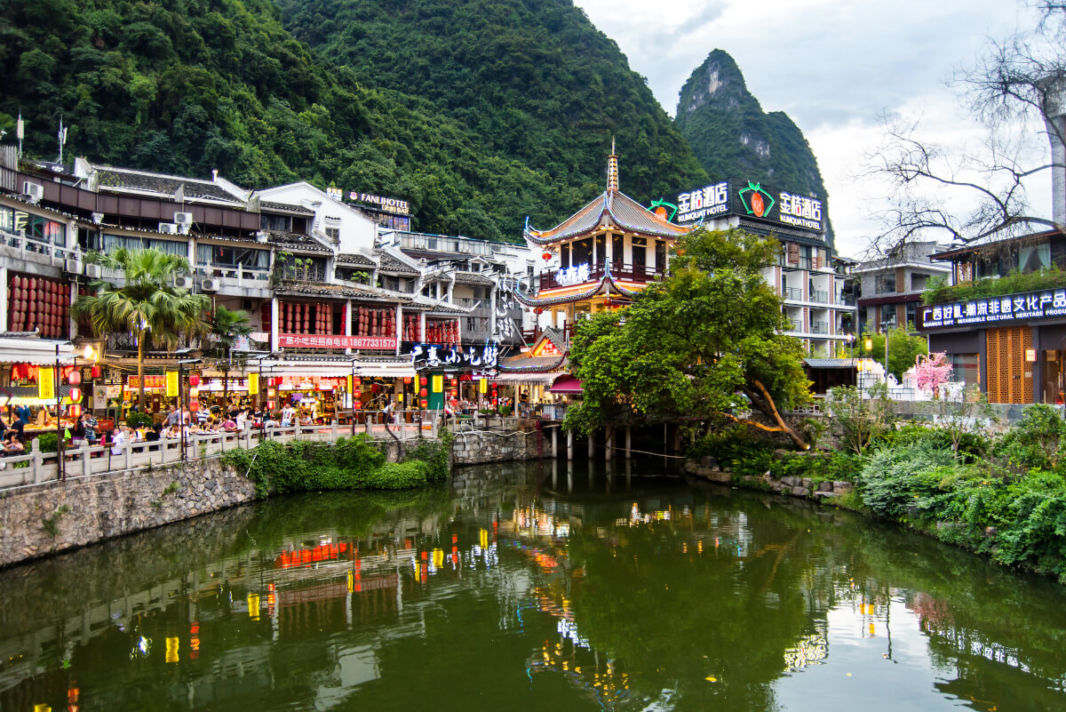 Special Hot Pot in Fuli market.
Ah, the beauty of traditional markets!
Fuli market takes place on days ending in 2, 5 and 8 and David recommended it to me, the most interesting in the area according to him. So I decided to take a local minibus, for a few yuans. I love taking these small vehicles, a pleasant moment to share with the local population.
The market is not as touristy as my French guidebook claims and exhibitors are proud to see me looking at everything around us in such an avid way. I no longer retain my curiosity, which amuses much more than it disturbs. How can you not recover your child's eyes when you travel to such exotic places?
And when it comes to exoticism, I'm going to be served… There is almost everything on this market: honey distributors, food, fruit and vegetables, household items, dried tobacco, children's games, clothes, CDs, Chinese pharmacopoeia products… Men get their hair and beards cut, women have their jewellery repaired, others polish their shoes. Groups are seated around various culinary specialities.
One group of men particularly attracts my attention. They sit on small stools around a coffee table with a fondue pot. My curiosity leads me to approach and observe the contents of the pot. Immediately, the men ask to me to come closer. They absolutely want me to join them. When I refuse, they insist, handing me cigarettes and drinks.
I finally accept, divided between selfish curiosity and the desire to please them. This simple way of sharing definitely warms the heart.
They disinfect chopsticks with rice alcohol, do the same for my bowl, provide me with a container of sauce and a cup. They absolutely want me to taste their fondue…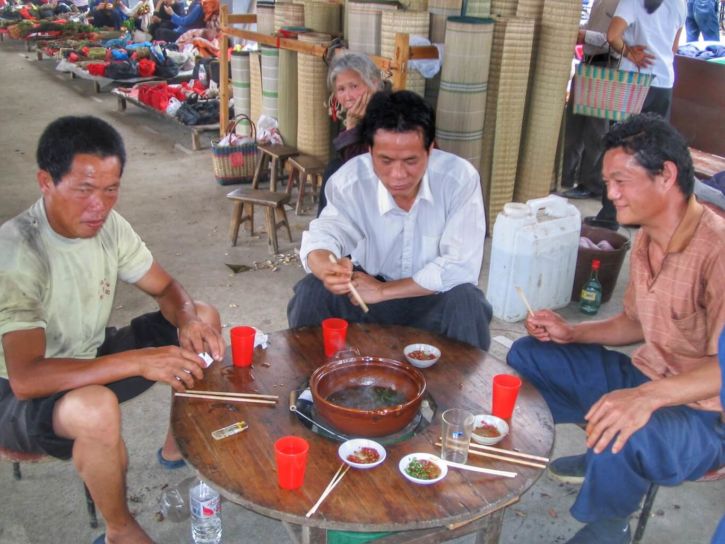 I insist on knowing what it is made of, but my companions only speak Mandarin or the dialect of their region. I show them my little book of illustrations. They answer me that the animal in the fondue does not appear in it.
They sort for me what represents for them the best pieces: the offal, the heart… The fondue (hot pot…) is pleasantly spicy and the taste of the meat does not remind me of anything I know.
As I always insist, one of my companions mimics what the animal looks like: erect, small ears, small to medium size and makes his cry… vaguely like a bark. As one of them hadn't recognized the Chinese dog characters in my dictionary, I reassure myself that I'm tasting… a baby water buffalo.
No matter how hard I try to explain to them that I'm not very hungry, they keep serving me over and over again while my bowl is not finished. I take advantage of the departure of part of the troupe to leave after having warmly thanked them.
After spending long hours enjoying the market, I return to Yangshuo following Li River. I walk back through the village, looking for the small stone bridge. I return to the mountain, punctuated by the red and grey of the many tombs and animated by the sound of firecrackers.
Qinming is really very long this year.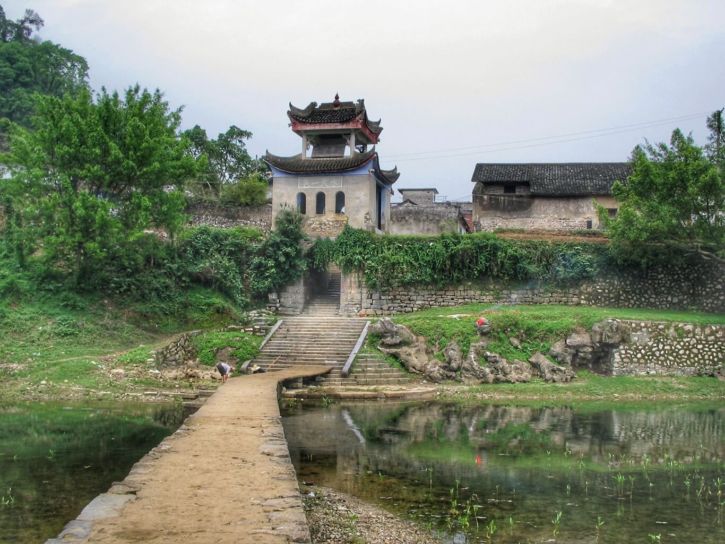 The walk is even more enjoyable than any I have done so far. In addition to the magnificence of the karst peaks, I attend the scenes of local life: women washing clothes in the river or chatting, accompanied by children, in the shade of a tree, farmers working in the fields, bamboo boat pilots carrying tourists,…
Everyone is surprised to see me walking along the river rather than riding my bike on the road, and try to exchange a few words. I cross villages in extreme precariousness and yet we are only a few kilometers from a modern, touristic and rich city…
I discover a child playing in a garbage dump. This is obviously the first time he sees a Western woman and he runs away screaming.
Further on, I realize that I am on the wrong side of the river and I have no other way to go but the road. An old woman, seeing my distress, leads me, through the maze of her village, to the pier on the other side. I am told that the crossings are over and I have no choice but to go back by road.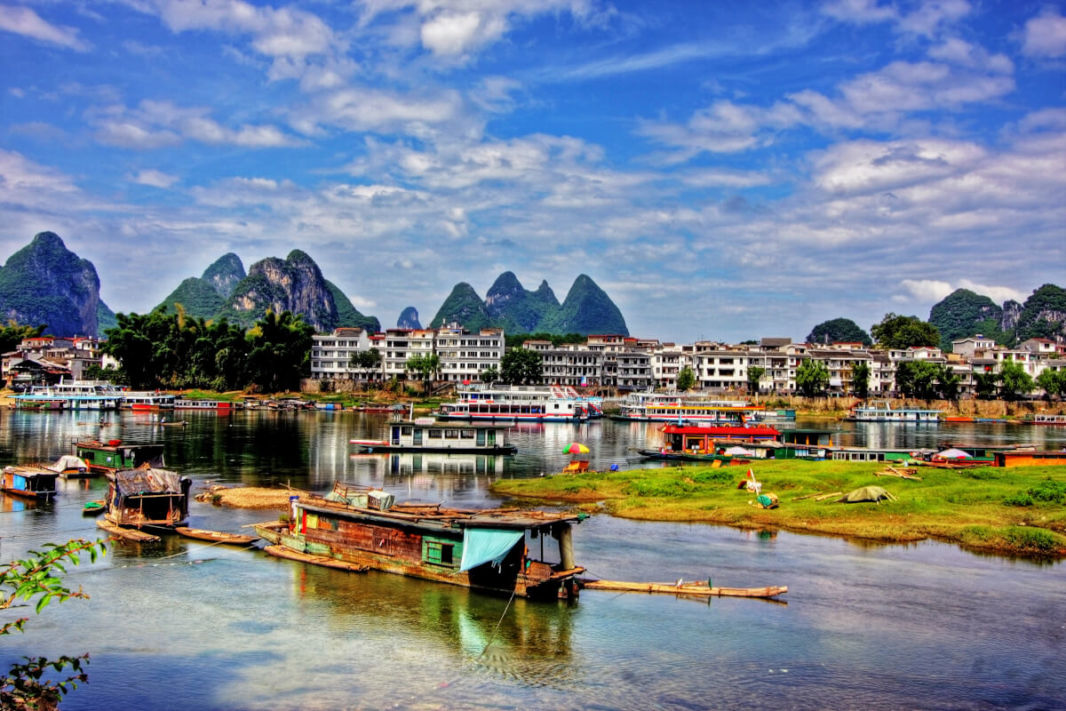 As soon as I am back, I ask Luc how to say dog in Chinese. The sound of the word sounds strangely like what these gentlemen from the hot pot market were telling me, but I keep lying to myself…
The next day, I decide to do a little idleness and enjoy Yangshuo. I start with the market, on clay.
When I hear a dog's cries of despair, I go to the part reserved for the sale of dog meat. I remember the images of the butcher's shop from my childhood, where the partially cut meat was hung on hooks, except that these are dogs…
I must know for sure and I am asking a shopkeeper behind his meat window; and this meat so similar to my fondue… I ate dog, dog fondue, hot dog pot…
Read more on this topic: eating dog meat is not a Chinese custom
So if you go to southern China one day, don't believe all these paper guides: yes, dog meat is very expensive in the city; but in the countryside and in small towns, dogs are allowed to reproduce freely and, believe me, there are many!
The dragon bridge and the ming village of Jiuxian.
After recovering from my somewhat confusing culinary experience, I take a local minibus to the Dragon Bridge.
The visit of this site, built on the Yulong River in 1412, is the pretext for a pleasant hike from the bridge to Yangshuo. The path through vast fields and orchards, constantly following the river, gives a whole new dimension to the karst peaks that are reflected in the water. The sounds of insects and the river are sometimes mixed with the cries of a few tourists who are appalled by the passage of their bamboo raft over the rapids.
I have fun observing them and filming the dexterity of some pilots going up the river.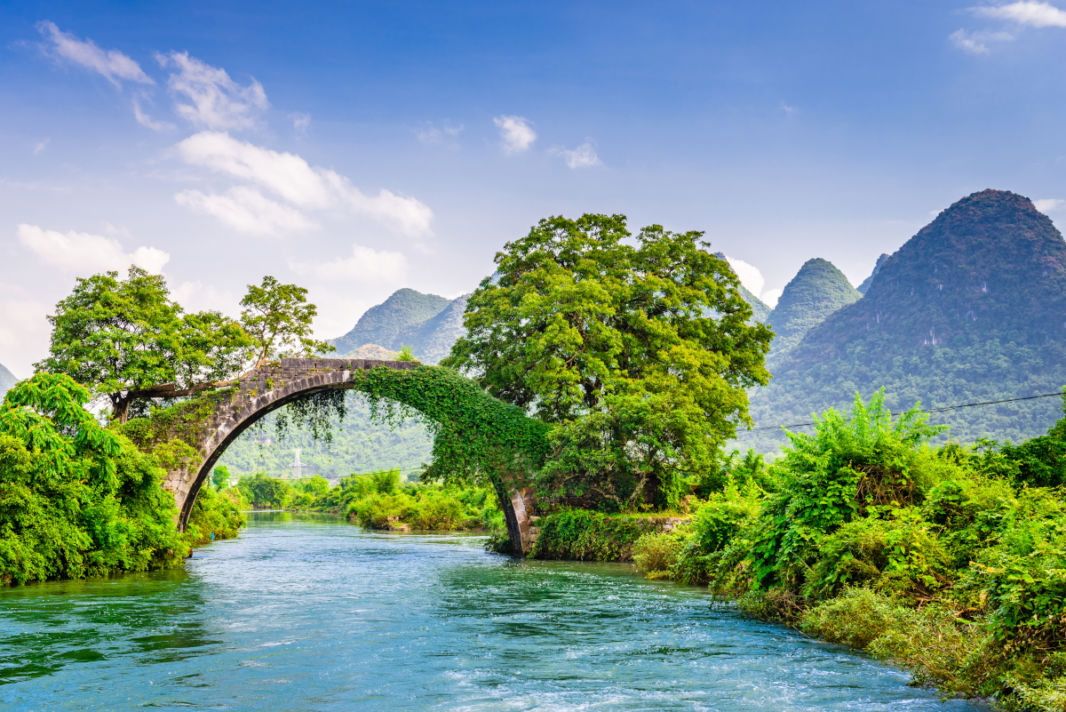 Sometimes I discover rare dwellings made of yellow bricks. Without a cow in front of one of them and the red lucky paper on the doors and graves, one would think they were abandoned.
After sneaking through the fields, sometimes with no other path than the furrows drawn by the farmers or stones over a stream, I arrive at the bridge that leads to the Ming village of Jiu Xian.
I am greeted by an old man wearing a cardboard box decorated with red and Chinese inscriptions. He quickly starts to pose in front of my lens, but I know what he expects from me and I do the one that doesn't understand: I have always refused to pay for a photo and I have no intention of paying a right of way for the bridge he has taken over the property.
Good player, he will smile at me when I will leave Juixian.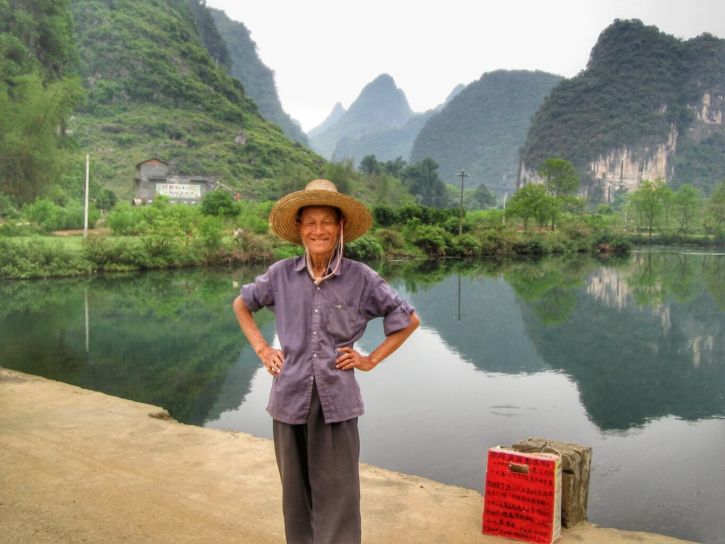 Jiuxian has very old houses with Ming architecture, which makes it a village increasingly frequented by small groups of tourists. This beautiful village, still far from the major tourist circuits, is likely to remain so for a very long time and the first effects of this new notoriety are already being felt.
First I am greeted by two little boys dressed in the same way. Far from being frightened at my sight, they start searching my pockets and trying to take everything I have on me and that I would agree to give them… Although still very young, their facial expressions and gestures sometimes indicate the violence they could show if they felt strong.
The village benefits from a privileged environment, worthy of the best feng shui, with the river and karst peaks all around. The discovery of Ming architecture is very pleasant.
Nevertheless, I feel more and more the weight of a mercantilism that is gradually growing. As I am alone, I am not asked for money for the visits, but I quickly notice that the other tourists, accompanied by their guide, are obliged to pay the people of the village to be able to visit it. As it is the end of the classes, the children pursue them from their requests to obtain some coins or sweets.
And, to my surprise, as the tourists have just left, some children start banging me…! On the road, others try to scare me by putting a snake under my nose. What a pity that this beautiful village has become such an inhospitable place!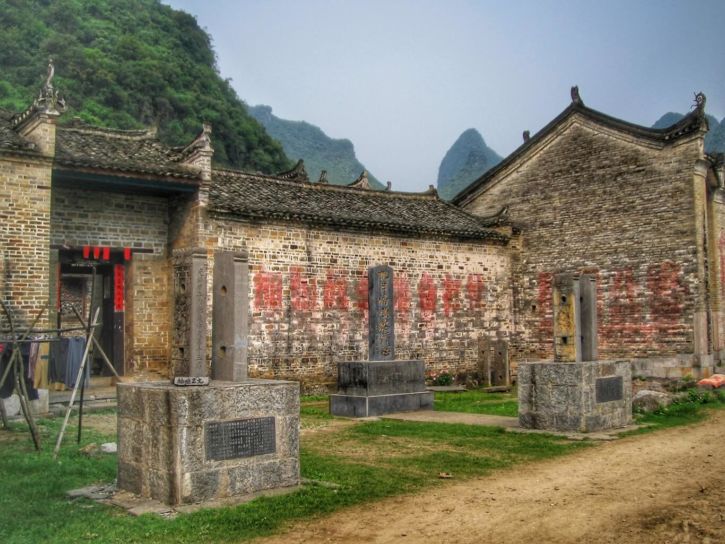 The beauty of the landscapes to return to Yangshuo fortunately makes me quickly forget my inconveniences and I end the day with a delicious fish hot pot…. this time !
The temples of Confucius in Gongcheng.
While David had advised me not to visit the Wen and Wu temples in Gongcheng, which he said would be expensive, a woman working for a travel agency I met in the street explained that I could easily get there by local minibus.
Stephen, a Chinese friend of Luc's, confirms the information and strongly recommends this visit.
On their advice, I take a first minibus that takes me to the intersection near the Fuli market, then a second minibus takes me towards Gongcheng. Bus drivers and their occupants try to make my journey easier and make sure I am not mistaken. It must be said that my new friends always write my destination in Chinese on my notebook, which makes it much easier for me to travel and connect with people.
This destination and these temples, located 45 kilometres south of Yangshuo, were not included in any travel guide at the time.
Wen Temple, also known as Confucius Temple, was built on the gentle slopes of a hill more than 600 years ago. It is one of the four largest temples in China dedicated to the life of Confucius; the most important being in Qufù, the Master's hometown.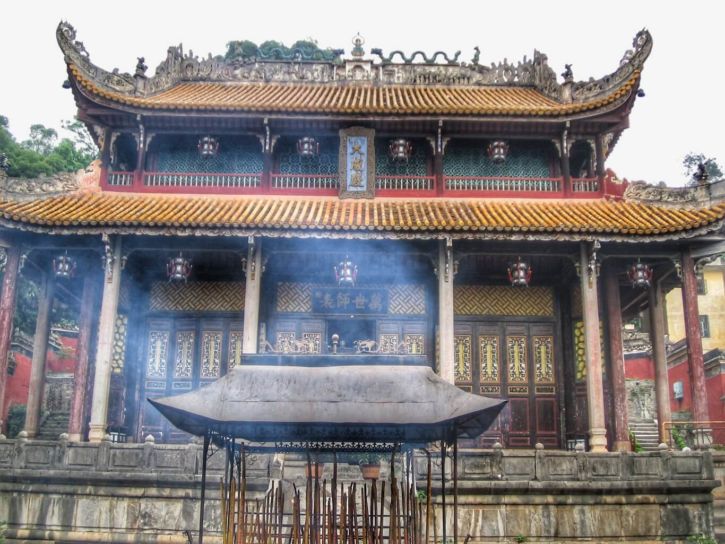 Although for a long time neglected, in the outskirts of a rather modern big city, this group of temples is taking on new colours and is a good example of a traditional pilgrimage place.
The various pavilions, with their ornate imperial architecture, combining wood and stone, are arranged on several levels. Below, in the central courtyard, a stone bridge spans a magnificent small semi-circular basin and, on the side, a stele covered with writing rests on the back of a bixi (a mythological turtle close to the dragon). The Pavilion of Letters is a place of meditation for students seeking success in their exams. Above, a memorial contains carved paintings of episodes from the life of Confucius and stories related to the iconography of the Sage.
The main temple contains a large statue of Confucius sitting on a throne in a pink and gold alcove, and guarded by a quarteron of monumental statues. I am fortunate to come at a time when only the guards of the place are present, and I can stroll around to admire this remarkable architecture.
Near the Confucius temple stands the Wu temple, built in memory of "Guanyu", a famous general of Shu state who lived during the third dynasty.
It includes several brick and wooden buildings: theatre, rain pavilion, prayer and offering hall…
After having quietly visited these two temples, I decide to go up on the nearby hill.
The site is very pleasant, and I go down through a small square, where several groups of Chinese card players and dominoes have settled. My camera and I quickly become the attraction of the square and the nearby playground, where children and mothers try to exchange a few words with me. Even if people are happy to pose for me, I quickly give up my camera to talk to them.
Perhaps the most interesting moment of the day was the joyful procession I headed for.
As I was about to take the entrance ticket to visit the temples, I had heard street music. Thinking it was a parade, I hurried back down to the city centre to attend: costumed dancers waving a dragon, traditional musical instruments playing a joyful melody, big smiles and hello, the pride of seeing me follow the procession by taking videos and photos…
Everything was in place so that I would only realize my mistake after the fact: it was actually a funeral procession, and I only saw the coffin while watching the video, back at the hotel!
The same misunderstanding happened again in South India two years later. In Asia, funeral processions are often very festive and it is easy to make mistakes when you are just beginning to discover the country's culture. In Mae Sot Thailand, they even had a boxing ring, a fair and shows in the temple during a major cremation. Here, I could have realized it if I had known at the time that the deceased's relatives wore a white hat – as in Cambodia.
Weather Yangshuo and South China.
From the end of December to the end of March, the weather is quite humid, cool with the risk of a lot of fog. Not ideal for enjoying river rafting and panoramic views of karst peaks.
From April to September, it is the hot season and then the rainy season. It is hot, humid, it can rain (heavy but short rains). In my opinion, this is the best time to visit because the rice fields are magnificent and there is often sunshine. The lighting for the photos is sublime. 
October and November are also very good months. It can be cool sometimes and a little more grey.
Conclusion – Yangshuo China travel guide.
I continued my trip to southern China to the village of Xinping, a few kilometers from Yangshuo, to take one of the most beautiful Li river cruise.
Yangshuo and its surroundings should be part of your visit program if you are going to southern China.
Its landscapes of karst peaks are absolutely fabulous and the welcome of its inhabitants is very warm.
Have you ever traveled to China? Tell us about your experience. Were you travelling with a guide or were you alone? How did you experience the language barrier?
Read more: the other articles in the China category.
Notes and References.
Guangxi – Wikipedia
Qingming Festival – Wikipedia
Along the River during the Qingming Festival – China Online Museum
How to visit Yangshuo China and hike without speaking chinese