You should read this practical guide – 2022 edition – and review on amla oil for hair if you are wondering how to make your hair grow faster, how to make your hair thicker, how to take care of dry hair, how to have shiny, supple and soft hair, how to get rid of brittle hair and split ends, what are the best vegetable oils for hair, look for a vegetable hair color against gray hair or the best beard oil. Although you're on a travel blog, this guide was made in response to many questions from my readers and updated on Juin 10th, 2022 with my latest discoveries. Read the summary to know all the issues covered.
Many of you find it difficult to recover beautiful hair that grows after pregnancy, an event or over-colouring.
You lose your hair, it doesn't grow, it turns gray, it turns white?
You may even have looked on the internet to find out what treatment to use, or even how Indian women grow their hair.
You have heard of amla oil for hair care but don't know which one to choose or if it is effective?
You may have even heard of Dabur amla oil to grow hair but you wonder if it's news or intoxication? Especially since you've read that many oils are toxic…
I have been using amla hair oil, the beauty secret of Indian women since my second trip to India in 2012.
At that time, I was desperate in front of my split ends and broken hair roots.
I had tried several types of hair treatments, without much success.
Today, I am sharing my experience with you and will cover 4 main themes that will help you to have more beautiful hair or a more beautiful beard, whatever the nature of your hair:
Which amla oil to use, how and where to buy.
What are the benefits of amla oil for hair or beard, included before after amla pics.
Who should use amla oil and what are the alternatives.
Plus you will find comprehensive reviews of Indian amla oils.
To buy these amla hair products for natural hair, India is not really the best place as it can be hard to find the pure oil. But the good news is that Amazon offers a wide range. You will find links to these different products directly in the article, with the use I recommend.
By using these links, you help me maintain this blog, at no extra cost to you. In addition, Amazon is the only site to offer 100% pure and organic amla oil, not macerate (amla powder macerated in vegetable oil).
Updated on 10/06/2022
Article Summary – amla oil for hair growth reviews.
Which amla oil is best for hair? Pure amla oil: the best choice.
It's what I use since 2018. I really love it as it's 100% pure amla oil and it smells very good. It's also perfect to put only the quantity you need on your hair or skin. I can't recommend it more!
If you're looking for amla hair products for natural hair, this is the one you should try.
FAQ on amla.
What is the best amla oil for hair growth and thickness?
Different amla oils are produced and used in India. But the best amla oil is organic one.
Read my ultimate guide to know which one is the best, where to buy it, how to use it, its effects and more.
Is amla good for hair growth?
Yes. Amla is a potent inhibitor of 5-alpha reductase. This is exactly how baldness treatments work!
What are the benefits of Amla oil?
It nourishes them, strengthens them, thickens them, makes them darker (powder) and grow faster.
Does amla thicken hair?
Yes. As it nurtures it, it is stronger but also thicker.
For a full FAQ on amla, check my article here
How to choose amla hair oil?
Choose a paraffin-free and additive-free amla oil. Most of the oils found in Indian or Pakistani shops outside India contain toxic substances. They also contain paraffin (petroleum residue), which explains their bad smell.
You will find below the one I have been using since I discovered that it is available online in my country. It only contains amla and I love it.
Amla hair products reviews.
The best option and 100% bio and natural: Pure amla oil.
Nothing beats returning to 100% natural with pure oil, which you can use for hair and skin care.
Now it's also possible to find pure amla oil online! According to me, it's the best option.
Since 2018, I use pure aamla oil and I'm absolutely amazed by the effects
My hair is even thicker! That is quite incredible as it was already very thick. It also cured the damages made by Patanjali amla oil. Mixed with coconut oil, it's even better.
It's the amala oil I recommend you to use.
Click here to check the price and read more reviews
Bio amla hair oil review – Khadi brand.
It's also possible to find organic ayurvedic products from Indian Khadi brand. It is often more expensive but 100% natural… Well, these are the official ads! The reality is: it contains paraffin – extracted from petrol residues, that explains the smell. Not really 100% bio, right?
Now that I've tested pure alma hair oil, I only recommend Khadi brand for other products like shampoo. Paraffin smells too bad and it's very bad for health according to some studies.
Click here to check the price and read more reviews (Khadi shampoo).
Emami amla plus review.
The first amla oil I used was Emami's oil, without paraffin and with henna, aloe vera and almond. It was my favourite amla oil for long .
Emami amla plus had both a pleasant consistency thanks to almond and a sweet perfume. I used it for years and it's the one that made me addicted to amla oil.
Emami Amla Plus oil has been replaced by "7 oils in one", based on amla and almond as a plus, but also argan, coconut, walnut, olive, jojoba. Indian youths, unfortunately, prefer our artificial western products and Emami followed this trend by making a mixed oil and a new packaging. I haven't tried it as my interest is amla, not oil with only a bit of amla.
Moreover, it contains paraffin!
Click here to check the price and read more reviews
Is Patanjali Amla oil good for hair?
During my latest trip of 3 months in India in 2018, I couldn't find Amla Plus Emami as it doesn't exist anymore. So I've decided to test amla Patanjali oil as I've heard both good and bad things. I wanted to make my own opinion and give it to you.
I'm extremely disappointed by Patanjali amla oil!
The reasons?
I lose my hair as much as if I didn't use oil.
The tips are split.
My hair does not look very thick and "wild" as it does with other oils.
While she's supposed to be Ayurvedic, I think she smells like paraffin.
Patanjali is the worst oil I've tested!
Since then, I have found many testimonials from Indians – on English Quora in particular – mentioning the poor quality of all Patanjali brand products.
Dabur amla hair oil disadvantages.
As I know a lot of people know and use Dabur, it was important to highlight its disadvantages. If I were you, I wouldn't use this oil…
Is Dabur Amla oil good for hair?
The most known and used is hair oil Dabur amla. Unfortunately, it contains paraffin, which gives it a very bad smell and an odd consistency.
Several articles deal with the precautionary approach to this substance, which is used in many cosmetic products. In particular, it would prevent the skin from breathing properly. Recent studies have shown paraffin-induced liver problems.
That also means the oil has a strange consistency, like petrol…
The other disadvantage of this brand is its very unpleasant smell – petrol – if you don't choose its jasmine version. That said the jasmine smell is quite artificial.
I don't recommend you to use it. Since I use a pure amla oil, I can really see the difference between a good and bad oil: quality, smell, effect.
>> Nevertheless, if you want to try it, click here to check the price and read more reviews
Dabur amla gold review.
You may also find the "Gold" version of amla Dabur oil.
This version adds almond oil and henna to the original recipe. However, its effectiveness on hair loss and growth is less. Its only advantage over conventional oil is its fragrant smell. It also contains paraffin.
I don't recommend it either. It even contains more toxic substances than the classical Dabur amla oil.
What are the benefits of amla oil?
Amla oil has many benefits for hair: it nourishes it deeply, which allows it to be healthy, stronger, thicker and grows faster.
It would also darken them and would help to prevent greying and whitening. It's hard for me to be affirmative as I use it since 2012, so I can't say if my hair is darker or not. I can only say that, at 46, I only have a few white hair.
On the other hand, Amla POWDER darkens hair naturally!!! I could see the difference by testing a mask.
Read the following sections for more details on each of these benefits.
Does amla oil help hair grow faster?
Yes, definitively, amla oil works for hair growth!
Since I use it, my hair grows faster and, as they are in a better health, I don't need to cut it often.
In this article, you will see two pics that were shot before amla in 2012 and two pics 3 years later. The difference is huge!
Does amla oil thicken hair?
I'm already lucky to have the same thick hair than my mother.
But since I use hair oil amla, my hair is even thicker as it doesn't break anymore at the roots level.
With the pure oil I've been using for a few months, it's even more impressive: just after shampooing, my hair waves, grows in volume and keeps it for several days.
Amla oil for hair loss. Is amla efficient against hair fall?
Yes, you got it: as amla reinforces hair, it's also very efficient against hair loss. It's also a potent inhibitor of 5 alpha-reductase, the way to prevent baldness.
With Amla, my hair grows much faster, it is in better health and still brown at 46yo.
Before, my roots tended to be brittle, hence some unsightly loops at the top of the skull…
I couldn't have them very long; otherwise, the tips were very quickly split.
The floor of my apartment was often covered with hair.
Since my amla oil masks, my roots are healthy.
My tips are no longer split at all and I don't need to have them cut very often.
My hair tends to wiggle slightly, which I love and which gives it a very vital look, rather than looking dull and without volume when it was too long before.
It's even better with pure oil
And I don't spend my time sucking hair off the floor anymore!
When I happen to be out of stock, I quickly see the difference.
You can check my article on how to promote hair growth using amla oil, including a video with French, English or Hindi subtitles.
Does alma oil cause hair loss?
NO! Except if you use PATANJALI brand, you will certainly lose your hair more than before.
It's exactly what happened to me!!! Patanjali is only a big business with millions spent in ads. That's why many people in India think it's good when it's the worse oil I've ever used.
I also think this false idea comes from the status of the founder whose pics can been seen everywhere to sell Patanjali products: he's a guru.
Does amla oil darken hair?
Yes. Amla oils delay premature whitening and greying. It would darken hair.
I'm 46 yo and my hair is still very brown.
However, I don't have the impression that pure oil darkens my hair, unlike powder.
Can it be used on already coloured hair? What the result will be?
Yes!
One of my readers, Paola, posted this comment to me on Facebook "I am very satisfied with amla oil for my hair… despite the coloring… it whitens less quickly!
Thank you Stephanie for your advice!!!"
Can Amla oil cure grey hair?
I'm 46 years old and my hair is still brown!
I never colour it and rarely discover a lost white hair (genetic, you might say. Maybe… My parents have a lot of advantages in that regard. But maybe not… My two sisters had their first white hair well before 40 years of age, and I've been using shampoos with henna for years, and now amla).
It's hard for me to see any difference from my natural colour, as my hair takes on a more auburn hue in the summer and I've been using the oil for so long.
On the other hand, the oil doesn't cover my rare white hair. So I tried the powder, which really darkens my hair!
Is amla hair oil efficient against dandruff?
No, not amla oil alone.
But most ayurvedic products combine other plants with alma, and are effective against dandruff (khadi amla, Bhringaraja Amalaki).
>> Click here to check the price and read more reviews
Amla hair oil: for which color and type of hair?
Sorry for blond and red hair: amla oil is for dark hair only. But wait a minute as I have the perfect solution for you below!
Men and women can use it, whether for hair… or beard!
If you follow my recommendations and use a pure and therefore organic oil, you can of course use it on children's hair and skin. Don't do that with paraffin oils!!!
Amla is very effective on dry and damaged hair like mine was, but also on frizzy hair.
You can use it whatever the nature of your hair. It is totally wrong to say that it is only suitable for Indian or Afro hair. I'm Caucasian!
Can I use amla oil on blonde hair?
No. But you can use the ayurvedic oil or powder of Kachur Sugandhi, known for its beautifying effect and stimulating action of growth!
Kachur Sugandhi is also called white turmeric, curcuma zedoaria or Kachur Nar.
Try to find kacur sugandhi oil by searching with the other names too.
>> Click here to check the price and read more reviews
Is amla Indian oil effective on frizzy hair?
Yes. If you do a quick search on YouTube, you will find several videos that show the effectiveness of amla on frizzy hair. So yes, amla oil is also effective for frizzy hair!
How to use amla for hair growth and thickness?
How to use amla hair oil?
It is extremely simple! I use it as an overnight hair mask.
Pour the amla oil into the palm of your hands.
Apply all over the hair by massaging.
Emphasize roots and tips.
Leave it on overnight.
The next day, do your usual shampoo.
Repeat the operation twice a week.
Since 2012, I only use amla oil for my hair – adding coconut oil since 2020.
In India, people keep amla in hair all day long. That's why they're so brilliant.
Can I leave Amla oil in my hair?
Yes. Although some people recommend to rinse after 15 minutes, I find it much more effective to leave it overnight or even the whole day.
Can we mix castor oil and Amla oil for hair?
Yes! And this is actually what I did for a few months before using coconut oil instead.
>> Click here to check the price and read more reviews
What are the other synergies?
It seems that the combination of amla powder with henna, indigo and brahmi powder improves the darker shade of hair in the aftermath of hair colouring.
It can also be combined with essential oils to reinforce its properties (nard, rosemary, grapefruit, lemon, Atlas cedar).
As far as my hair is concerned, it is the combination with coconut oil that gives the best results.
How long amla hair oil have to be used to get good results?
You can see the results immediately since the oil nourishes the hair in depth.
But to optimize growth, first cut off your damaged tips!
Don't believe the charlatans claiming that there is a miraculous oil to make hair grow 30cm in 1 month. It doesn't exist.
Amla oil hair growth results before and after photos.
The two top photos were taken in 2012, at the age of 39.
The next two photos were taken at my birthday party in India in 2015, at the age of 42.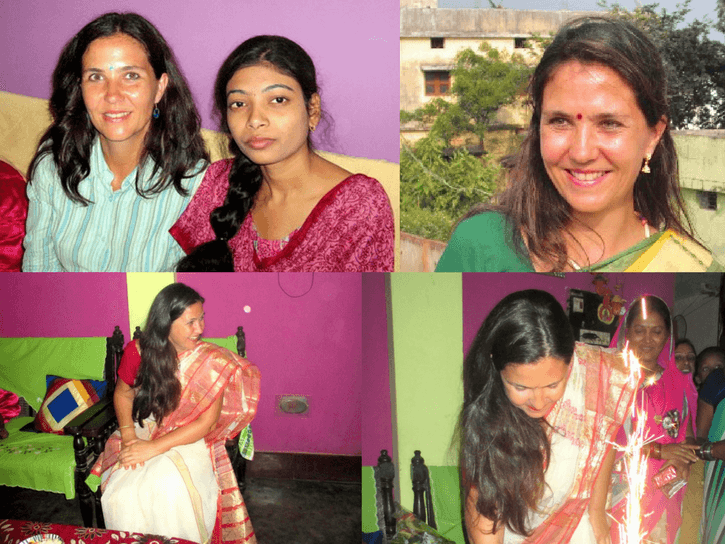 Tips for using amla the right way. Amla oil hair growth before and after – 2012 vs 2018.
I have decided to show you and explain the evolution of my hair's health and growth thanks to amla over the years. You'll soon understand why I'm such a fan of this oil! I will also explain to you the mistakes not to make.
Just before amla in October 2012.
Although people generally like this picture very much, you can notice that my hair was not very healthy.
The roots were brittle and frizzed unsightly, the ends were brittle and the general health of my hair forced me to cut several centimetres at each visit to the hairdresser. A real heartbreak…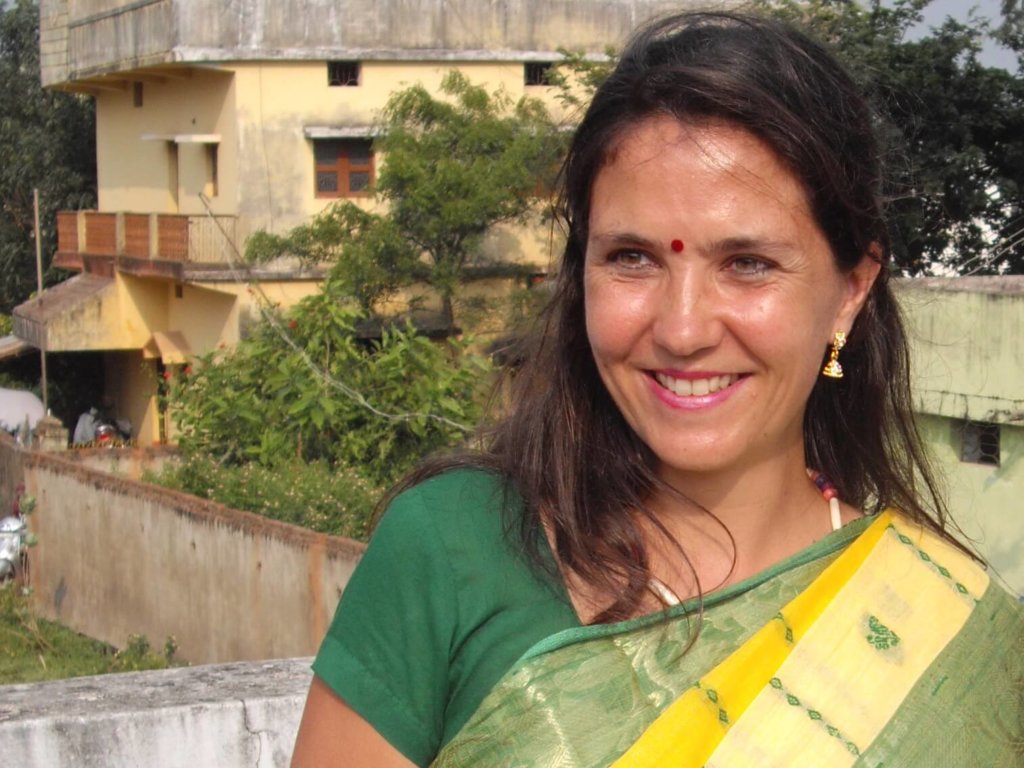 At the beginning of May 2013, after haircut and at the end of the same month.
Here is the huge mistake I made: not to get my hair cut before I start using amla, so I can start on a healthy basis!
I should have done so as soon as I returned from India in November 2012, not in May 2013. This would have really boosted my hair growth, as you will see in the next picture at the end of May 2013.
On this 2nd photo, my hair had already started growing again, remained slightly wavy and you can see how well it was held whereas we were coming back from hiking in the mountains!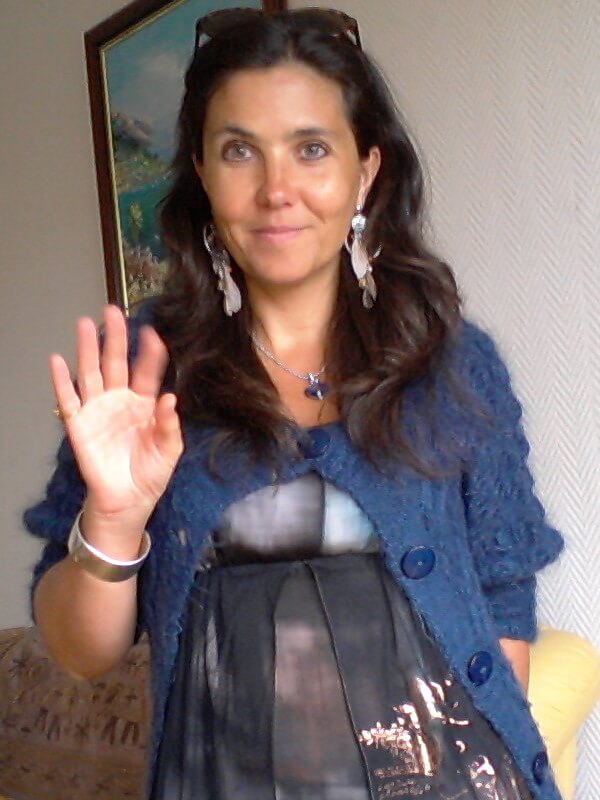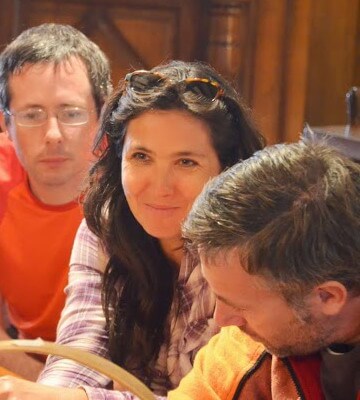 Conclusion: cut your hair before starting using amla so you will better benefit of its effects.
August 2013, in Kashmir.
My hair had already grown several centimetres but it was still waving, which was not the case before amla oil!
Yes, I had a nice black eye due to a slip during a trek in the mountains with nomads and horses….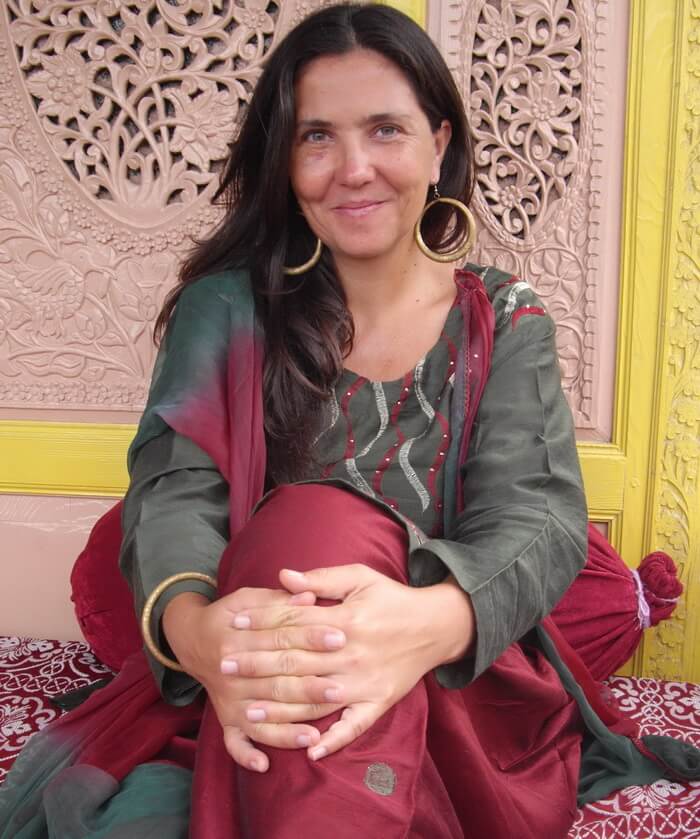 October 2015, after almost 3 years of amla.
I still hate having my hair cut as much as I used to, but I don't need it anymore to keep my hair healthy!
The following picture was taken while I had been in India for a month already and I had not been to the hairdresser for several months. You can see how healthy the roots are and how long they remain.
Now my hairdresser is also a fan of amla because of my hair health!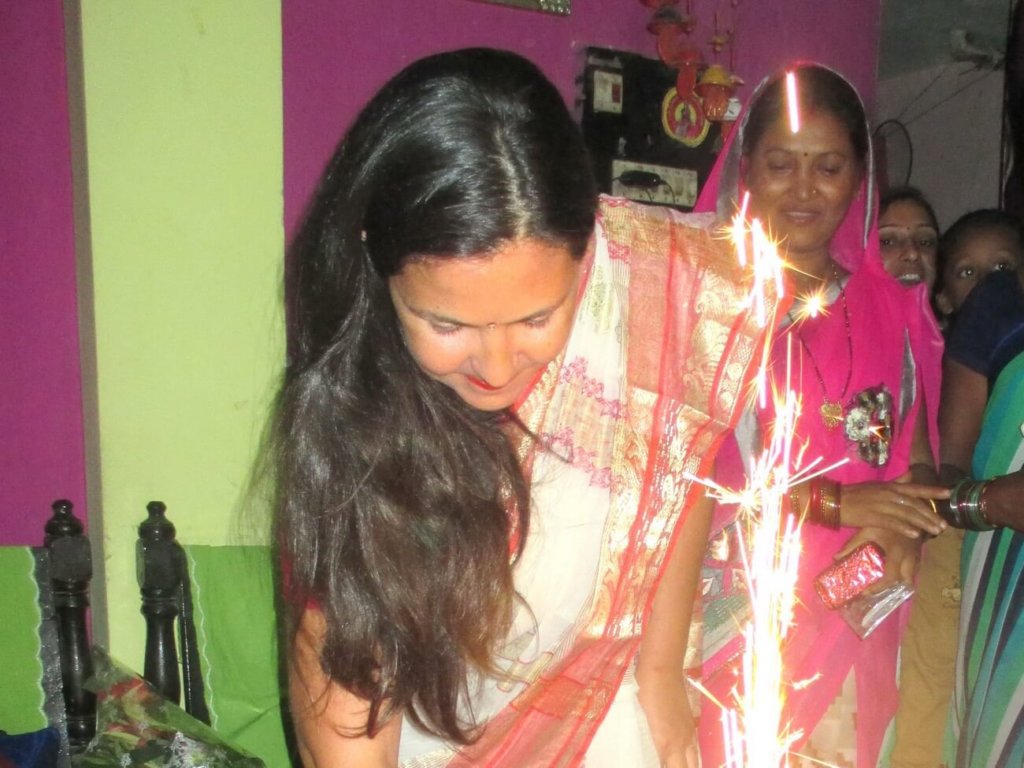 April 2018, after 5 years and a half of amla.
As you can see, despite their length, my hair is very healthy and full of life.
The hairdresser only refreshes my hair gradient when I go there.
In June 2020, my hair reaches my butt.
I still don't need to do any color (I'm now 47 years old).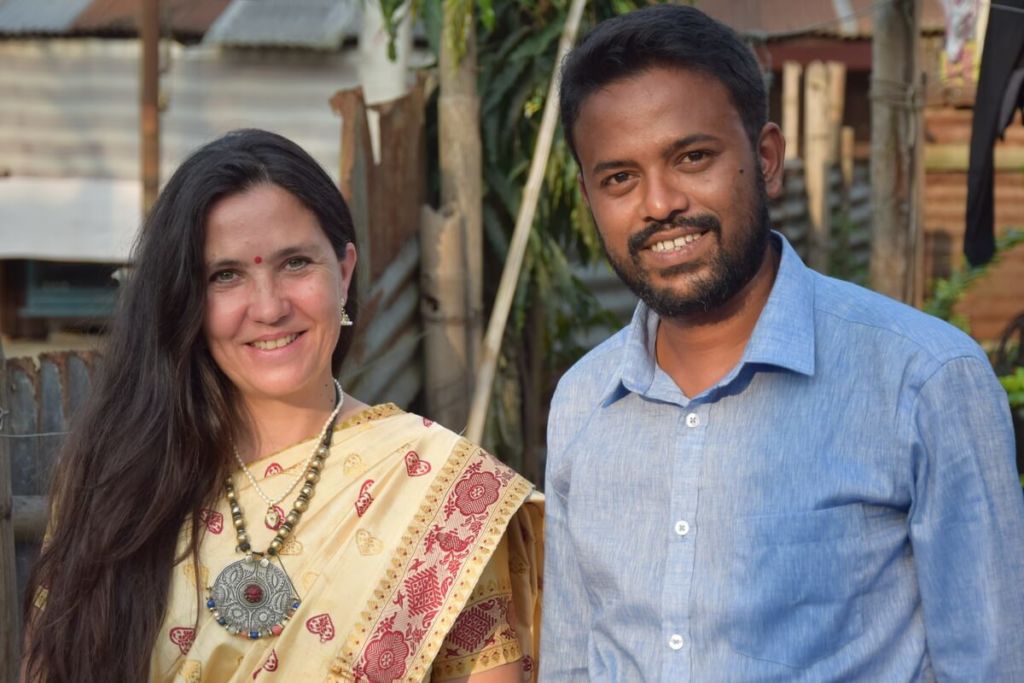 Does Amla oil help in beard growth?
Yes. As mentioned above, men can use amla oil for beard growth.Nevertheless, some of my Indian friends use mustard oil instead, which would also delay the arrival of white hair and grey hair while fortifying the hair.For having tested this oil on my hair, its smell is much more masculine and its consistency is different, which makes it more suitable for male hair than female hair.
>> Click here to check the price and read more reviews
The other Indian oils.
You can also read this guide to 16 Asian hair remedies
Navratna oil for hair review.
In Sri Lanka, I tested Navratna oil, based on amla, mint and vetiver.
Sri Lankan women use it for both hair health and relaxing massages.
I wouldn't recommend it for hair care. It is not very effective.
My roots have tended to be brittle again, and my tips a little split…
It even made my hair dry like straw!
However, Navratna oil is great for relaxation. You can also use it in your bath, instead of essential oils. It's very relaxing.
>> Click here to check the price and read more reviews
Brahmi benefits: brahmi oil for hair growth reviews.
Since many of you are wondering about the benefits of Brahmi oil, I asked my Indian friends about its use and effects.
It appears that Brahmi oil is never used alone for hair, unlike aamla oil.
They all recommended me to use ayurvedic mixed brahmi amla hair oil.
>> Click here to check the price and read more reviews
Where can I buy amla?
It's easy: you can click on the links and pics of the products I recommend in this article.
Amazon has a large choice of amla products and the prices are good. It is also the only site on which I found 100% oil and not macerate (powder macerated in vegetable oil).
This is again the link to the oil I recommend
Feel free to sign up for Amazon Prime's free trial to benefit from free accelerated delivery and download series, music and books.
>> Click here to start your free trial now.
Scientific studies and testimonials.
The scientific studies on amla for hair.
A study conducted in 2012 revealed that amla oil was a potent inhibitor of 5-alpha reductase. Just as finasteride, used to treat male pattern baldness, that also works by inhibiting 5-alpha reductase.
The potential benefits of amla oil for hair and scalp include :
strengthening of the scalp and hair,
stimulation of hair growth,
reduction of premature loss of hair pigments, or graying,
prevention or treatment of dandruff and dry scalp,
prevention or treatment of fungal and bacterial infections of the hair and scalp,
reduction of hair loss,
the improvement of the general appearance of the hair,
prevention or treatment of parasitic infections of the hair and scalp, such as head lice infections.
Exactly the kind of thing I could notice on my hair using good alma oils!
What my readers say about amla.
Ami Bhat from Thrilling Travel – India:
I discovered amla a few years ago for my daughter.
The combination with coconut oil is fabulous for hair.
Ajay from Travelure – India :
Amla is definitely a grandmother's recipe in India!
Ashley Renne Simpson from the blog Travel Lushes – Indian mother :
I love amla oil – my mother brought it back from India when I was younger and I use it often. My hair retained its length, dark color and strength.
Conclusion – Amla oil for hair thickness and growth.
The beauty secret of Indian women, amla oil for hair growth and thickness, prevents greying and falling hair.
It makes hair stronger, sweeter, brighter and grow faster.
Use only amla for dark hair. Light hair will prefer kachur sugandhi oil.
Only a 100% pure and organic oil such as this one should be used, as the others contain products that are harmful to health and the environment. Although it is more expensive, it is much easier to dose, keeps for a very long time and above all it is very effective and not harmful.
The other products: I also use amla shampoo and mix amla with coconut oil.
You can find some of these products at an Asian shop in India and Asian countries (but beware of the ingredients and make sure it only contains amla). You will hardly find the best bio ones except online by following the links in the article.
If you want to know how you can use the different amla products and their best use, you can read this article
This article contains compensated links. As an Amazon Associate I earn from qualifying purchases. Consult the disclaimer on the site for more information.
Your turn.
I know that many of you are trying the different products recommended in this article, so don't hesitate to let us know the results, whether positive or negative!
If you agree, I will publish your opinion in the article to help other readers as much as possible.
You liked this article?
Please give it a 5-star rate at the bottom right (below the Pin) to help the other readers know it's worth it.
Thank you!
How to grow your hair effortlessly with amla oil