You should read this article if you want to know the best hair care, the best product to relax, which product is the best against aches and sinusitis.
My frequent stays in Asia since 2007 have allowed me to familiarize myself with three natural products that are regularly used there: Navratna oil, amla and tiger balm.
For hair care, Navratna oil and amla are mainly used; for sinusitis, massage and aches, Navratna oil and tiger balm. However, they do not all have the same effectiveness and have many other virtues, as you will learn in this article.
In this article, you will learn:
why amla oil is the best hair care.
why Navratna oil is the best for relaxation.
why tiger balm is the best for cold and sinusitis.
Note: I get commissions for purchases made through links in this post at no extra charge for you.
>> Click here to check the price and read more reviews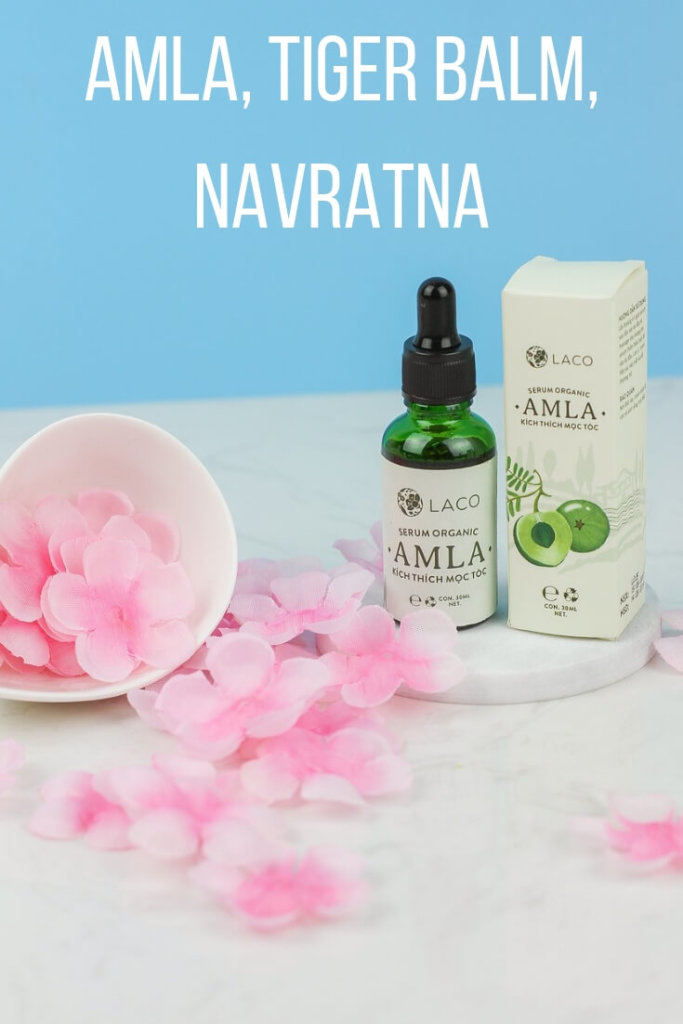 Article summary – Navratna, amla, tiger balm.
FAQ
How to use Navratna oil?
The best use for Navratna oil is for relaxation: massage, hot bath.
Is Navratna oil for face?
No! It can be very irritating.
What are Navratna oil ingredients?
It is composed only of natural products:
Nagarmotha
Japa Pushpa
Bringaraj
Sailaja
Kshir Kakoli
Karchur
Amla
Kunch
Lata Kasturi.
Can I use navratna oil during pregnancy?
It's better to be cautious during pregnancy. But you can use it in a hot bath to relax.
Amla oil: the best hair care.
I'm totally fond of this oil since I discovered it in 2012.
Since I use it, my hair is much stronger and thicker, it is no longer brittle and I no longer sow it everywhere in the house, it grows even faster and, at 46 years old now, I very rarely pull out a white hair.
To learn more, I advise you to read my ultimate guide to amla oil for hair or my video article here on amla hair growth.
Not only you will get a complete review but you will also see some pics of my hair in 2012 and in 2015, you will know how to use it to strengthen and grow your hair, you will discover the other amla products you can use and why, you will learn all the benefits of amla for health, based both on the Indians' experience and the recent scientific studies. You will understand why the Indian gooseberry is so sacred in India!
Amla can also be used for skin care and health.
>> Click here to check the price and read more reviews
Navratna ayurvedic oil benefits, the best oil for relaxation.
Navratna oil is a mixture of oils and plants. Its smell is extremely pleasant.
Navratna oil benefits.
What is Navratna oil used for?
I use Navratna oil in three ways:
Although this oil is recommended for its refreshing action, I find that its best use is in the bath. If you pour a few drops of Navratna oil into a warm bath, you will fully enjoy its relaxing effect thanks to its smell. Very quickly, the whole body heats up slightly, completely relaxing the muscles… and the head. Anyway, I love Navratna hot oil baths!
If you have trouble falling asleep, a temple massage with this oil is also very effective.
If like me you have suffered from burn-out and this indescribable sensation of physical overheating of the back of the skull is familiar to you (nothing to do with the "bubbling" of thoughts, a totally different sensation), a massage of this area with Navratna oil soothes, providing a sensation of freshness.
>> Click here to check the price and read more reviews
Can we use navratna oil for body massage ?
Yes, Navrathna oil can be used for relaxing massages.
It's even one of its best uses.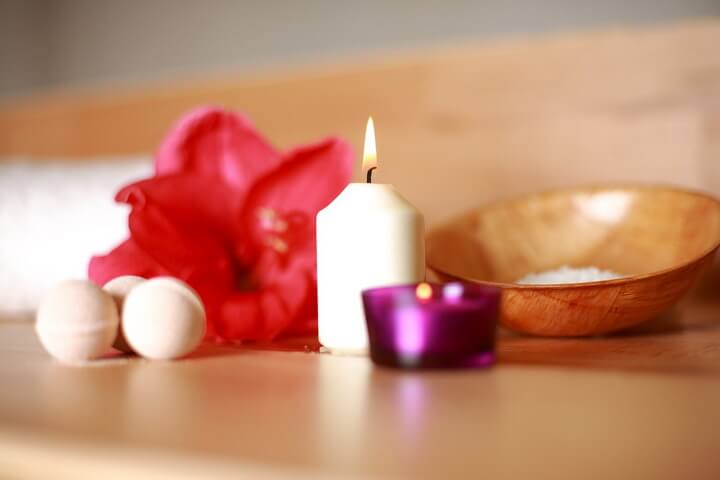 Is Navratna oil good for hair?
No.
Sri Lankan women use Navratna oil for hair growth and care. I have tested it and advise against it for several reasons:
my scalp was extremely oily and greasy very quickly after shampooing.
I didn't feel the nourishing side of amla oil and I am convinced that if I had continued to use it, my hair would have become brittle again.
My hair looked like dry straw!!!
Navratna oil for face.
Don't use Navratna cool oil on your face. It's not the proper use and it can be very agressive for your sensitive face skin.
Is navratna oil good for health?
Navratna oil has no special benefit for health.
Can I use navratna oil daily?
You can use it daily only for relaxation.
Tiger balm benefits: the best oil for cold, sinusitis, etc.
Tiger balm is a Chinese balm found throughout Asia.
There are two versions: the red tiger balm and the white tiger balm, whose composition is quite similar.
Personally, I find that the tiger balm red gives a sensation of warmth and the tiger balm white a sensation of freshness.
What are red tiger balm ingredients?
The ingredients common to tiger balm white balm:
Camphor: 25%.
Menthol : 10%.
Essential oil of cloves: 5%.
The red colour comes from the addition of cinnamon tree essential oil from China (Ayurveda Dalchini, Cinnamomum cassia): 5%. It also contains Cajeput Oil: 7% and dementholized mint essential oil (Ayurveda Pudina, Mentha arvensis): 6%.
>> Click here to check the price and read more reviews
What are white tiger balm ingredients?
For ingredients common to red balm
Camphor: 25% (idem)
Menthol : 8% (10%)
Cloves essential oil : 1.5% (5%)
Instead of 6% mint essential oil, 14% eucalyptus essential oil is found.
>> Click here to check the price and read more reviews
Feel free to sign up for Amazon Prime's free trial to benefit from free accelerated delivery and download series, music and books.
>> Click here to start your free trial now.
What does Tiger Balm actually do?
The red tiger balm is excellent against muscle aches and joint pain, in particular thanks to its heating action.
It's also my favorite for sinusitis, colds and cough.
My sinusitis tends to turn into bronchitis. To avoid it, I apply tiger balm on the top of the chest before going to bed. The balm clears my nose and prevents bronchitis.
You can do the same thing if you have a cold or cough. Be careful however to check that your skin supports it well.
It's also my favorite against migraines and headaches.
The white balm is more indicated to relieve mosquito and other insects bites. However, after a full day of hiking on the Hong Kong islands, I was eaten by mosquitoes at sunset. Back at the hotel, I tried to apply some balm but my whole body was stung. I ended up shivering under the covers despite the heat! Apply the balm only if you have few bites.
Tiger balm would also be effective against stomachache. I've never tested it, though.
Can I use Tiger balm for hair growth?
No! I do not know where this belief comes from and the fact that I am regularly asked the question. No, tiger balm should not be used for hair care.
Tiger balm side effects.
The balm should not be used on children under 7 years and pregnant or lactating women.
It can be very irritating, especially the red one, and should not be put on mucous membranes or eyes. Wash your hands thoroughly and avoid touching your eyes within hours.
Conclusion – tiger balm, Navratna, amla.
Now you know what you can do with these three highly effective Asian products. Feel free to share your own experience and tell us if you use them differently.
If you go to Asia, don't hesitate to buy them. You can also use the Amazon blocks in this article. Thanks to the commission paid by Amazon, you will help me to make this blog live without extra cost for you.
You can read my full guide to amla ayurvedic berry here
This article contains compensated links. As an Amazon Associate I earn from qualifying purchases. Consult the disclaimer on the site for more information.
Sauvegardez sur Pinterest pour plus tard.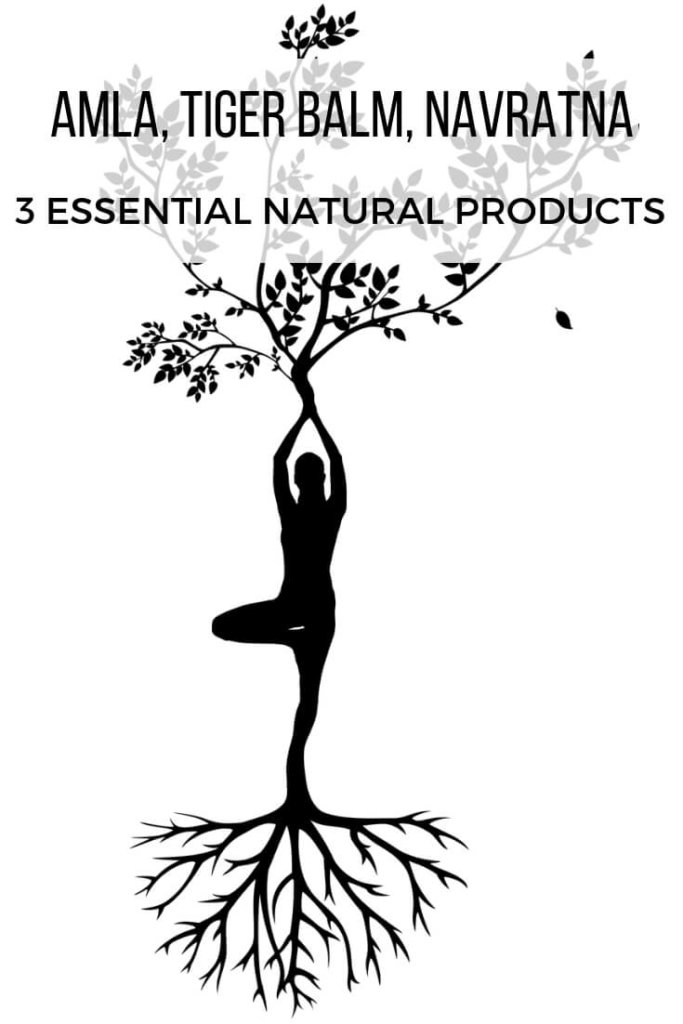 3 awesome natural cures: Navratna, Amla, Tiger Balm