In this article, you'll discover the top 3 worst seduction technique I've ever encountered and how I've handled these situations so you can learn from them.
If you're a solo female traveler or even a man traveling solo, you certainly have encountered some people trying to flirt with you.
I know that a lot of you don't feel comfortable with these situations.
Maybe you try some tricks like wearing a fake wedding ring or preventing people from approaching you with a very distant attitude. But you have realised that it doesn't really work and it's often worse.
In this article, I will tell you three anecdotes that happened to me when traveling and how I handled each situation. So that you will be better prepared by knowing what can happen to you in these three countries and some tips to avoid it to turn bad.
Article summary – worst seduction technique.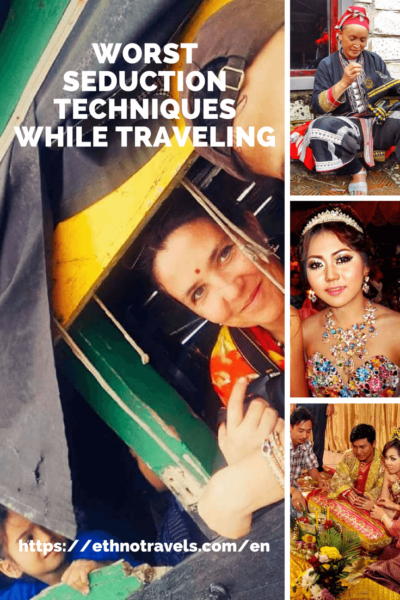 The worst seduction technique in Sri Lanka: no more buses for home.
If you have read my safety tips for women solo travelers, you know that Sri Lanka is the only destination that I advise female travelers against, whether they travel alone or with friends.
The great majority of Sri Lankans have an unhealthy behaviour with women, which left me a bad memory of this island however very pretty. I don't call that seduction behavior. The touching, the looks deliberately placed on the chest, the "hello, do you want to sleep with me", the acts of exhibitionism, the theft of mobile phone numbers by the police, followed by telephone harassment, have nothing to do with seduction…
The softest story in Sri Lanka, which can most closely resemble a poor seduction technique, took place in Anuradhapura.
That day, I had to go to the bank to change some money. A young man, rather handsome, received me in his office. We filled out the many documents together while we discussed. He was quite nice and charming. It was nice talking to him and it was nothing more than a courteous discussion. However…
However, very quickly once I left, I started receiving SMS from him. Nothing very bad in the content. Despite everything I do not write my number on an administrative form so that it is stolen and used by an employee, as handsome and charming as he is.
Worse than that, the evening when I had just returned, this young man came to my guesthouse, whose address he had also obtained from the form. He explained to me that he absolutely wanted to see me again and that for that he had missed the last bus to return home, that I could not leave him thus in the street!
Of course, I could have been tough on him, but I never felt threatened by his attitude. Even though his seduction technique was disastrous, he had no inappropriate gesture and did not insist when I refused. On the contrary, he was sorry and apologized, constantly repeating "but why we Sri Lankan guys are so crazy about sex? He was really sincere and held his head, curled up on himself on a bench. He even ended up admitting to me that he always had buses home.
This misadventure illustrates just how obsessed most Sri Lankans can be with women and sex, and how conscious of it some may even be. My advice: when filling out official documents in Sri Lanka, do not hesitate to provide a different address than where you really live and a false telephone number or the number of a guesthouse. The two times I had to fill it in, the result was similar. The first time, it was the policeman at a checkpoint who kept harassing me on the phone. You don't have to get mad. The other person may take it for fear and try to take advantage of it. On the other hand, be firm and confident. This is the most effective method of defense! Sri Lanka is not a suitable place for Couchsurfing. If you travel alone or among girls, prefer a guesthouse or a hotel. Remember that in Sri Lanka, even if you shout for attention or call the police, you are unlikely to get help. You can only count on yourself, your cold blood and your legs to leave!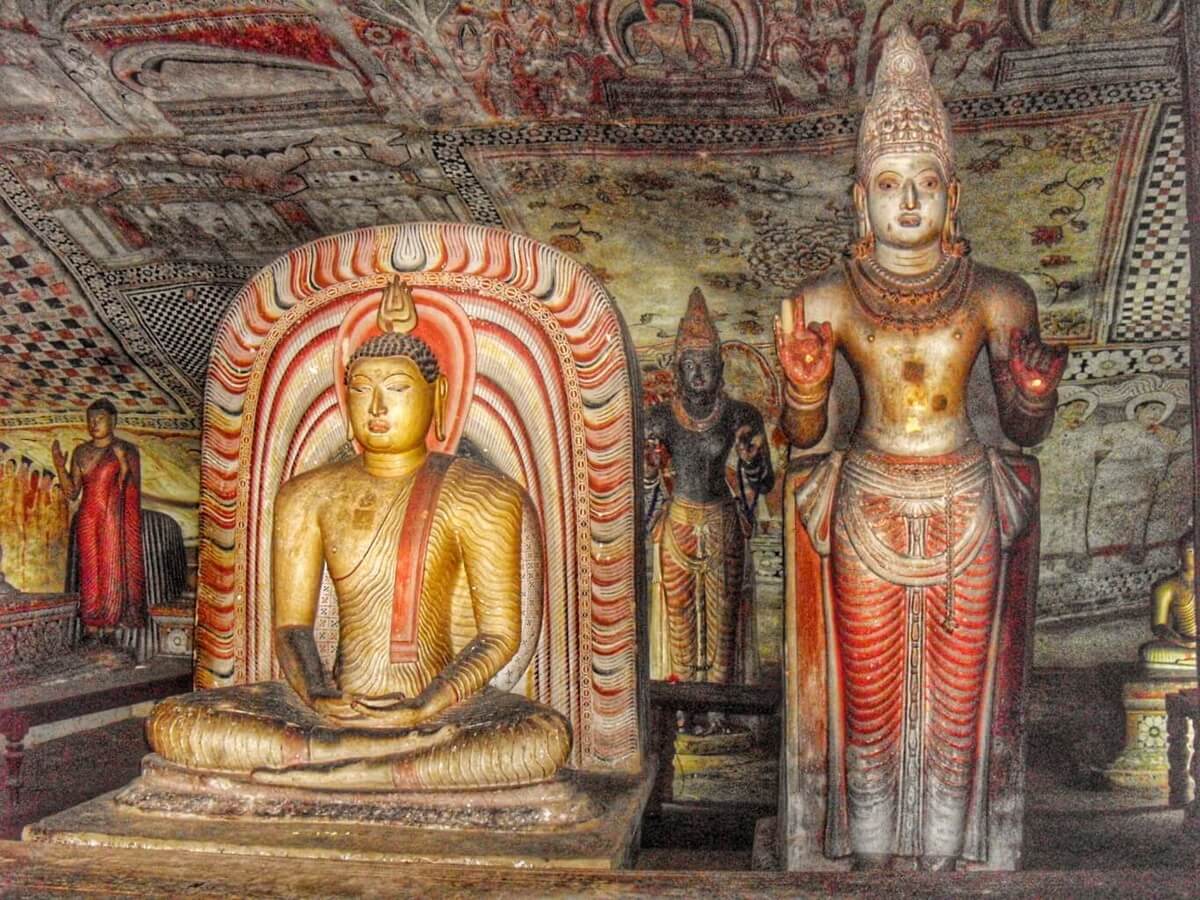 The worst seduction technique in Cambodia: the whore bar!
When I was in Stung Treng in northern Cambodia, I was invited to the second day of a wedding.
The ceremony mixed Chinese and Khmer traditions, as is often the case in Cambodia, and the refined dishes were specialities of these two countries, as well as Vietnam.
For a wedding in a rich family as it was the case, many participants are present: the master of ceremony, kind of lay monk who organizes and performs most rituals; the assistant, in charge of advising the family on its posture and what they must do; the photographer; the cameraman; the troupe of singers / musicians / dancers; the troupe for the burlesque show…
The bride and groom are solicited throughout the day. The bride constantly changes hairstyle, jewelry and dress, the groom simply of dress, and it really looks like Cinderella's wedding!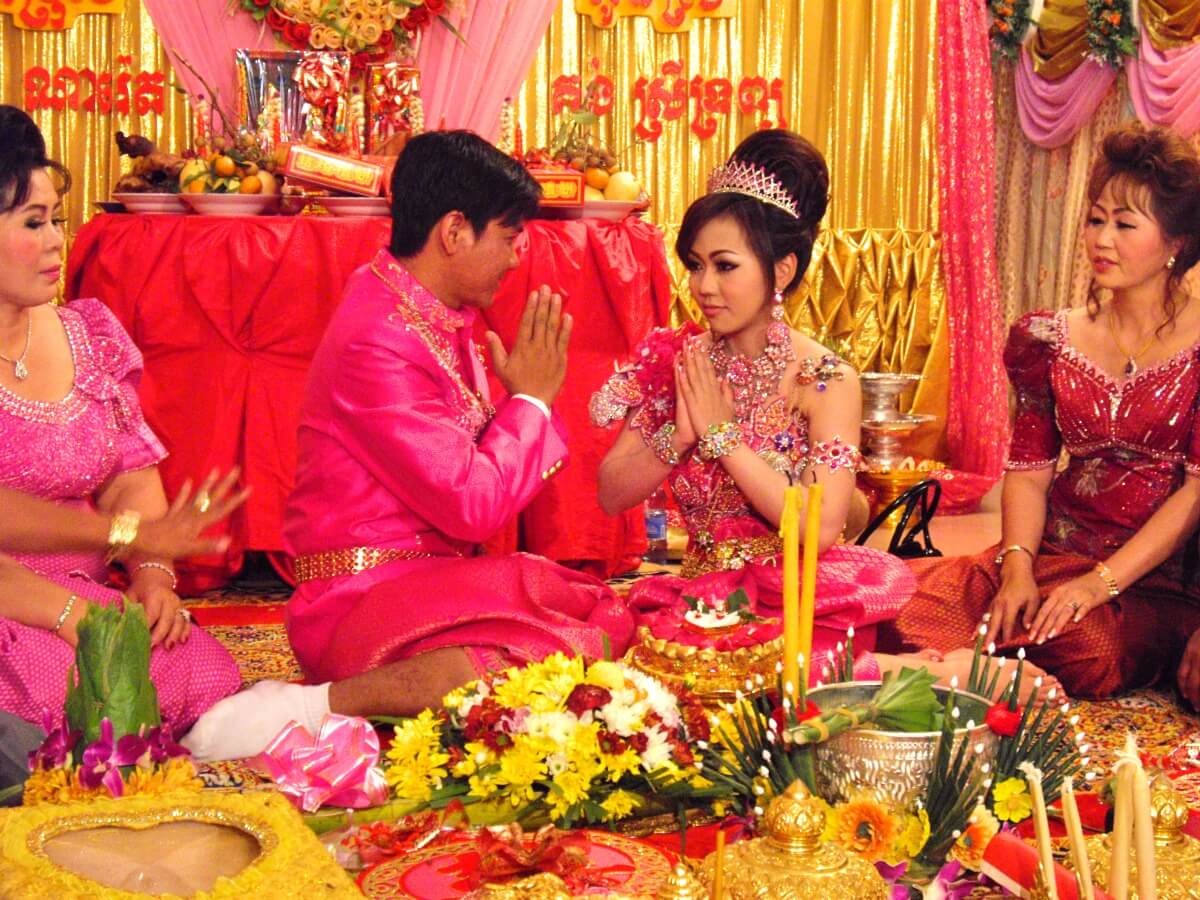 In addition to being invited on the second day of the wedding, the bride's family invited me to attend the evening party.
I was obviously very happy, but I didn't have much else to wear but parachute canvas pants and a shirt… So Kak, the son of the group who invited me, asked his mother to lend me a dress.
After getting ready, I joined the girls in their rooms. Immediately, one of them asked me: " Would you wear this dress tonight?", while pointing at me a beautiful traditional dress…
No need to ask such a question to a traveller forced to put her femininity aside on a trip!
I quickly found myself locked in the bathroom, desperately trying to get my chest into the two cones provided for this purpose, while closing the said princess dress. Fortunately, the girls came to help me and I turned into apsara, these celestial dancers with their breasts bulging and strongly raised.
Then we went to the hairdresser, where I was curled up and made up. They lent me shoes, and I found myself holding Kak's arm, very proud to accompany me to our table.
On the podium, the speakers did the show and the singers followed one another.
Among them, one of the girls in the family, very comfortable. I was actually invited by a famous Khmer singer and TV host!!!!
We danced the whole evening, Cambodian style, turning around a table and slowly moving our hands.
We accompanied the traditional dishes… with whiskey soda. Every time someone wanted a drink, they had to drink with the whole table, who had to accompany them! The older one had to wear his glass higher than the others, and the first glass had to be finished in one go…
The Khmer princesses, including the bride, gradually transformed themselves into cheeky young women, competing to empty beer cans with one stroke and putting their fake nails in their children's noses…
Until that point, even though the princesses ran out of grace, everything went pretty well.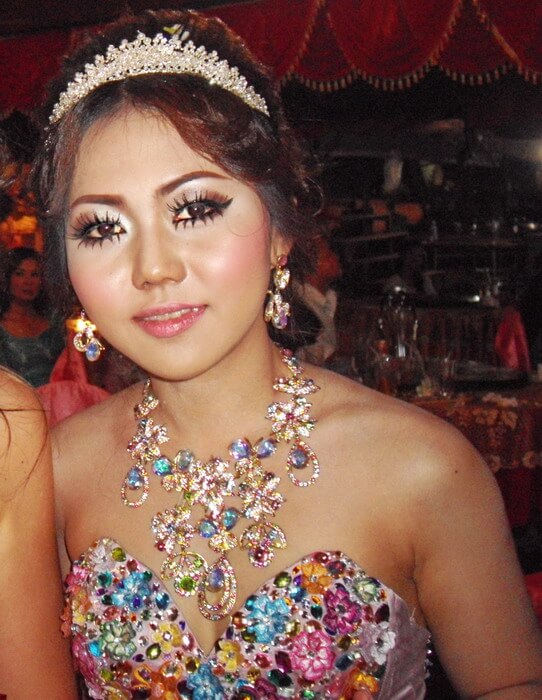 The next day, the family offered to join them to visit Mondulkiri.
So we went with 13 of us (the grandmother, the parents, the children, the grandchildren, the cousins and a neighbour) in two very comfortable and air-conditioned large four-wheels. Destination: the hotel by the lake of Sen Monorom, the city "in the middle of somewhere".
The family was as happy as I was that we could spend a few more days together, and even wanted me to accompany them to Bangkok a few days later. But I had come to discover Cambodia and with the intention of visiting the temples of Angkor. So I politely refused.
We spent two days at the drought-burnt Mondulkiri, alternating visits to plantations, prayers in pagodas lost in the mountains and swimming at the Bousra waterfalls.
The region was enchanting and reinforced my desire to rediscover it during the next rainy season. But that's also when things started to get a little spoilt, with the mother suddenly calling me a bitch for no reason. The other members of the family thought it was funny and told me that her behaviour was very changeable and strange, but I found it neither funny nor respectful…
Kak, the son of the family, had a big crush on me despite my distant attitude.
One evening, while we were having whiskey dinner… as every evening… two "officials" from the province joined us.
At the end of the meal, the singer gave them a big bundle of banknotes so that they could party and drink to her health.
I soon realized they were bribes.
We went to see some land to buy.
And in Cambodia, as in many Asian countries, all it takes is a few banknotes for officials to expel a family that has lived on land for generations and obtain a proper title deed…
As we were returning to the hotel, the son asked me to accompany him to take the car back.
Here begins the real story…
Instead of taking the way to the parking lot, our car begins to follow the two men.
Kak's car is heading for town.
– Uh… Where are we going? This is not the way to the hotel.
– No, we're going to karaoke. My sister gave these two men $100 to go sing a song. We're going with them.
– But… There are "hostesses" there, aren't there?
– Yeah, do you mind?
– That is… yes!
– We'll just go with them for a little while.
Yeah, great…
The parking lot is dark. The bouncer greets us, we enter a hallway with pale light. Some girls are waiting, one of them is watching me, gloups…
A second corridor, with many doors on each side. I am less and less reassured…
We enter the first room, fully upholstered. A long corner sofa occupies it almost entirely. What the hell am I doing here?!!
The girl from the entrance enters the room and sits between one of the men and me. I would have bet… Others are following in her footsteps.
The men order beers and the girls hurry to line up the cans on the two coffee tables. They bring snacks and ice cream. The sound system screams, the big screen turns on. There's no way out, I'm gonna toast… and drink again.
The youngest man chooses his song, he sings pretty good. His friend, totally drunk for a while, starts screaming into the microphone and the feedback attacks my brain…
– Come on, look, let's pick a song and I'll teach you how to sing.
– No Kak, no way. And I have a really bad headache right now, I really don't feel well.
– Well, okay, I'll sing a song and we'll go.
– It's okay, we can stay a little… but not too long… (Please don't laugh!)
I really must look like I'm dying. My female neighbor sent one of her friends to get me some iced towels. She gives me one that I immediately stick on my forehead. Damn, my head's gonna explode!
The old man no longer insists that I sing, he sees well that I am not in health and that I am not the Western girl he would like… And then he is too busy trying to make one of the hostesses dance, obviously not interested in him.
Kak finished singing "Come on, let's go".
– Okay, sorry, I really don't feel well.
The outside air does me some good. In the hotel lobby, we meet one of Kak's sisters.
– Where were you?
– We were at karaoke.
– Oh no, she exclaims with a lewd chuckle. You'll spend the night together!!!
– Of course not! Come on, good night everyone, I'm going to bed!
Isn't taking the woman you want to seduce to a hooker bar the worst seduction technique?
My advice: 1. Always be in control of your senses. While the whole family drank their whisky dry or a little sprinkled with soda, I dosed mine like syrup. 2. Karaoke is a bit of an institution in Cambodia. If you're being tricked into this like I did, don't panic. Those who go there find it natural but will understand that you do not want to stay. If the other person insists that you stay, pretend that you are not feeling well.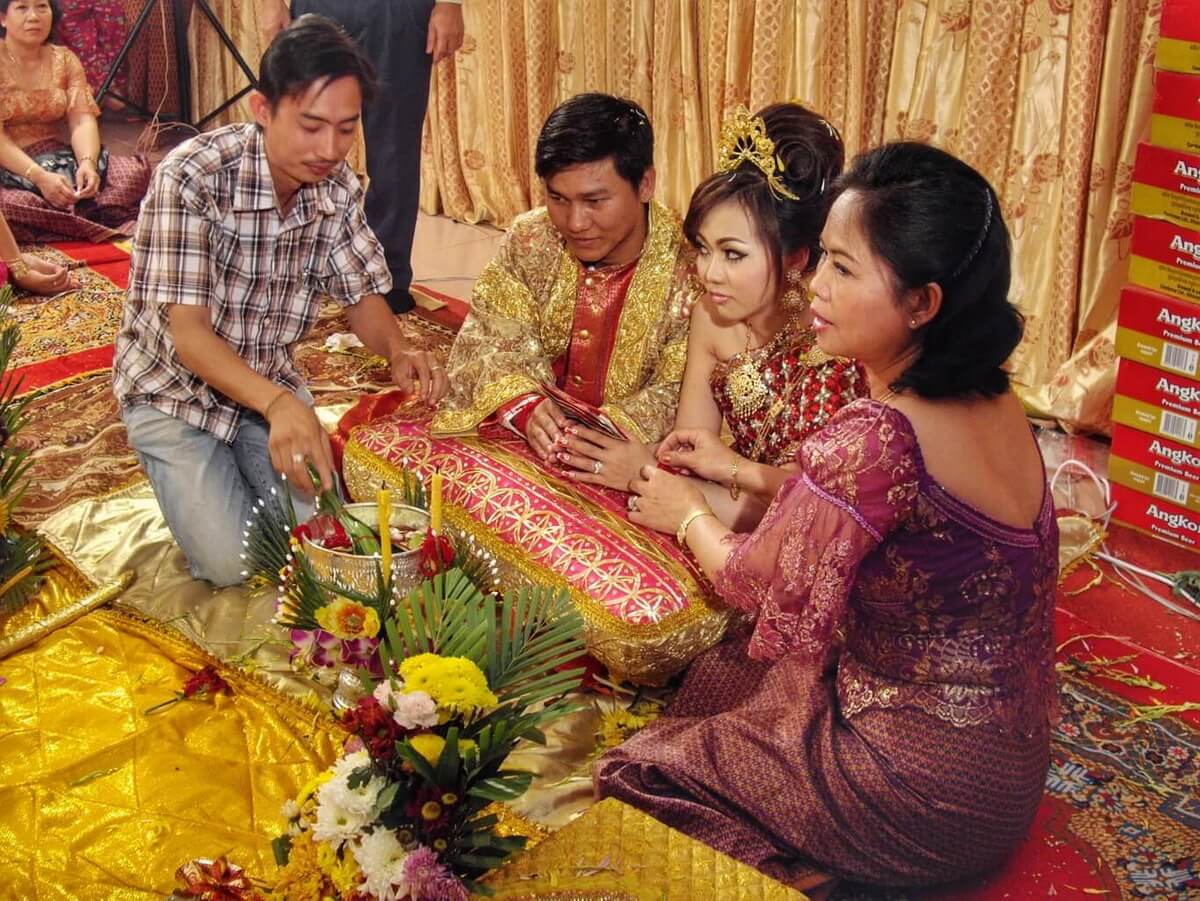 The worst flirting technique in Vietnam: Speed dating on a bus.
Unlike many travelers, I loved my trip to Vietnam.
In four weeks, I made a loop north from Hanoi.
I travelled mainly by local bus but also sometimes by hitchhiking, especially when I got kicked off a bus in the mountains to refuse to pay my ticket much more expensive!
This trip allowed me to be especially in contact with ethnic minorities, who have always shown themselves to be adorable with me.
During my first 2/3 weeks, I did not meet any tourists.
One day, on a long bus ride, we stopped for lunch.
Before leaving, a group invited me to share a coffee over a cigarette.
I accepted, sat down with the group and we quietly chatted before getting back on the bus…
When I got back, one of the boys came to sit next to me.
A discussion begins and ends with a "do you want to sleep with me tonight?"
I say no in the middle of a laugh.
Second boy…
We exchange a few words until the famous question: "do you want to sleep with me?"
Always the same answer.
The boys followed one another until they finally realized that the answer would always remain the same.
My advice: In this kind of situation, there's no need to panic or get upset. These young people simply tried their luck and there was no insistence, inappropriate gesture or aggressiveness. Nobody even touched my arm. The other passengers could have been alerted in the event of a problem. The best parry is to take it as a joke so that everyone saves face. Your interlocutor is direct, be just as direct!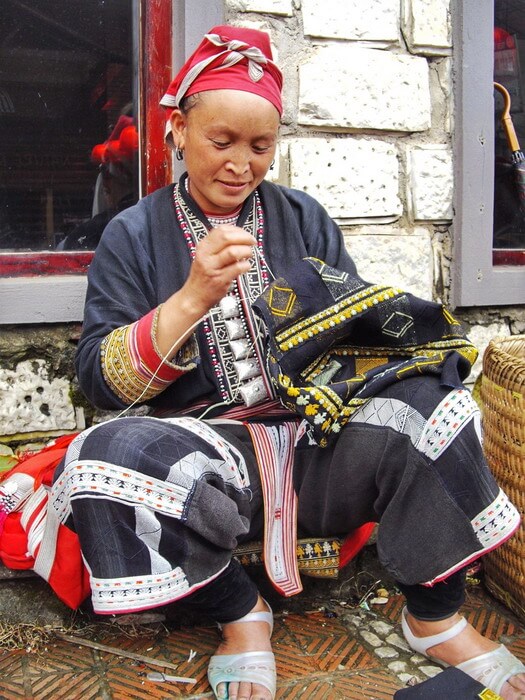 Conclusion – worst seduction technique.
So you have followed me in Sri Lanka with a young bank attendant who pretended he had missed his bus to spend the night with me, in a Khmer karaoke in the north of Cambodia and during a speed dating on a bus in Vietnam.
Which one do you think was the worst seduction technique?
And you, what's yours? Feel free to tell us about it in the comment field below.
Although these anecdotes have happened to a woman, a man is not immune to this kind of attitude.
Several male travellers told me that they were very uncomfortable in certain situations.
The most classic: the very enterprising behaviour of hijras, Indian transsexuals, lady boys, Thai transsexuals, young Thai women in some parts of Bangkok.
The advice remains the same: don't get angry, stay in control of yourself and your senses (alcohol, drugs), don't panic, alert people around you, don't venture into isolated places at night or places where locals advise you not to go, don't beat around the bush and say honestly but kindly that you are not interested.
This article contains compensated links. As an Amazon Associate I earn from qualifying purchases. Consult the disclaimer on the site for more information.
Save on Pinterest for later.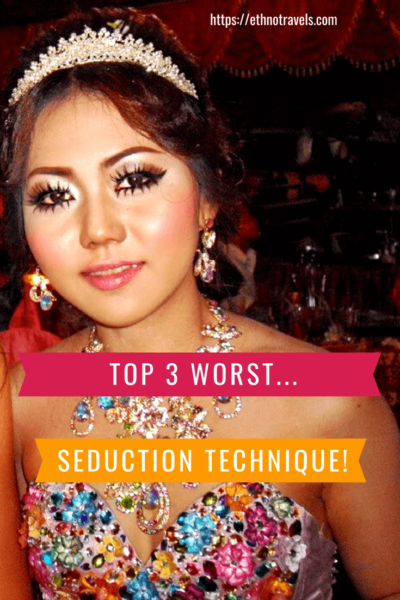 How to deal with heavy dredgers while travelling