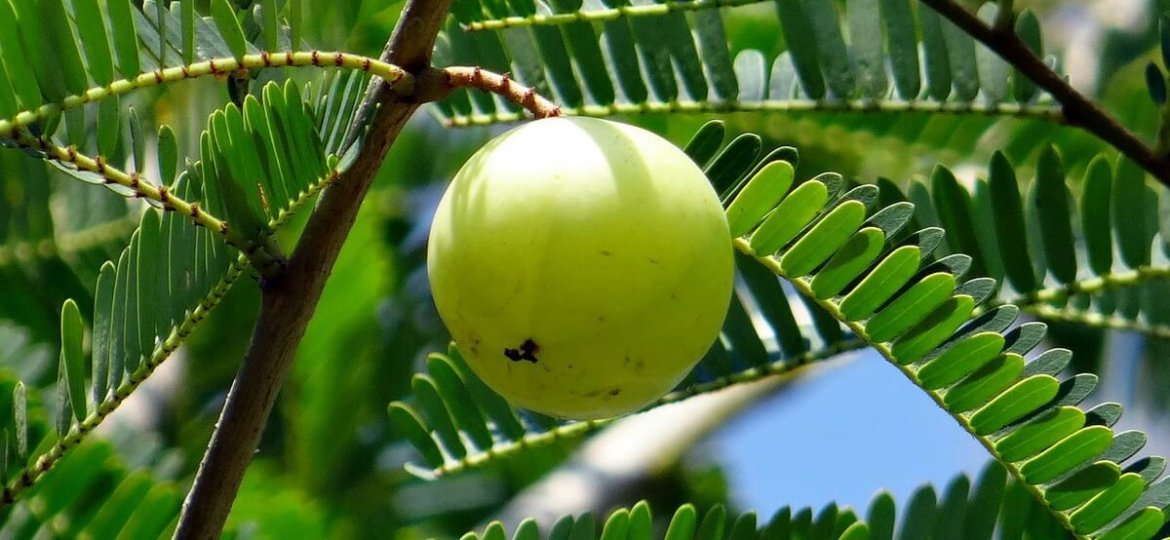 If you have read my complete guide on the benefits of amla oil for hair, you know that I am extremely fond of this fruit since 2012.
I use it mainly to keep my hair long, thick, healthy and still very brown despite my 45 years old.
I have also made it a habit to eat dried amla fruit in the morning, for its antioxidant, health and vitamin C benefits.
Amla, therefore, has benefits for hair, health and skin and in this article, I will talk more specifically about amla benefits for skin.
Read more: comprehensive guide to using amla for growing and darken hair and beard.

You should read this article if you want to know more about the role of amla in Ayurveda, its benefits for the skin and what type of amla to use.
Article summary.
This is pure amla oil for skin.
Ayurveda in India.
Ayurveda is a traditional medicine originally from India.
The word comes from "āyus": life and "veda": science, knowledge.
Ayurveda therefore derives from the Veda, the sacred texts of ancient India.
It aims to achieve three goals: maintaining health, curing illness and self-realization.
To do this, it is essentially using the natural power of plants.
The place of amla in Ayurveda.
The amla is considered a sacred fruit in India.
In Ayurveda, it is compared to the mother who gives everything to her baby.
It balances the 3 doshas, the vital energies responsible for the proper balance of body and mind, and is used in many Ayurvedic preparations.
What are amla benefits for skin?
Thanks to its high antioxidant content – amla is the most antioxidant-rich food in the world, according to a comparative study of 3,100 foods in 2010 – and nutrients, amla contributes to:
* reduce the effects of premature aging,
* reduce dryness of the skin,
* reduce dehydration,
* illuminate or lighten the skin,
* reduce the appearance of scars, imperfections, age spots and wrinkles.
Amla is also rich in vitamin C, which is essential for skin regeneration and elasticity. It removes toxins and acts as an antioxidant.
Which amla products to use for its benefits for skin?
For the skin, you can use pure amla oil, serum, amla powder, amla juice and dried fruit.
Pure amla oil for skin.
This pure, unrefined and non-GMO oil can be used both for hair and skin care.
Amla serum.
This bio serum combines different kind of natural products with Amla for maximising the benefits for skin.
Amla powder benefits for skin.
Vous pouvez l'utilisez de deux façons différentes :
* en masque.
* en infusion.
How to prepare an exfoliating and antioxidant facial mask with amla powder?
Mix the liquid of your choice (honey for spots, yoghurt for its lactic acids and probiotic effects or rose water for the complexion) with the powder.
Apply the mask to the face.
Keep it 10-30 minutes (be careful the first time and don't keep it more than 10 minutes).
Rinse.
How to prepare an infusion with amla powder?
It's easy: mix the powder with hot water and add honey.
How to use Amla juice for skin beauty?
The amla juice is very bitter and must be diluted a lot.
Drink a glass every morning for a few days.
Dried amla fruit.
Eat some dried fruit in the morning on an empty stomach.
You can mix them with other fruit juices.
Amla capsules.
Feel free to sign up for Amazon Prime's free trial to benefit from free accelerated delivery and download series, music and books.
Click here to start your free trial now.

Conclusion.
Have you ever tested the amla benefits for skin?
Tell us about your experience!
Read more: products, companies, hotels reviews.
This article contains compensated links. As an Amazon Associate I earn from qualifying purchases. Consult the disclaimer on the site for more information.
Receive the checklist to organize your next independent trip and my advice to travel serenely close to the people. It's FREE!
Save on Pinterest for later.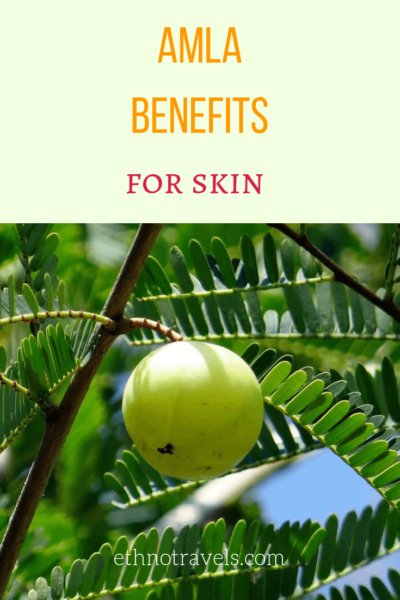 Last Updated on