Are you tired of spending a lot of money on anti-wrinkle creams or serums? You don't necessarily find them very effective and you wonder what they contain…
So why not make your own anti-wrinkle treatment?
This is what I propose here, by giving you the recipe for the best diy anti aging serum.
I came up with this recipe myself, drawing on my knowledge of Ayurvedic oils, especially amla, the Indian gooseberry.
In this article, you will learn:
why choose a serum instead of a cream.
why make your own anti-wrinkle serum.
what you will need.
what oils and products to use and why.
the recipe.
the result on my skin and what you can expect.
This recipe is perfect for those like me who already use amla oil for hair care. I will tell you for each oil what other uses you can make of it.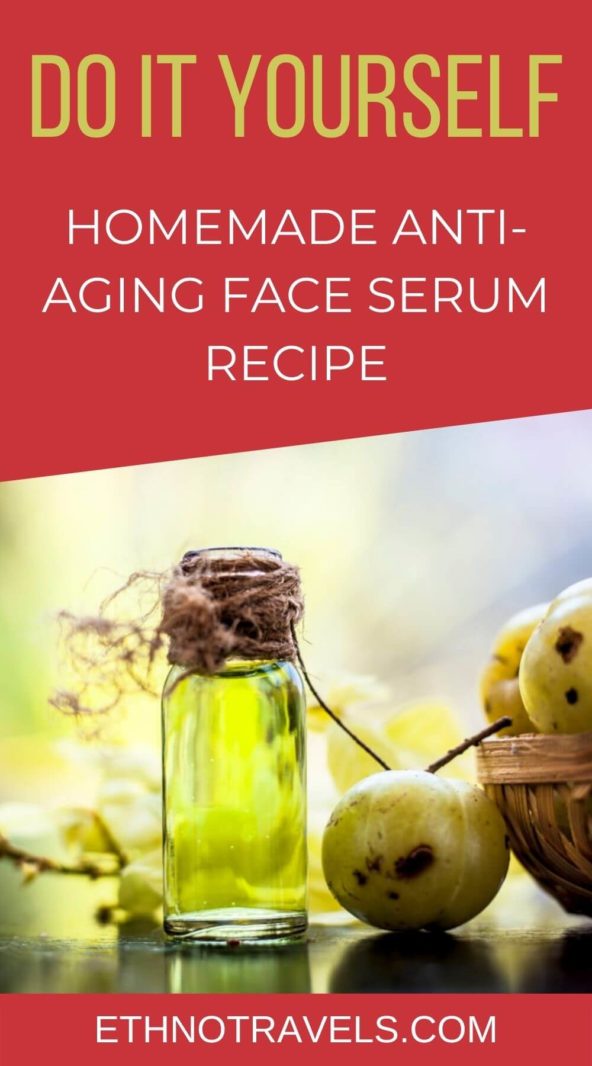 Anti-wrinkle cream or serum?
More and more of us are using an anti-wrinkle serum rather than an anti-aging cream.
The reason is simple: the serum is much more concentrated in active products and therefore more effective.
Of course, you can combine the two and apply a cream after your serum. However, I don't really see the point if your serum is targeting all the problems you want to treat.
Which anti-aging serum for the face?
There are two types of serum:
the aqueous serum (mostly water).
the oily serum, made from vegetable and essential oils.
This is an oily serum that I suggest you make yourself. As for the hair, I prefer an oily care, which nourishes more!
Beware: that doesn't mean the feeling on the skin is oily. The oils I use are not very oily as I don't like this oily feeling on my skin…
Why make a homemade anti-wrinkle treatment?
Making your own natural anti wrinkle product has many advantages:
Finding the best anti-wrinkle or anti-aging serum in the market is a real headache. All brands claim to have THE miracle anti wrinkle remedy…
Once you have found the anti-wrinkle cream or serum that works for your skin, it is not uncommon to see it replaced on the market by another formula.
You know exactly the composition of your serum.
You can make a natural anti wrinkle serum, without adding anything else.
By adapting this recipe little by little, you will be able to make the best anti-wrinkle product adapted to YOUR skin, its needs and its specific problems.
This will cost you much less than commercial products.
What utensils do you need?
You don't need to make a big investment and can do perfectly well with the resources available at home.
If you still want to do the dosages perfectly and have a perfectly clean container, you will find the links to order the different utensils by clicking directly on their name.
NOTE: Optional purchases. The price comparison section will give you the total price with and without the optional utensils and products.
Note: I get commissions for purchases made through links in this post at no extra charge for you.
Required oils.
You will mainly need vegetable oils and essential oils.
Which vegetable oils and why?
Click on the name of the oil to order it directly on Amazon (pure amla oil is only sold on Amazon).
The quantities are indicated for a bottle of approximately 50ml.
These four oils are thus perfectly complementary and act in synergy.
Which essential oils and why?
In addition to these 4 vegetable oils, I add a few drops of essential oil (not more than 2% of the preparation, knowing that 1ml = about 40 drops):
Essential oil of rose geranium (14 drops), for its sublime, very feminine and sensual scent, its regenerating, astringent, purifying and anti-inflammatory properties. Ideal to perfume the face and enjoy a long time the perfume of your serum. Rose geranium oil is also ideal for keeping mosquitoes away.
Carrot essential oil (6 drops), ideal for skin that tends to be red or reactive, age spots and pigmentation, to give a healthy glow.
Keep this ratio well, with more geranium oil. Carrot oil has a strong smell, not necessarily very pleasant and should be diluted to 0.8% of the preparation only.
What other ingredients (optional)?
Since I had these products on hand, I added them to my serum. However, I am more skeptical about their benefits, especially for the hyaluronic acid.
Best anti aging serum recipe.
Time needed: 10 minutes
To make your homemade anti wrinkle recipe:
Mix jojoba oil and hyaluronic acid (optional)

In your bottle, pour about 20ml of jojoba vegetable oil.
Add a small amount of hyaluronic acid (optional) and mix well.

Add the other vegetable oils.

Add about 10ml of amla oil, 10ml of argan oil, 10ml of rose hip oil.
Mix.

Incorporate the essential oils.

Add 6 drops of carrot essential oil and 14 drops of rose geranium essential oil.
Mix.

Add a few drops of vitamin E to preserve the serum.

Add a few drops and mix.
Result on my skin of my DIY natural anti-ageing serum.
Amla oil is, in my opinion, the best anti-wrinkle facial oil. By incorporating it with oils with which the synergy is strengthened, I have obtained excellent results:
My skin no longer feels tight, which indicates that it is properly nourished.
I no longer have a warming sensation – reactive skin – in my cheeks.
The skin on my face feels extremely soft and stays that way all day. Since I use this serum morning and night, my skin is soft when I wake up.
My skin looks more rested when I wake up. My wrinkles are no longer more apparent when I wake up.
I don't have the redness that I sometimes have in my cheeks.
My wrinkles seem less visible.
I have not yet noticed any effect on my brown spots, as my face has taken on a tan in the mountains.
Thanks to the jojoba oil and the regulation of my sebum, the pores of my skin are less dilated.
conclusion.
With this recipe of diy anti aging serum, you can create your best homemade anti-aging treatment. Use it as is or adapt it to your particular skin problems. It is also an effective serum for enlarged pores and an anti-spot serum.
Given the vegetal and essential oils I used, this homemade recipe should nevertheless be suitable for many skin types.
Rather than buying an anti-wrinkle cream with essential oils, making your own anti-wrinkle cream allows you to save money, to know its exact composition and to be able to adapt it according to the results and over time.
The ideal way to keep a beautiful skin is also to nourish it from the inside and avoid excess: water, anti-wrinkle foods such as amla tablets, no smoking, avoid alcohol…
Feel free to tell us if you've tried this homemade anti-wrinkle serum and what you think in the comments!
This article contains compensated links. As an Amazon Associate I earn from qualifying purchases. Consult the disclaimer on the site for more information.
How To Do The Best Homemade Anti Aging Serum