A Basque grilled squids recipe version is called "chipiron à la Luzienne", "chipiron basquaise" or "Basque xipiron".
It is certainly one of the most emblematic recipes in the Basque Country.
With our beautiful Atlantic coast, grilled squids are an easily accessible and delicious dish when well prepared.
To help you do this, I have decided to share with you the traditional recipe of the Basque grilled squids or chipiron à la Luzienne.
In this article, you will learn:
Where to eat chipirons a la luzienne in the Basque Country.
Tips on how to find the best fresh chipirons in the region and how to choose them.
The traditional recipe of the Basque chipiron.
Which wine to accompany the chipiron with.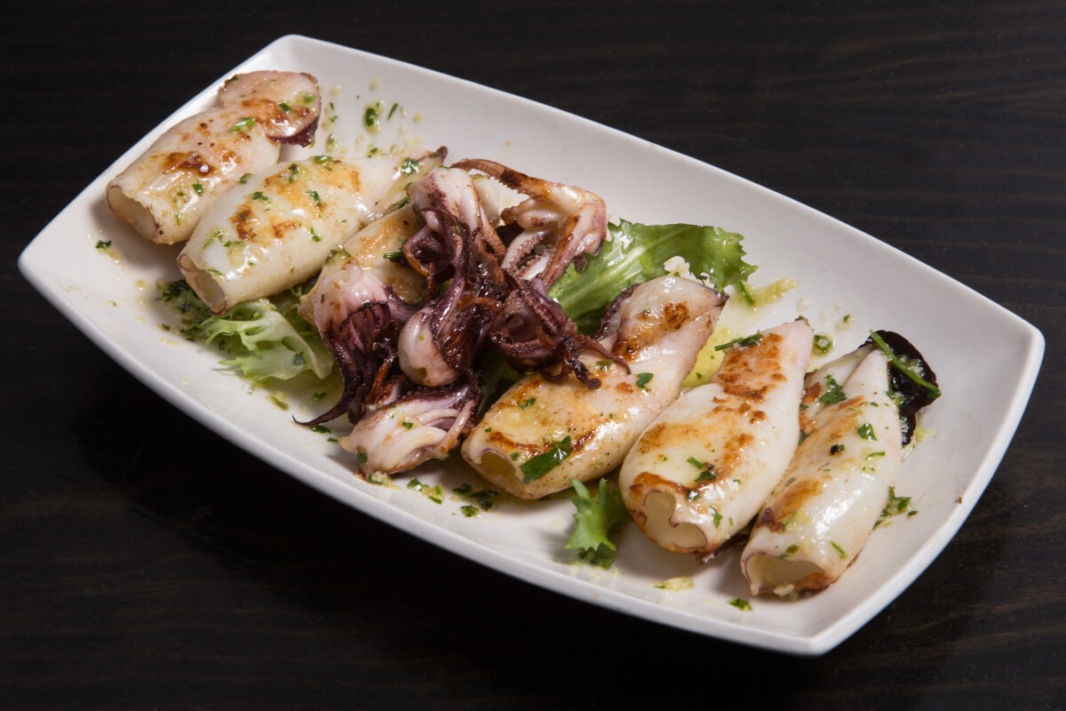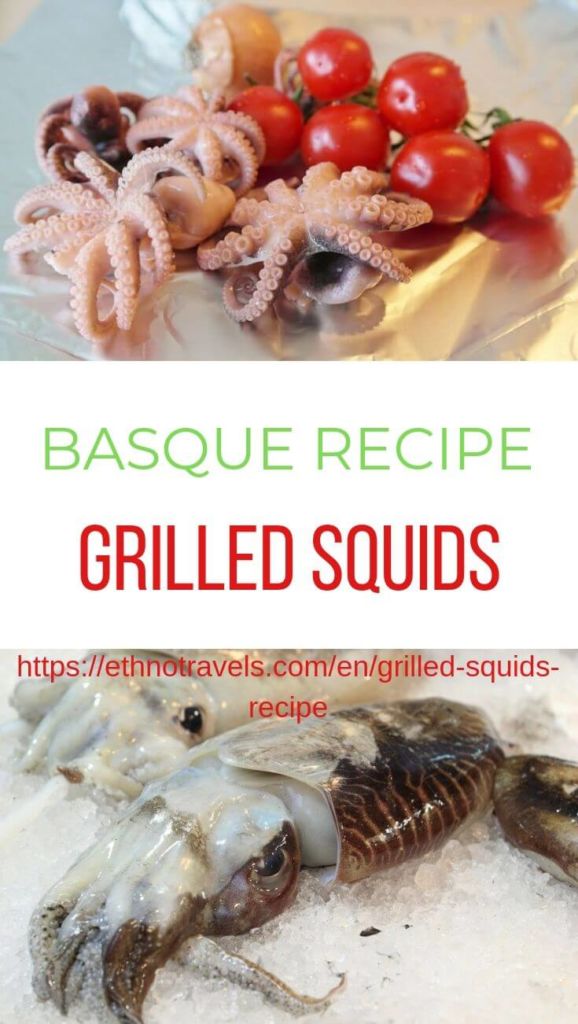 FAQ on chipiron.
How to organize your food tour in the Basque Country easily?
Contact me on +33626034311 or via the contact form.
See some other ideas here
What is a chipiron?
The chipiron is a kind of squid.
Is it easy to cook chipiron Basque style or Basque grilled squids?
Yes, you can even make it easier by asking the fishmonger to prepare the squids for you.
More traditional Basque recipes?
I recommend you this book that even received the winner of the year award!
Winner, 2019 IACP Award, Best Book of the Year, International
Named one of the Best Cookbooks of the Year / Best Cookbooks to Gift by the New York Times, Food & Wine, Saveur, Rachael Ray Every Day, National Geographic, The Guardian and more
Note: I get commissions for purchases made through links in this post at no extra charge for you.
But first, how do you say squid in French?
The French word for squid is calamar or calmar.
Chipiron is the Basque word for squid. It's even a special, small, kind of squid.
In the South-East, they say "supion" or "sépion".
What do we eat in squid?
We eat his body and tentacles. The latter are the tastiest.
Where to eat Basque grilled squids in the Basque Country?
The charming little town of Saint Jean de Luz, famous for its magnificent waterfront, Louis XIV's wedding and its festival of dances of the 7 Basque provinces or Saint Jean de Luz festival in June, has its own recipe for Basque squids: chipirons à la Luzienne. That is the recipe I am proposing to you today.
On the Spanish side, they are generally prepared "in ink": "calamares en su tinta".
During your visit of the city, don't miss Maison Adam macaroons, that were created for King Louis XIV.
Where to buy fresh squid?
You can try to buy some at Saint Jean de Luz fish auction.
But my favorite place to buy fresh squids is at Capbreton Harbour, in the south of Landes.
It is the only harbour in France where fishermen have the right to sell their fish directly to the consumer.
The boats land and the fresh fish is directly placed on the shelves for sale!
The prices are low.
A significant detail: you can take advantage of this opportunity to stroll along the waterfront and especially on the pier built on the order of Napoleon III.
How to choose squids?
If you buy them elsewhere, choose squids with pearly tentacles and a soft-touch body.
If you buy them as I advise you at Capbreton Harbour, you won't have to worry about choosing them properly.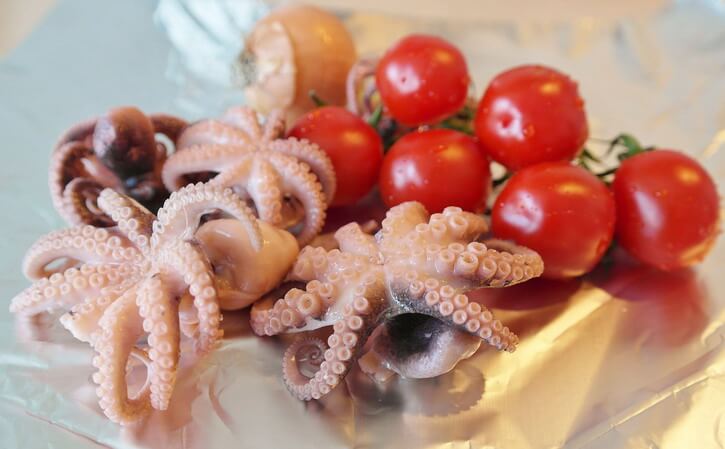 Basque grilled squids recipe.
In Saint Jean de Luz, squids (chipirons) are prepared "à la plancha" (grilled). They are served with rice and onion, tomato, pepper sauce… and Espelette pepper.
This recipe is called "chipirons à la Luzienne".
Ingredients for the squids recipe.
For 4 people.
20 chipirons/squids.
2 onions.
1 garlic.
1kg of peeled and seeded tomatoes.
3 peppers (red).
Olive oil.
Sugar.
Salt and Espelette pepper. Order it here
Cognac.
Tip: ask the fishmonger/fisherman to prepare the squids for you.
How to prepare the squids?
Remove the cartilage by pulling on it.
Then empty the chipiron and wash the ink bag with water.
After removing the skin, cut the body into thin slices and keep the tentacles.
Preparation of the Basque grilled squids.
Put 4 to 5 tablespoons of olive oil in a clay dish.
Heat over low heat and add the chipirons.
Return to low heat for about 3/4 of an hour.
+ Tip: To successfully cook squid, you must either sear them for a few minutes on a high heat (à la plancha) or cook them for a long time on a low heat. Thus the squids remain tender and will not have a rubbery texture.
Meanwhile, chop the onion and fry it in a pan with a little olive oil.
Add the diced tomatoes and peppers, chopped garlic, salt and chilli. Lightly sugar the tomato.
Cook for 35 minutes and then mix.
Pour the sauce over the chipirons and cook gently for two hours.
Before serving, heat a glass of cognac, flambé it and add it to the sauce.
What to drink with Basque squids?
I advise you to accompany it with a good white wine, such as Txakoli, sparkling Basque wine, or a Tokay Pinot gris from Alsace. Click on the name to see a selection or
>> Click here or on the pic below to order the book on wine
Bon appétit!!!
Basque food tours.
You will find a wide range of food tours here or below.
You need a vacation rental in the area?
Contact me via the form.
Conclusion – squids recipe.
Have you ever try a Basque grilled squids recipe?
Do you know of any other recipes based on squids?
Share it with us!
You can read my full guide to Basque food here
For another recipe from St Jean de Luz, check the macaroons one here
Share this article with your family or friends who are planning their next trip to the south of France.
This article contains compensated links. As an Amazon Associate I earn from qualifying purchases. Consult the disclaimer on the site for more information.
How to prepare chipirons, the Basque grilled squids