Are you looking for the original recipe for Basque Country ttoro? Ttoro is a Basque soup in which the fish are left whole, seasoned with… Espelette chilli peppers!
Here is the traditional recipe, as it is cooked in the Basque Country, as well as suggestions for a wine assortment.
The ttoro, which is pronounced "tioro", was originally made by the fishermen of Saint Jean de Luz, Ciboure and Socoa, with the remains of their catch. Today, the town of Ciboure celebrates its ttoro brotherhood in May.
You will therefore find this typical dish of the Basque Country in the restaurants of these three municipalities. Head for Saint Jean de Luz to taste chipirons à la Luzienne as a starter, a ttoro as a main course and then go to Adam's to try their famous macaroons! All this during the ttoro festival or the chipiron festival!
Although many festivals will not be held in 2021, you will find them on the downloadable calendar below. It is indeed a perpetual calendar. Festivals are sorted by month and only fixed-date festivals have their exact dates indicated. So you will be able to use it from one year to the next without difficulty!
Click here to download your FREE Basque festivals calendar!
For more ideas and a personalized itinerary, contact me!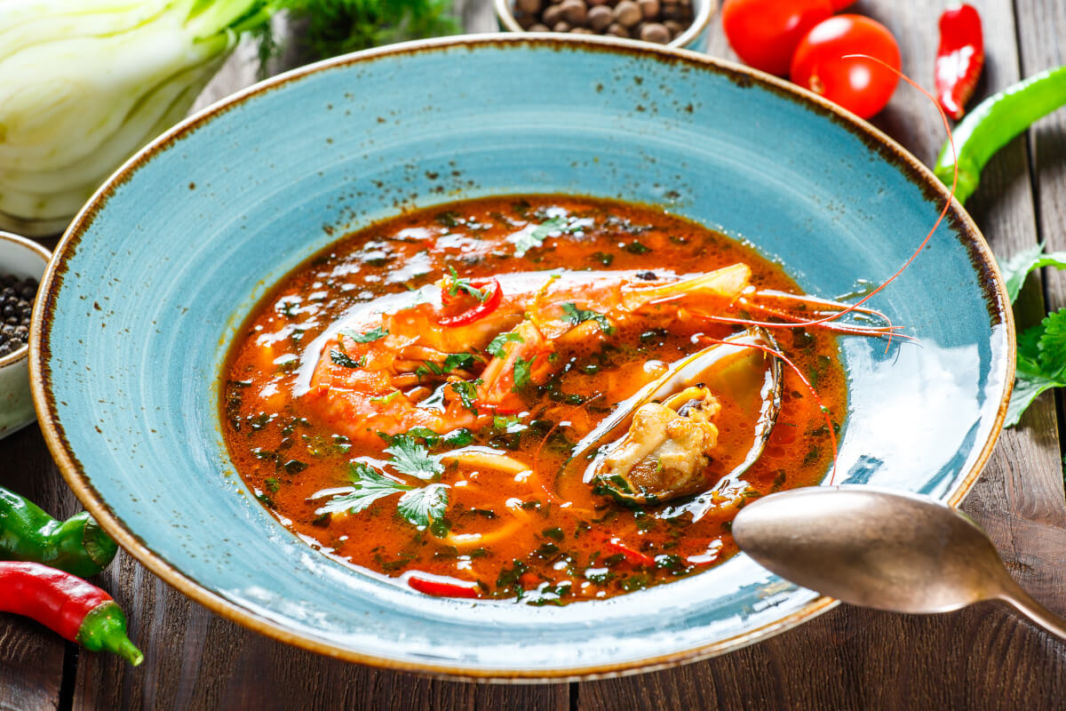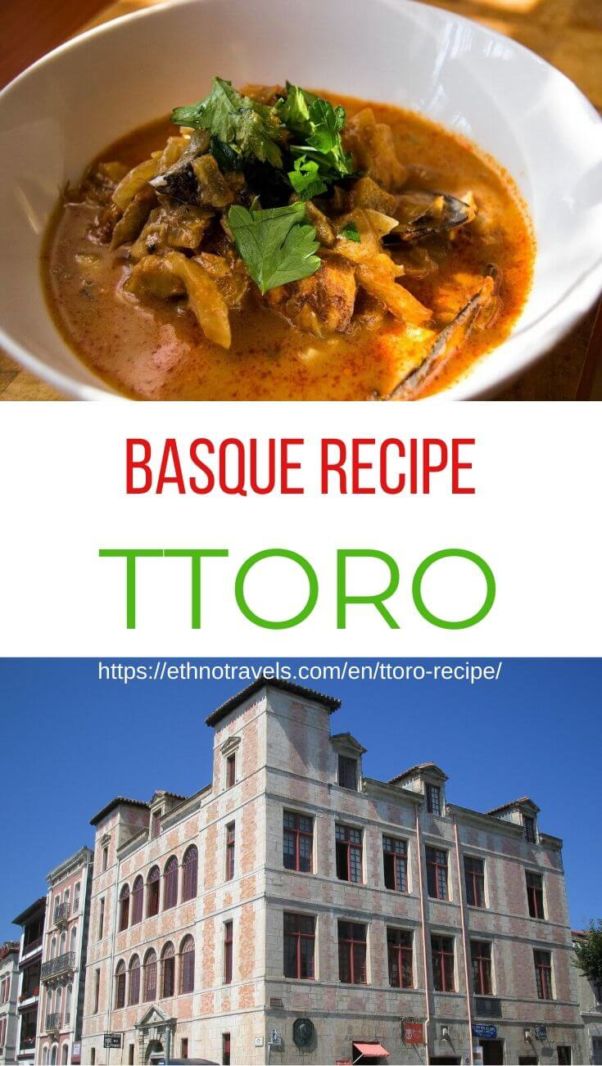 FAQ on ttoro.
What is ttoro ?
It is a traditional soup from the Basque country, made of different fish, shellfish and crustaceans, unground and seasoned with Espelette chilli pepper.
What is the origin of the word?
We don't know!
How is it pronounced?
Pronounce it "tioro".
Where to eat the best ttoros ?
In Saint Jean de Luz, Ciboure or Socoa.
More traditional Basque recipes?
I recommend you this book that even received the winner of the year award!
Winner, 2019 IACP Award, Best Book of the Year, International.
Named one of the Best Cookbooks of the Year / Best Cookbooks to Gift by the New York Times, Food & Wine, Saveur, Rachael Ray Every Day, National Geographic, The Guardian and more.
Note: I get commissions for purchases made through links in this post at no extra charge for you.
Where to eat ttoro in the Basque Country?
In the restaurants of the area of Saint Jean de Luz, why not during the chapter of the brotherhood of the ttoro of Ciboure.
You don't want to organize your trip to the Basque Country or want me to help you find the best places in the Basque Country, for yourself or a group? Check my offer of services by clicking >> HERE.
Ttoro recipe.
Ingredients (for 6 persons).
1 big gurnard.
500 grams of conger on the head side.
500 grams of monkfish.
1 scorpion fish.
6 langoustines.
1 litre of mussels.
1 nice head of hake.
1 bouquet garni.
1/2 litre of white wine.
2 onions.
Garlic.
1 spoonful of concentrated tomato.
1 spoonful of sweet pepper.
1 pinch of Espelette chilli pepper.
Salt.
Oil.
The preparation of ttoro.
Preparation : 30 minutes. Cooking : 1h15.
Put the fish heads cut into pieces, the onion cut into thin rings, a fillet of fish in a saucepan with oil, the crushed garlic, the bouquet garni.
Make it sweat under cover.
Add the white wine and reduce by half.
Moisten with 1 1/2 litres of water, stir in the tomato, chilli pepper and salt.
Bring to the boil and let it boil for a good hour.
Strain this juice to get it well mixed.
Salt and pepper the fish pieces, flour them, brown them in hot oil and drain them. Put them in an ovenproof dish with the raw langoustines.
Add the stock and bring it to the boil for 5 minutes, then add the mussels which have been well washed and scraped up – bring back to the boil – adjust the seasoning.
Sprinkle with parsley.
Serve possibly with garlic croutons.
Which wine to pair?
I advise you to accompany it with a good white wine, such as Txakoli, sparkling Basque wine, or a Tokay Pinot gris from Alsace. Click on the name to see a selection or
>> Click here or on the pic below to order the book on wine
Bon appétit !!!
Circuits gastronomiques Pays Basque.
If you don't want to opt for a full-time guide but still want to enjoy a gastronomic day trip, you will find many tours to try traditional Basque cuisine on the Get Your Guide website.
You need a vacation rental in the area?
Contact me via the form.
The concept of my rental is to make you discover the Basque Country like a local by giving you all the information you need and helping you discover places and traditions even little known by locals!
Conclusion.
Have you ever cooked or eaten ttoro? Tell us about your experience in a commentary.
You can read my complete guide to Basque gastronomy here
Share this article with family or friends who are planning their next trip to the South of France, or with gourmets who like to try new recipes.
This article contains compensated links. As an Amazon Associate I earn from qualifying purchases. Consult the disclaimer on the site for more information.