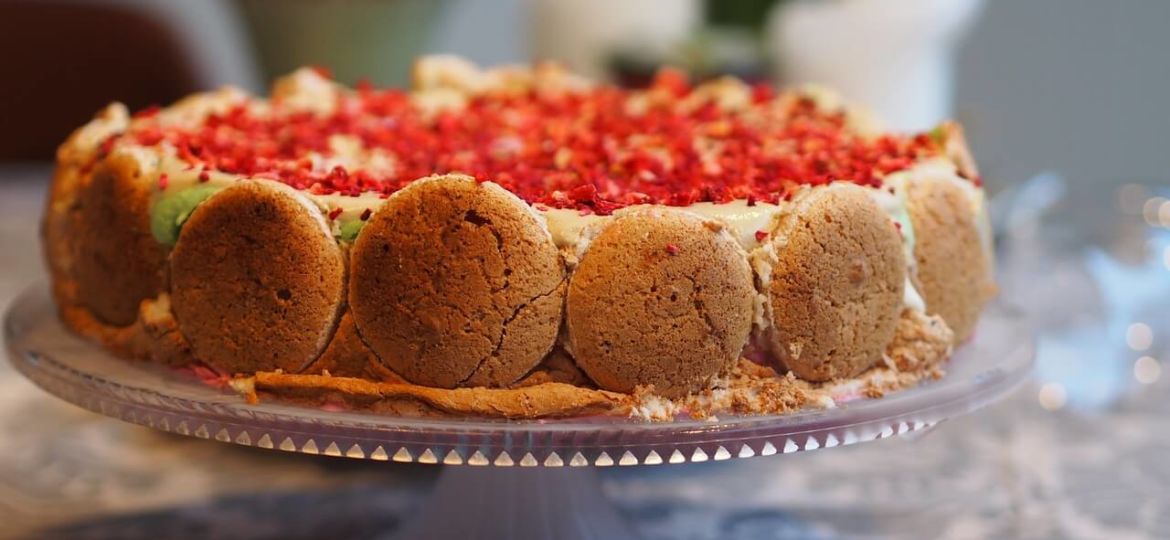 Last Updated on
The city of Saint Jean de Luz is not only famous for its recipe of grilled squids. It is also famous for its macaroons, especially those of the Adam house.
Considered as old-fashioned macaroons, they are cracked, soft and in one piece, unlike more modern macaroons.
This French macaron recipe below is obviously not the one of the famous Adam's house, but it is close to it. Of course, I invite you to taste them if you go to Saint Jean de Luz. You will understand what makes it one of the most famous specialities of the Basque Country.
Summary – French macaron recipe.
FAQ on Saint Jean de Luz macaroons.
What is special about the macaroons of Saint Jean de Luz?
They are one-piece macaroons, slightly cracked and soft, in the old-fashioned way like Nancy's.
Where to buy macaroons in Saint Jean de Luz?
The essential address for Saint Jean de Luz macaroons is the Adam house. It was this family that created the recipe in 1660 for the marriage of Louis XIV and the Infanta of Spain, Maria Theresa of Austria.
Is this the recipe of Adam's house?
No !!! Only family members know the secret ingredient added to the recipe.
How to organize your gastronomic tour in the Basque Country easily?
Contactez-moi au +3362606034311 ou via le formulaire de contact ci-dessous.
Avec mon agence de voyage partenaire, nous organiserons un circuit sur mesure pour vous, que ce soit en famille, en groupe ou pour votre entreprise.
Nous vous ferons découvrir les meilleures spécialités gastronomiques du Pays Basque et ses meilleurs vins, dont le fameux Txakoli, un vin mousseux de Guetaria, et le vin élaboré au fond de la baie de Saint Jean de Luz !
See more tour ideas here

More traditional Basque recipes?
Are you looking for an authentic Basque cookbook? I recommend you the 2019 winner of the year.
Winner, 2019 IACP Award, Best Book of the Year, International.
Named one of the Best Cookbooks of the Year / Best Cookbooks to Gift by the New York Times, Food & Wine, Saveur, Rachael Ray Every Day, National Geographic, The Guardian and more.
>> You can order it here or below
Note: I get commissions for purchases made through links in this post at no extra charge for you.
Why you should try macarons Adam Saint Jean de Luz?
Maison Adam Saint Jean de Luz is the essential address since it was at the origin of the creation of the recipe in 1660 for the marriage of Louis XIV and the Infanta of Spain, Maria Theresa of Austria. The recipe has not changed since then and is transmitted by notarial deed from generation to generation. Only the family knows the full recipe.
The Queen Mother loved the Adam macaroons so much that she gave Gaxuxa, the servant of the Adam House in charge of bringing the confectionery to the King and his relatives, her rosary. This one is still the property of the family since Gaxuxa then married one of the sons of the house.
Visit Saint Jean de Luz with me on your next tour in the Basque Country, to discover other anecdotes about Louis XIV's wedding. In particular, do you know what it was enough for Louis XIV to do to have the marriage declared consummated or what he said the first time he saw the Infanta? Contact me by clicking >>> HERE
French macaron recipe.
I remind you that this recipe is similar to the one of the Adam House but that it is secret and therefore cannot be found on the Internet. For the original recipe, you will have to go and taste them in Saint Jean de Luz!
Ingredients (for 30-35 macaroons depending on their size).
100g egg whites at room temperature
300g almond powder
1/2 vanilla bean seeds
5g natural vanilla extract*
10g neutral honey -acacia-
For syrup: 300g caster sugar – 100g water.
How to cook French macaron?
Blend the whites, almond powder, honey, seeds and vanilla extract with a blade.
At the same time, make a syrup at 121°.
Put the marzipan paste obtained in the bowl of the robot equipped with the leaf (name given to the flat whisk of the robot) and gradually pour the cooked sugar over it.
Let the robot run at medium speed until the device cools – about 35/40°-.
Place the macaroons on the silicone paper-lined honeycomb plates and bake at 160° for about 15 minutes.
French macarons wine pairing.
To stay "local", I recommend a sweet Jurançon, that is found close to Pau.
With less sugar than Monbazillac, it will be a perfect match for Basque cake.
Bon appétit!!!
You want to do a gastronomic tour in the Basque Country and don't have time to organize it?
Ask me to organize it for you! Use the quote form to contact me.
I will introduce you to the best gastronomic specialities of the Basque Country and its best wines, including the famous Txakoli, a sparkling wine from Guetaria, and the wine made in the depths of the bay of Saint Jean de Luz!
Gastronomic tours.
If you do not wish to opt for a full-time guide but still want to enjoy a one-day gastronomic tour, you will find many tours to try traditional Basque cuisine on the Get Your Guide website.
>> Click below for a selection.
You need a vacation rental in the area?
Contact me through the form or on my mobile phone.
I live in a big house with two independent flats in a big 2 500m² orchard at 16 kms from Bayonne and the beaches.
Conclusion – French macaron recipe.
Have you ever tasted the Saint Jean de Luz macaroons? Adam macaroons? French macaron recipe? Do you know of another sweet Basque speciality that you have had the opportunity to try? Tell us about your experience in the comments below.
You can read my full guide to Basque food here
For another recipe from Saint Jean de Luz, check the grilled squids one here. For another sweet, check the Basque cake recipe here
If you visit Saint Jean de Luz in June, don't miss Udaberria Dantzan and Saint John's Day festivals.
Share this article with your family or friends planning their next trip to the South of France or with the food lovers who like to test new recipes.
This article may contain compensated links. Disclaimer: As an Amazon Associate I earn from qualifying purchases. Read our disclosure policy to know more.
Save on Pinterest for later – French macaron recipe.