Besta Berri, Corpus Christi festival of the Basque Country, takes place every year in June in the provinces of Lower Navarre, Soule, Labourd and Guipuscoa.
Corpus Christi in the Basque Country is both a religious festival and a beautiful festival of Basque culture. It is therefore important to be particularly respectful: it is by no means a village festival and everything is very codified.
Several communes organize a festival and a procession, both of which are led by inhabitants dressed in Napoleonic guard uniforms.
In 2021, Corpus Christi and Octave should be celebrated on June 6 and 13, respectively.
In this article, you will discover:
what is Corpus Christi festival.
when and where it takes place.
why and how to get there.
Are you looking for a specialist in the Basque Country to help you organise your visit? Consult my offer of services by clicking >> HERE.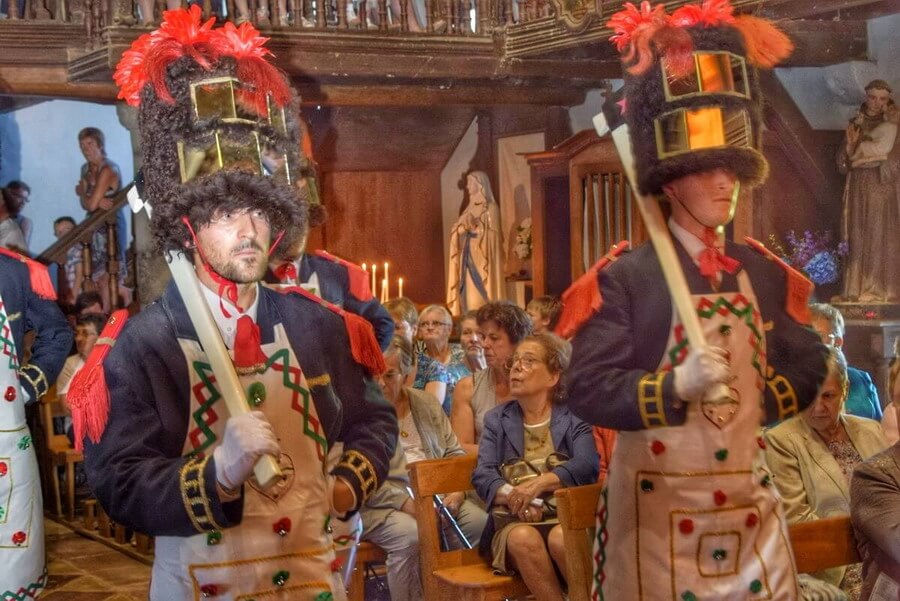 Corpus Christi.
Corpus Christi is also called Feast of the Blessed Sacrament or Corpus Domini. In French, we call it "Fête Dieu".
It celebrates the presence of Jesus Christ, his body and blood, in the sacrament of the Eucharist.
A Catholic and Anglican religious holiday, it normally takes place on the Thursday following the Trinity (60 days after Easter), except in countries where it is not a public holiday as in France. Here, it takes place on the 2nd and 3rd Sunday after Pentecost.
Traditionally, it is accompanied by a religious procession through the streets of the town or village.
Corpus Christi in the Basque Country.
In the Basque Country, Corpus Christi is called Besta Berri or Pesta Berri.
It's a mixture of sacred and profane.
The solemn mass and procession are led by the armed guard, often called the Napoleonic Guard. These are the remnants of the armed militias of Labourd and Navarre. Under the Ancien Regime, the 3 provinces of Labourd, Basse-Navarre and Soule possessed rights, liberties and institutions much more important than elsewhere. With the Revolution, these rights and freedoms were lost. This parade, rifle on the shoulder or sword at the side, is a testimony of these rights and freedoms and is a way to pay military honours to the Blessed Sacrament.
The actors of Corpus Christi.
Four sappers armed with axes (zapurrak).
Two roosters, placed side by side (oilarrak). They can be recognized by the rooster on their makila.
Two drum majors (makilariak) – one old and one young.
Seven musicians (drum, bass drum, saxophone, 2 trumpets, trombone, double bass).
Sergeants (sarjentak).
Two corporals (kaporalak).
The lancers (alabardariak).
Two gendarmes.
Two religious flag-bearers (banderariak).
The French flag-bearer.
The Swiss (suisa), responsible for the lithurgical order.
The captain (kapitaina) and the lieutenant (ofizierra).
What to wear?
Being a religious festival and a strong cultural moment, it is obvious that proper dress is indispensable.
When and where to celebrate Besta Berri?
The most important day in 2021 will be June 6, the Corpus Christi day itself. The procession usually takes place in the morning.
It is celebrated:
In Basse-Navarre province, in Iholdy, Hélette, Armendaritz, Saint Martin d'Arbéroue, Saint Esteben, Beyrie, Orsanco, Ossès, Bidarray.
In Soule province, in Etcharry.
In Labourd, in Medionde, Saint Jean de Luz, Ciboure, Bayonne, Saint Pée sur Nivelle, Espelette, Cambo, Itxassou, Louhossoa, Macaye.
In the South Basque Country (Spain: Alava, Navarre, Biscaye, Guipuscoa), the most interesting Corpus Christi is Korpus in Oñate. It takes place from Friday to Sunday. In the midst of the living figures of the Apostles, Saint Michael and Christ, the dancers of the Oñatz group move to the sound of castanets and txistu. They reproduce the dances linked to Corpus Christi: San Sebastian, banakoa, launakoa, zortzikoa and arku-dantza (the dance of the hoops), and to finish the day, the aurresku and soka-dantza.
Octave will take place on June 13. The procession usually takes place in the afternoon.
Videos of Corpus Christi.
You will find below some of my videos shot in various villages.
How to prepare your trip?
Si vous venez en avion, l'aéroport le plus proche est celui du BAB – Biarritz.
Read my guide to Biarritz airport for more information.
There are several TGV stations: Bayonne, Biarritz, Saint Jean de Luz, Hendaye.
Click here to get the best train tickets
If you need a guide, a trip planner or a holiday rental to prepare your stay, please contact me.
Where to stay?
It's all going to depend on where you choose to celebrate the festival!
Check my guide to the Basque Country hotels here.
You will find a wide choice of hotels in the Basque Country on Booking.
Click here to watch pics, prices, availability and reviews
You can also read my detailed article on the 5 star hotels in Biarritz and Saint Jean de Luz.
I also rent an apartment for 5 people on the ground floor of my house, 16kms from Bayonne.
Conclusion.
You now have all the information you need to discover the Basque Corpus Christi next June. And why not take advantage of a long stay to also celebrate Udaberria Dantzan and the Saint John's Day celebrations in Saint Jean de Luz?
Check my full guide to Basque festivals here for more ideas
Have you ever celebrated Corpus Christi? Do not hesitate to share your experience with us as a commentary.
Share this article with your family or friends who are planning their next trip to the South of France.
This article contains compensated links. As an Amazon Associate I earn from qualifying purchases. Consult the disclaimer on the site for more information.
Save on Pinterest for later.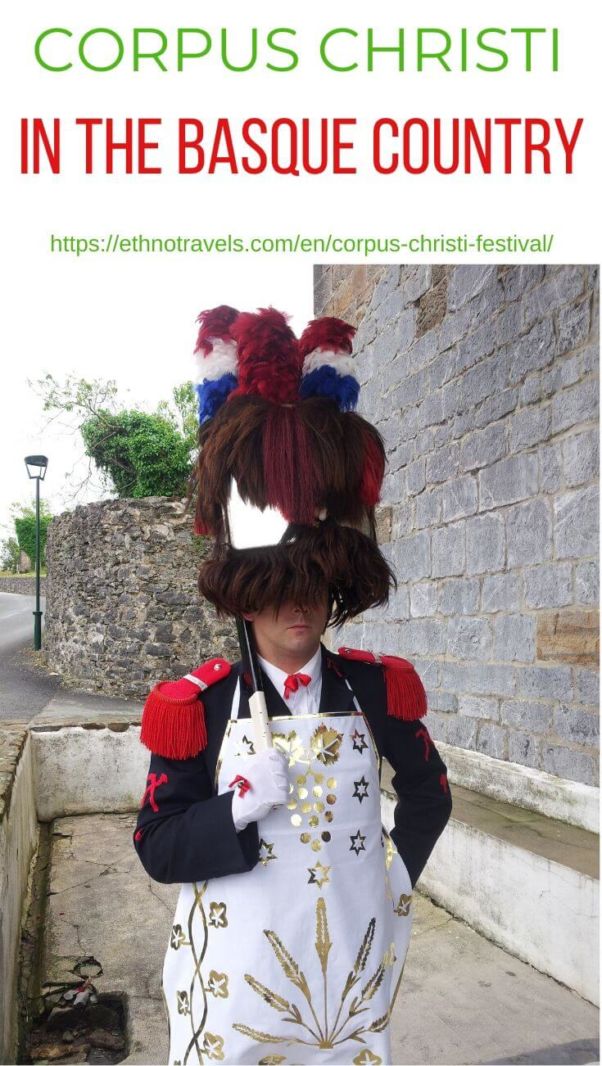 Corpus Christi in Basque Country: Besta Berri festival