Biarritz airport is the only airport in the Northern Basque Country (meaning: in the Basque Country on the French side). If you are flying to Biarritz, Bayonne, Anglet, Saint Jean de Luz, or even Hendaye, their surroundings, or in the Landes, this is where you will land.
Biarritz Pays Basque airport is actually located in the communes of Anglet and Biarritz, 2kms from the Biarritz train station, 4kms from the Grande Plage and 6kms from Bayonne.
In this article, I explain:
Destinations and airlines.
How to get there or leave the airport.
Practical information to prepare and make the most of your flight.
FAQ on Biarritz airport.
Does the airport have a guarded paying car park?
Yes, the airport car park is chargeable and monitored by CCTV.
Are there any Nice Biarritz flights?
Yes, with Easyjet and Air France. Check the dates.
Is there a bus from Biarritz airport to Pau?
Yes, with BlaBlaBus (Ouibus).
Is there a bus from Biarritz airport to go to ST Jean de Luz on Sunday evening?
The last evening departures are at 23:02 Monday to Friday, 21:52 on weekends.
biarritz airport destinations and airline compagnies in 2020.
In Biarritz, you will find easyJet, Ryanair, Air France, Volotea, SAS, Luxair, Lufthansa and Swiss.
National flights:
Paris CDG. Air France and easyJet.
Paris Orly. Air France.
Strasbourg. During school holidays with Air France.
Basel-Mulhouse. From the end of June to the end of September with easyJet.
Nice. During school holidays with Air France and easyJet.
Lyon. Air France and easyJet.
Marseille. From the beginning of April to the beginning of October with Air France and Volotea.
International flights:
Dublin. From the end of March to the end of October with Ryanair.
Bristol. From mid May to the end of october with easyJet.
London Gatwick. From the end of May to the end of September with easyJet.
London Stansted. Ryanair.
London Luton. From the end of June to the end of August with easyJet.
Copenhagen. From the end of June to the beginning of August with SAS.
Stockholm. From the end of June to the beginning of August with SAS.
Berlin. From the end of June to the end of August with easyJet.
Brussels-Charleroi. With Ryanair.
Luxembourg. From mid-May to the end of September with Luxair.
Munich. From the end of May to the beginning of October with Lufthansa.
Geneva. From mid-April to the end of October with Air France or Swiss.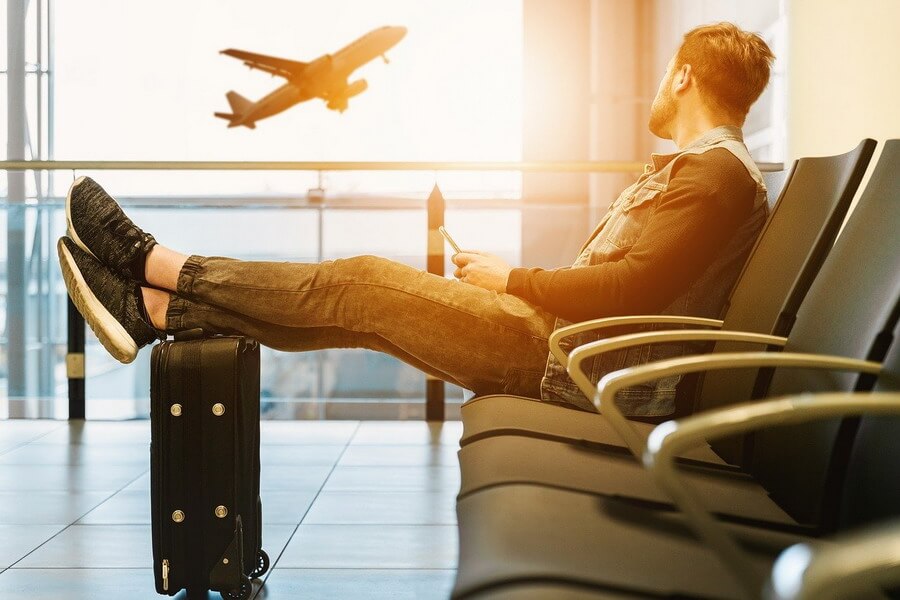 How to reserve your flight at the best price?
Use the Skyscanner search engine below:
Read my guide to finding cheap flights here
If you don't know if you should travel by plane, train or bus from Paris to Biarritz, read my article here
biarritz airport arrival.
To consult the arrivals and departures board, you can visit this page.
As the airport of Biarritz is small, departure/arrival procedures, arrival formalities, baggage claim and orientation are very simple and fluid.
biarritz airport parking.
There are several car parks:
Express drop-off at 1 minute from the terminal (in front of the entrance in reality), with the first 7 minutes free (beyond that, use car parks P1 and P2 comfort – first 15 minutes free).
The short-stay car park P1 confort, 2 minutes from the terminal.
The long-stay car park (from 8 hours) P2 confort, 2 minutes away.
The P0 and P3 long-stay car parks, 5 minutes away.
The P4 Premium car park, 1 minute away, with a minimum duration of 8 hours.
You can consult the parking tariff here
You can also book directly online on the airport website here.
The car park is accessible 24 hours a day with video surveillance.
Biarritz airport Car rental.
You will find several car rental agencies:
Avis.
Sixt.
enterprise.
Europcar.
Hertz.
Goldcar.
Buggs.
How to go by bus to/from Biarritz airport.
Three lines serve the airport of Biarritz Pays Basque:
Line 4: BAYONNE Sainsontan BIARRITZ airport BIDART Izarbel (serves Biarritz and Bayonne railway stations).
Line 36: BIARRITZ Cité Scolaire BIARRITZ airport ANGLET Redon (serves Biarritz centre).
Line 3: SAINT-JEAN-DE-LUZ Halte Routière BAYONNE Place des Basques (serves Saint Jean de Luz and Hendaye train stations).
Check the Chronoplus map and schedule here
Taxi.
You will find the taxi and VTC station on the arrivals side.
On the website you can find the contact details of taxis and VTC if you wish to book in advance.
When is the airport closed?
It's unlikely you'd want to make a connection between two planes in Biarritz, but you never know. If you do, be aware that the site is not always open to the public.
Here are the opening hours:
Monday to Friday from 5:30 am to 11:00 pm
Saturdays from 6:00 am to 8:00 pm
Sundays from 7:30 am to 10:45 pm
Hotels close to biarritz airport.
There is no hotel on site.
I recommend, 660 metres away, the Hotel Amarys.
Click here to check prices and availability
If you want to stay in the center of Biarritz, read my guide of the best hotels here
Luggage and prohibited articles.
As a reminder, the following are forbidden in the cabin:
Guns. Knives, scissors, cutters, razors, etc.
Spray bombs.
Aerosol cans (perfumes, toiletries, medicines) with a capacity of more than 100ml.
Pointed weapons with a sharp edge, blunt weapons such as truncheons, weighted or spiked sticks.
Any object that can be used as an offensive weapon, such as an ice axe, mountaineering stick, etc., can be used as a weapon.
Any toy or object that imitates any of the above.
Within the framework of the regulations on liquids, all opaque containers, jars containing juice or sauce, foie gras, soft cheeses, jams, nougat in quantities greater than 100 ml or 100g (non-exhaustive list) are also prohibited.
We don't always think of checking everything and during my travels I had to leave behind a jar of jam and a tiny multi-function knife that helped me change the battery of my camcorder.
Travelling with animals.
Unfortunately for my little westie, only dogs under 5kgs are accepted in the cabin by some companies. There remains the trip in the hold, as a luggage…
Unaccompanied Minors.
Some companies offer an escort service for children travelling alone.
Persons with Reduced Mobility.
Of course, the airport is equipped to receive people with reduced mobility. The site is equipped and the staff is trained in specific care.
Check-in time.
It is normally advisable to arrive 1h30 earlier for a domestic flight, 2h30 earlier for an international or charter flight. In practice, I've never seen a rush.
Do I need a visa?
Check below if you need a visa. It's free, fast and easy!
Shopping and services.
You will find several shops where you can buy food, relaxation or local products.
There is also a business centre, with meeting room rental and a catering service.
Business and private aviation.
Biarritz Pays Basque airport also includes a business aviation terminal.
Conclusion.
You now have all the information you need to get to Biarritz and the region by plane.
Biarritz airport, although small in size, offers all the services of a classic airport and serves many national and international destinations.
You can read my complete guide to Biarritz here
Share this article with your family or friends who are planning their next trip to the South of France.
This article contains compensated links. As an Amazon Associate I earn from qualifying purchases. Consult the disclaimer on the site for more information.
Save on Pinterest for later.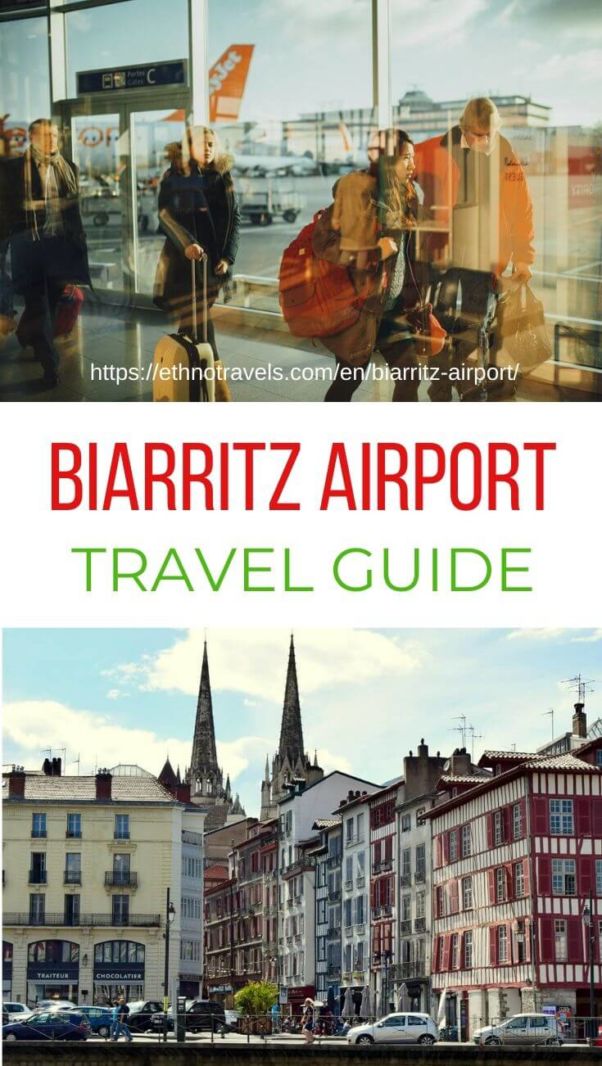 Biarritz airport : the information you need to prepare your trip