The trip from Paris to Biarritz has long been a rather complicated journey. Between the long journey time of the train and the excessive airfares, it was hard to get from Paris to Biarritz and back.
Today, with the extension of the high-speed line from Paris to Bordeaux and the numerous buses put in place, the Paris to Biarritz route is becoming easier and prices have become smoother.
In this article, I'll tell you:
The characteristics of each mode of transport between Paris and Biarritz.
Which one to choose.
How to get to the airport, the train station, the bus station of Biarritz.
How to have your car transported.
How to travel with a lot of luggage.
How to travel with your dog.
You will also find at the very beginning a comparative table with travel times, prices, advantages/disadvantages and mode of reservation for each public transport.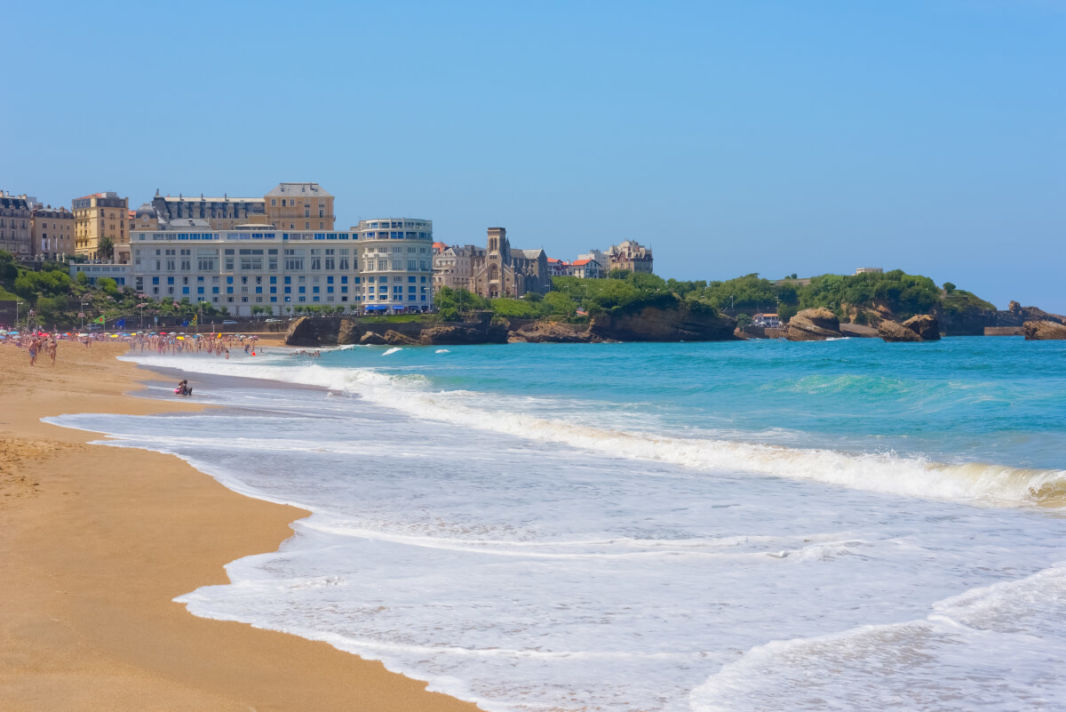 Summary – Paris to Biarritz transportation.
FAQ on Paris to Biarritz.
Are there direct trains from Paris to Biarritz?
Yes. The TGV Paris Biarritz takes a little over four hours.
Are there any flights from Paris to Biarritz?
Yes, with Easyjet and Air France. To Biarritz Pays Basque airport.
Is there a direct bus from Biarritz to Paris?
Yes, with BlaBlaBus (formerly Ouibus). Count at least 12 hours of travel time.
How long does the fastest trip from Paris to Biarritz take?
An hour and a half by plane.
Comparative table plane-train-bus Paris to Biarritz.
Mode of transport
Travel time
Price from
Advantages – Disadvantages
Reserve
Plane
1:30
25.30€
The fastest.
Can be booked several months in advance.
Check-in and travel time + cost of transport to Paris centre to be added.
Strict luggage policy (1 hand luggage free, the rest payable and in the hold).
Low prices rarely exchangeable/refundable.
Skyscanner
Train
4+
25.20€
A little more than 4 hours of journey only with the LGV Bordeaux.
No important time to board. From center to center.
No real restriction for luggage (except for bulky luggage, bikes, waterboards and Ouigo).
In case of a serious incident, the delay can be very important.
The lowest fares are often non-exchangeable/non-refundable.
Reservations can usually only be made 3 months in advance.
OuiSNCF
Bus
12+
20€
The cheapest.
2 hand luggage + 2 hold luggage free of charge.
Exchangeable-refundable up to 30 mns before departure.
Free Wifi.
Very very long.
BlaBlaBus
Paris Biarritz flights?
To travel from Paris to Biarritz by plane, you can travel with Air France, Hop (also sold on the Air France website since it is a subsidiary) and Easy Jet (British low-cost).
It is Easy Jet flights that I recommend, since it is with them that I have always found the lowest fares: 25.30€ per trip.
On the Air France website, for the same dates, prices are often excessive, even with Hop.
Plane's advantages.
Paris Biarritz flights are an hour and a half only.
Check-in closes 40 minutes before departure (domestic flight).
Possibility to book several months in advance.
Lowest prices accessible quite easily.
There are often two flights a day, so you can choose the most suitable schedule.
Possibility to display the lowest prices on a calendar.
We leave or arrive only a few kilometres from the centre of Biarritz. There are adapted and inexpensive city transport.
The airport of Biarritz is very small and it is close.
You can use the Skyscanner engine to compare the different companies.
Plane's disadvantages.
Check-in time must be added and more if you have to check in a bag.
If you come by car, you must add the cost of parking or know the nearest free car park.
In Paris, you arrive far from the center. You have to add the excessive cost of public transport and its duration.
At the lowest fares, only one piece of luggage is free, including handbag.
As this free baggage travels in the cabin, you cannot take liquids, jam, etc. and its size is reduced.
Dogs (except guide dogs) are not allowed to travel.
Low prices are usually exchangeable and refundable with expenses, sometimes not at all.
It is the most polluting public transport.
Reservation.
Use Skyscanner search engine below to find your Paris Biarritz flights:
You can read my complete guide to finding a flight here
You can also consult my travel guide on Biarritz airport
Paris Biarritz train.
The Hendaye-Paris night train, the Palombe Bleue, having been discontinued, the only option left is the direct TGV Biarritz Paris or the Ouigo from Bordeaux.
If you anticipate your purchase, I advise you rather the direct TGV at 25.20€. You are indeed likely to pay less than a train to Bordeaux and then the Ouigo to Paris.
Attention, and this is also true for air travel, low cost TGV – formerly iDTGV and now Ouigo – or low cost flight does not mean lowest fare! At the time when I was in charge of Saint Jean de Luz railway station, I very often saw senior card customers or other customers buy a non-exchangeable and non-refundable iDTGV ticket… much more expensive than a ticket on an exchangeable and refundable TGV!!! We can never repeat it enough: always compare the prices and conditions of exchange and refund. For this reason, I encourage you to book on the OuiSNCF website, whose link you will find here, which will offer you all the solutions, rather than on the website dedicated to Ouigo.
Advantages of TGV.
From "center" to "center". I put quotation marks, the Biarritz train station being a few kilometers from the center and some TGV trains dropping off in Massy or other rather than Paris Montparnasse.
Travel time improved: a little more than 4 hours.
No need to come too early.
It is easier to park for free near the Biarritz train station than near the airport.
It is very easy to find your way around Biarritz train station.
The station has lifts to avoid carrying luggage up the stairs.
As long as you can carry it yourself and it is not bulky (the bike must be under cover and disassembled for example), there is no luggage limitation.
You can travel with your dog (small dog package in a container, 50% 2nd adult rate for a large dog or small dog on a leash).
Free access to the SNCF entertainment portal via wifi.
This is the least polluting mode of transport.
TGV disadvantages.
Takes two and a half hours longer than the plane if you only count the travel time.
You can only buy your ticket 3 months in advance, which often doesn't allow you to wait for airfares to increase…
In the event of catenary breakage or an accident, the TGV will inevitably be several hours late.
Lowest fares often non-exchangeable, non-refundable.
Reservation.
From Paris to Biarritz by bus.
BlaBlaBus – formerly OuiBus – offers buses to Biarritz and vice versa.
This option is only to be preferred if you have a lot of time (more than 12 hours) and there are no more reasonable air or TGV fares.
Bus avantages.
Lowest rate: from 20€, very easily accessible.
Lowest rate accessible even if you book at the last moment.
Free wifi.
Reclining seats.
2 hand luggage + 2 hold luggage free.
Tickets exchangeable and refundable up to 30mns before departure.
The bus arrives or leaves Biarritz airport.
In Paris, you can depart from/arrive to the centre, north of Paris, south, etc. depending on the bus chosen.
Bus disadvantages.
Extremely long.
Impossible to travel with your dog.
Most dangerous mode of transport.
Reservation.
how to transport your car from Paris to Biarritz?
Unfortunately, the auto-trains to Biarritz and Bordeaux have been discontinued!
Is it easier to go to the airport or train station?
Both are very easily accessible and quite close to the centre of Biarritz. They are served by buses.
If you come by car, it is easier to park for free in the vicinity of the station.
What if I have a lot of luggage to carry?
If you travel by TGV, you can have them transported from home to home or to a place of your choice, from 29€ per piece of luggage.
How to travel with my dog?
Only the TGV allows you to travel with your dog or other animal.
In the end, which transportation method should be preferred?
Since there is no price difference when you anticipate the purchase of your ticket, other criteria should be considered:
Travelling time is the most iportant: travel by plane.
You travel with your dog: take the TGV.
You have a lot of luggage: opt for the TGV or even the bus.
You buy your ticket at the last minute, there are no reduced fares and you want to pay as little as possible: all you have left is the bus.
You don't want to bother in the metro corridors with your luggage: opt for TGV + luggage delivery or for the bus.
You find the prices of Paris airport shuttles excessive: take the TGV.
One free baggage item on Easyjet is really too little: pay for a hold baggage option or opt for the TGV.
Conclusion – From Paris to Biarritz.
You now have all the information you need to choose your Paris to Biarritz public transport system with full knowledge of the facts.
If you have other good plans, ideas, questions, don't hesitate to use the comments to let us know!
You can read my complete guide to Biarritz here
Share this article with your family or friends who are planning their next trip to the South of France.
This article contains compensated links. As an Amazon Associate I earn from qualifying purchases. Consult the disclaimer on the site for more information.
Save on Pinterest for later.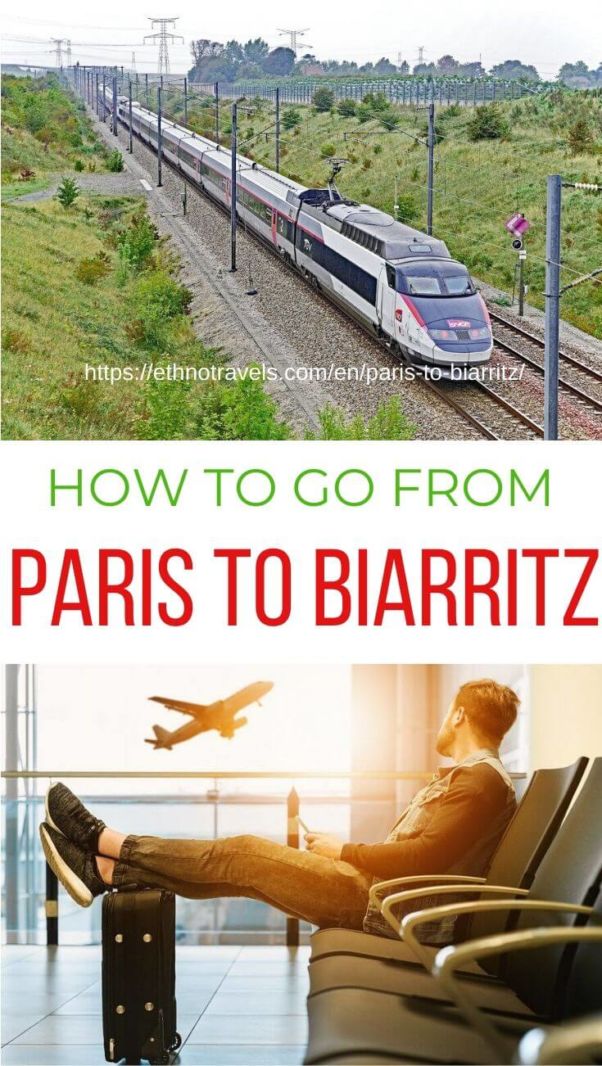 Paris to Biarritz: what is the best mode of public transportation?