Sky Burial is a book written by Xinran, a writer and journalist born in Beijing.
In 1994, while she was hosting a radio show in Nanjing, one of her listeners advised her to meet a strange woman he had just met in Suzhou. Shu Wen has just returned from Tibet after spending 30 years there.
Xinran decides to leave for Suzhou, where she spends two days listening to the story of Shu Wen…
This is her story she tells us in Sky Burial.
In this article, you will find:
A quick summary.
What I liked.
Less liked.
Why I recommend it to you.
Some impressions from my trip to the ancient Tibetan province of Amdo.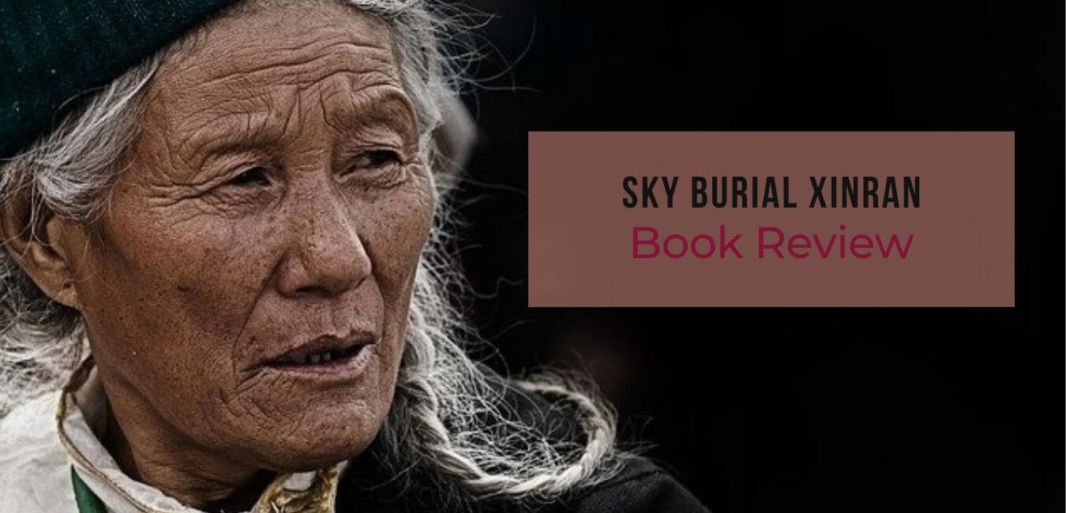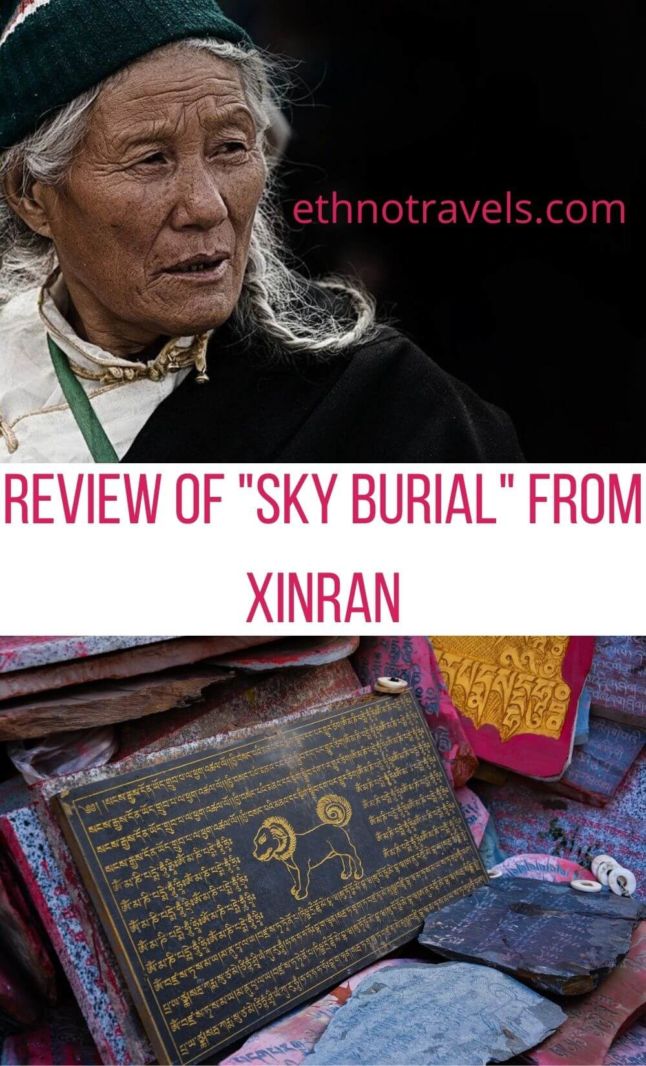 Sky Burial Xinran.
Note: I get commissions for purchases made through links in this post at no extra charge for you.
Quick summary.
Sky Burial is the true story of a Chinese woman named Shu Wen.
She has just married the man she loves, who is a military doctor and is sent to Tibet. Three months later, she was told of his death without much explanation.
Shu Wen being also a dermatologist, she decides to join her husband's unit in order to find him or to learn how he died and avenge him.
What I liked.
A captivating dive into Tibet and the heart of its culture.
A rediscovery in reading of the atmosphere of Tibet.
Strong and determined female characters.
A true story.
A better understanding of what was taught to the Chinese who believed they were "liberating" Tibet.
It explains well the contradictory feelings that can exist between a Chinese and a Tibetan.
Thanks to Wen's encounters, the reader is immersed in the life of the Tibetan nomads.
Of course, it also talks about tibetan death rituals, Buddhism sky burial, a practice that I witnessed during my journey in Tibetan Amdo.
What I less liked.
Some people, especially in the afterword, have reproached Xinran for a certain complacency towards Tibet and Tibetans. This is not the feeling I had. On the contrary, I found her very tender towards her heroines.
On the other hand, it is not her own story that she tells, but Wen's, as well as her very honest impressions. It is only natural that Wen was initially mistaken about a lot of things. She admits this herself with shame.
Having travelled for 3 weeks in the old Amdo, her observations and descriptions are very accurate. Yes, Tibetans' faces are chiseled and it is difficult to give them an age. Yes, their life often makes their faces dirty. In some places I myself had a dusty face, dirty hair and dirty clothes when I was there, although I was washing my hair and changed clothes every day. Staying clean in the midst of so much dust and dirt is just impossible! Yes, most Tibetans have a peculiar smell, a mixture of dri butter and yak dung. But this is part of their charm and culture.
It is an honest portrayal of life in Tibet and certainly not a judgement or a sufficiency mark…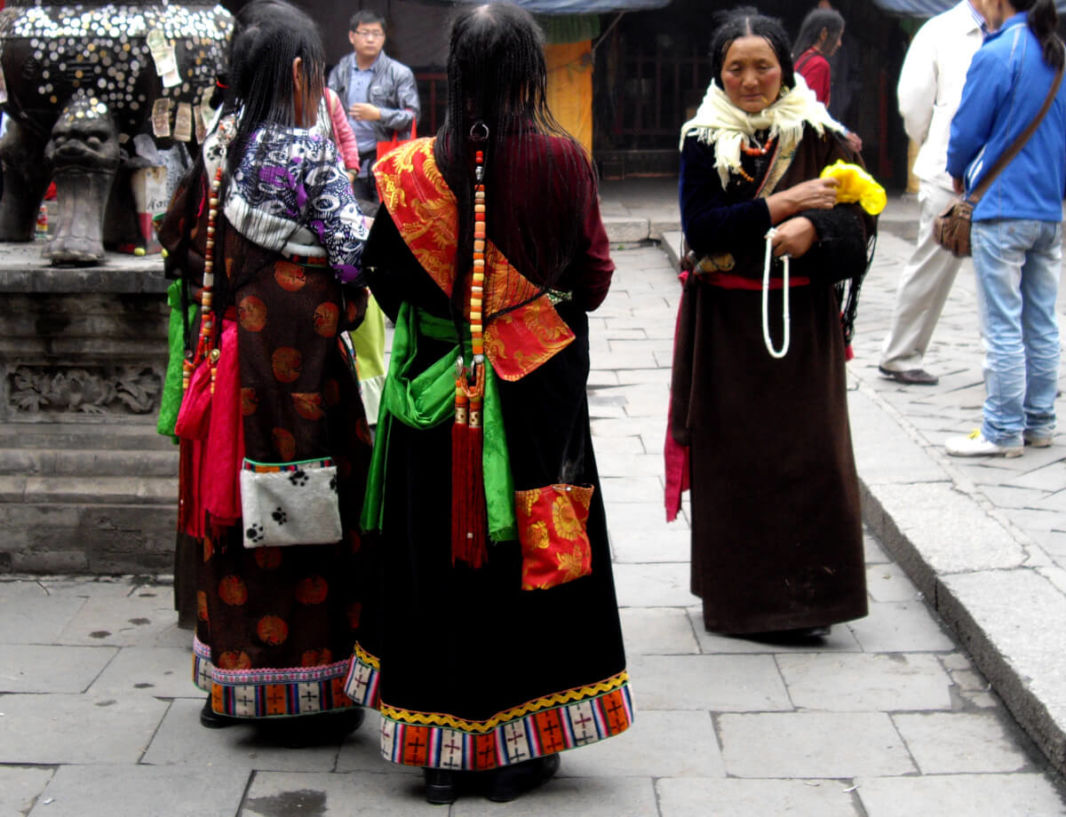 Why I recommend Sky Burial to you.
It is one of the foreign readings that struck me the most. So I can only recommend it to you!
Reading the story is very fast, maybe a little too fast.
For lovers of Asia, China, Tibet and ethnography.
My trip to Tibet.
I visited only part of the former Tibetan province of Amdo.
Tibet was originally composed of Amdo (Gansu, Qinghai), Kham (Sichuan, Yunnan) and present-day Tibet. Amdo and Kham have the enormous advantage that they can be visited completely freely.
So I was able to get around as I wished by train, local bus, minibus, taxi.
I was able to hike from one village to another, or from a monastery to a village.
I was also able to visit Langmusi's celestial funeral site. The locals call it the "cemetery". Funeral customs in China are very different. So the practice of Tibetan sky burial is normally forbidden. Yet Tibetans seem to live much more freely in Amdo and Qinghai and in Langmusi these funeral practices are tolerated.
It was difficult for me to communicate with words, not speaking Mandarin, let alone Tibetan. This did not prevent everyone I met from being extremely helpful and trying to communicate in other ways. In Xiahe in particular, a man from the Muslim quarter took me through the streets of his neighbourhood, making me understand that I was witnessing the last moments of its life. The houses were marked with a cross and were going to be demolished and rebuilt "Chinese style".
Still in Xiahe, I was able to freely visit the Tibetan quarter, on the other side of the monastery, opposite the Han / tourist quarter. The picture below was taken in this quarter. You will notice the state of the "streets", the yak dung to the right of the little monk. The houses were falling in ruins and lacked the most basic amenities .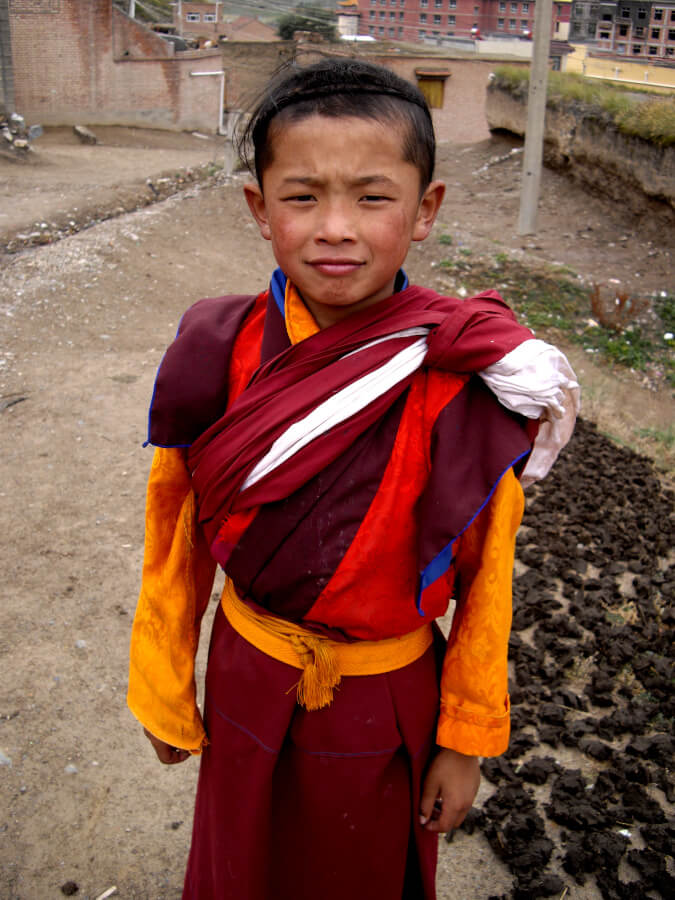 I have excellent memories of this very memorable trip. I am very keen to return to further explore the culture and landscapes of Qinghai and discover Kham.
Conclusion – Sky Burial Xinran.
Sky Burial is a very touching story and an immersion into the life of the Tibetan nomads. Even if you don't have much time for reading, this book is quick and easy to read.
Have you ever read Sky Burial? What did you think about it? Let us know what you think!
You can read more reading recommendations here
This article contains compensated links. As an Amazon Associate I earn from qualifying purchases. Consult the disclaimer on the site for more information.
On a similar topic, you can read:
Review of Wu Cheng'En's Journey to the West
Review of Pu Songlin' Strange Stories from a Chinese Studio
Save on Pinterest for later.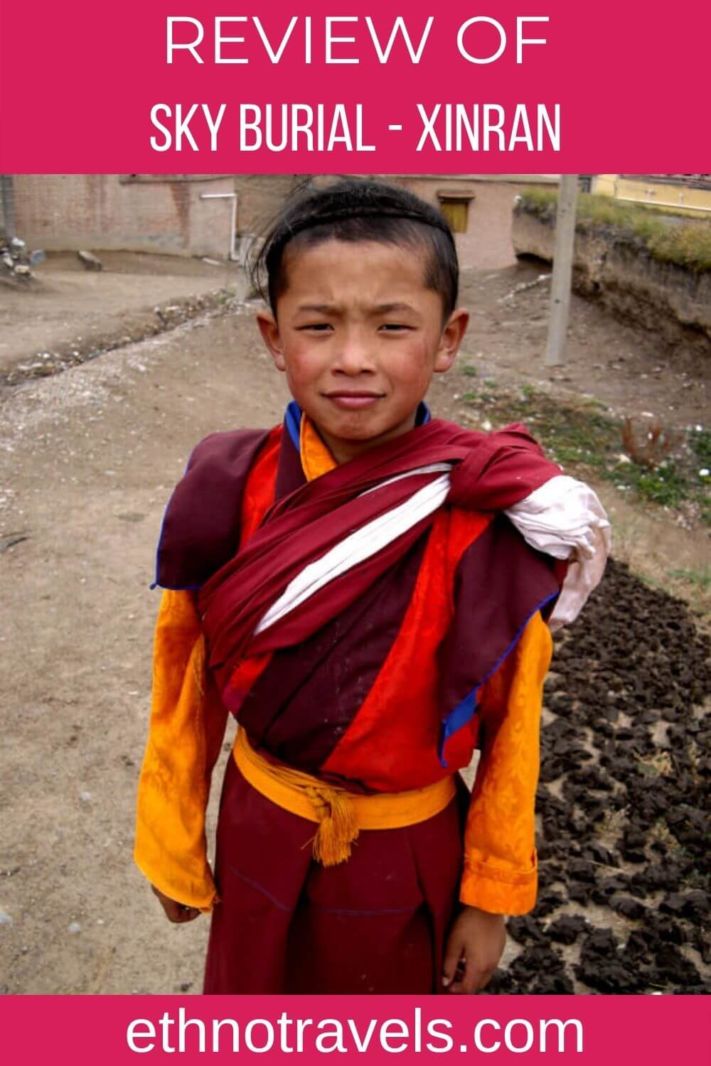 Sky Burial Book Review, the Frightening Tibetan Death Rituals