If you are looking for a hotel in Javier, hotel Xabier has certainly reached the top of your list. To be located just in front of the magnificent Javier Castle, where Saint Francis Xavier was born and theater each year of the Javierada, it enjoys a privileged situation.
This is why I contacted them when I decided to cover the Javieradas in 2019. I received an extremely warm welcome at my request and I really enjoyed my stay.
The Hotel Xabier is a family hotel whose welcome is unanimously welcomed by its customers.
Here is a full review of Javier's Hotel Xabier, including information on the services offered by the hotel and practical information to get there.
Although many festivals will not be held in 2021, you will find them on the downloadable calendar below. It is indeed a perpetual calendar. Festivals are sorted by month and only fixed-date festivals have their exact dates indicated. So you will be able to use it from one year to the next without difficulty!
Click here to download your FREE Basque festivals calendar!
Note: I get commissions for purchases made through links in this post at no extra charge for you.
>> Click here or on the pics to order the book
You don't have time to organize your trip to the Basque Country? Consult my service offer by clicking HERE.
Article summary – Hotel Xabier Javier review.
Hotel Xabier double room review.
The double room includes a double bed or twin beds.
Each room has its own decoration with beautiful wooden furniture, traditional decoration and waxed parquet flooring as common features. It's a bit like a princely residence.
My room opened on a large living room with sofa, two antique chairs, coffee table and wall cupboard.
The large bathroom had a bathtub-shower, toilet, sink, storage racks, hair dryer and was tastefully furnished. Toiletries were provided. The window overlooked the castle and the street, which was convenient for watching my car… and westie Jahan who was sleeping in it! This is one of my great regrets about Hotel Xabier: pets are not accepted.
My room consisted of a double bed, two bedside tables, a television, a telephone, a desk and antique decorative objects. Its balcony had a magnificent view of Javier's castle. Wifi was available everywhere for free and the connection was fast.
It was clean, comfortable and smelled good.
Thanks to the two doors and the layout of my room, I was not disturbed at all by the noise in the corridor, nor by my neighbours on the right and left. On the other hand, the noise of the neighbours upstairs disturbed me for a while and I regretted not having carried earplugs with me. Nevertheless, I slept very well with a pillow on my head. It may be wise to bring earplugs, as Spaniards are sometimes very noisy.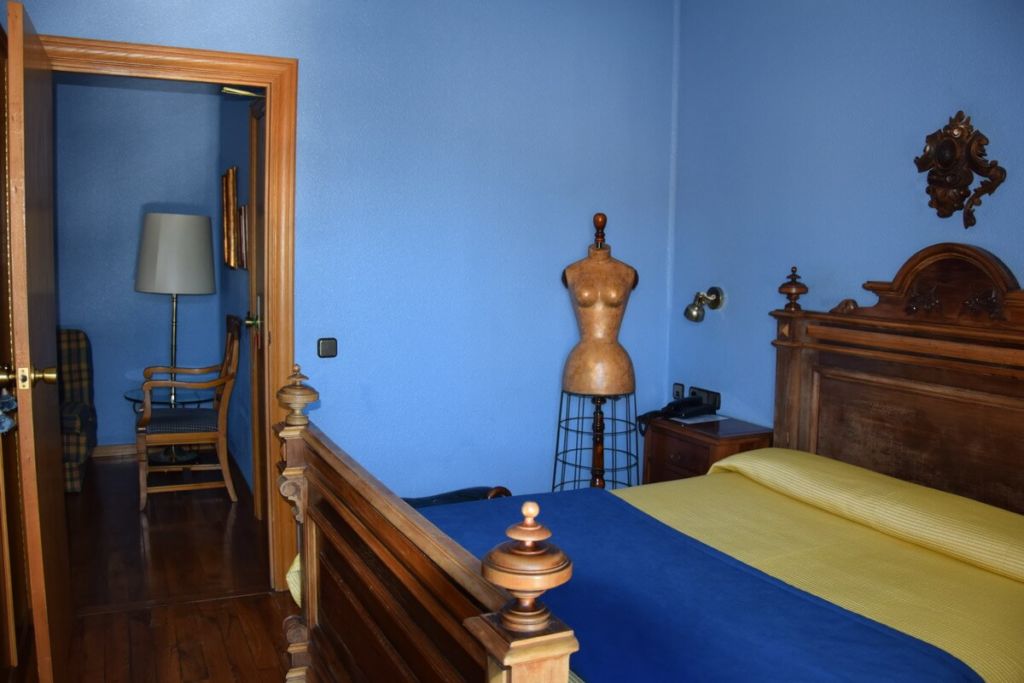 Reception at the Xabier Hotel.
The staff is absolutely adorable and this is really worth noting. This is something that systematically emerges from online comments.
They have done everything to make my stay and coverage of the festival easier.
Their interactions with other customers – professional deformation as an expert in customer relations – were just as warm and I noticed that there were many regulars who came to the bar, the restaurant, but also stayed at the hotel.
Even at the busiest part of Javierada on the second day, and when the place was packed, each of the staff members with whom I had spoken took the time to say a few words to me and make sure everything was fine.
Maria José, with whom I had exchanged for the preparation of my stay, even found me a place to work comfortably at the peak of the crowd.
Staying smiling and always being attentive under pressure, I say a big bravo! And when I talk about pressure, I mean several hundred pilgrims who had stormed the area, to the point where they had to make their way through the crowd to get to the reception and it had become impossible to access the toilets without joining the long queue up the stairs…
Services at Hotel Xabier.
The hotel has all the services you need:
free parking. Despite la Javierada and the parking ban, I was able to get a pass to park the car in front of it and watch Jahan.
a bar.
a restaurant offering gourmet cuisine made with seasonal and local products.
a space for the presentation and sale of local products and souvenirs.
Four lounges each with a capacity of 250 people for events and seminars.
Full of relaxation areas, including on the floors.
A lift.
IMPORTANT: the entire hotel is accessible to people with disabilities.
Other types of rooms.
The hotel has 45 rooms, from single to quadruple.
A few practical tips for Javier.
How to visit the surroundings of Javier in complete peace of mind?
You can contact me via the contact form for the organization of your trip.
You will visit Javier, the monastery of Leyre, Sos del Rey Catolico, Olite and its castle, the canyons of Arbayun, the offbeat hilltop villages, stay in charming establishments and taste the local specialities.
What are the local events of interest?
You can discover the Javieradas in Javier, the Birth of a King in Sos del Rey Catolico, the medieval festival of Olite.
What is the nearest station to Javier?
It is the Tranfermuga station in Pamplona.
What is the nearest airport?
This is Pamplona station.
Use the links below to get the best rates on your flight.
Depending on where you come from, I recommend you to use my favourite airline company, Qatar Airways, or the Skyscanner's search to find the best deals.
Not sure if you need a Schengen visa?
>> Check the requirements for your country here
How to get to Hotel Xabier.
Javier is located 9kms from Sanguesa, 11 kilometers from the magnificent Leyre monastery, 21 kilometers from Sos del Rey Catolico, 20 kilometers from Lumbier and 41 kilometers from Arbayun.
Hotel Xabier is located in the old village of Javier. It is this village that the signs indicate. Once you arrive in Javier, just follow the signs indicating the hotels and their parking. Feel free to take the small road that goes down from the main car park to the hotels and park in front of the hotel.
Address of the hotel Xabier : 31411 Javier Navarre Spain.
Conclusion – hotel Xabier Javier review.
Hotel Xabier is a hotel with a warm welcome, clean, very affordable rates and very well located. I really recommend it to anyone who wants to stay in a pleasant setting and enjoy attentive and warm services. I find that with its view of the castle, it is the best located hotel in Javier.
To prepare your discovery of Javierada, read this article.
For hotels in the Basque Country, read this guide
This article may contain compensated links.
Although invited by Hotel Xabier, this opinion was written with complete objectivity.
Save on Pinterest for later.