Finding the best travel backpack brands can be a real brain-teaser as you can find so many choices.
We also tend to worry about a lot of things: what capacity? Will it be big enough? Too big? Will I be able to wear it easily? Is a backpack the most appropriate travel bag for the way I travel?…
Recently, I bought a new backpack for my travels and I spent several days reading descriptions, best travel backpack reviews, customer reviews… I went to stores to be able to look at the materials, the finishes, get an idea of the weights, which allowed me to totally disqualify Decathlon brand, which did not evolve with time (materials, coarse finishes).
Note: I get commissions for purchases made through links in this post at no extra charge for you.
Click here to see the best travel backpack now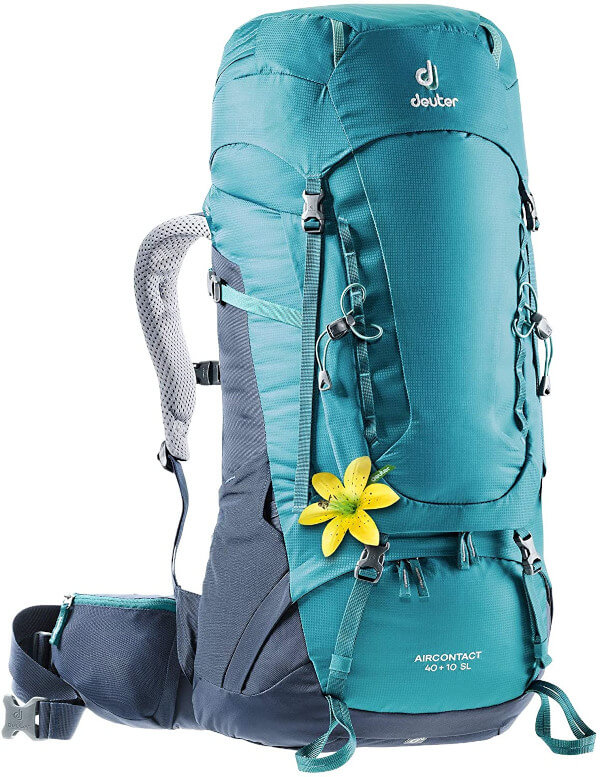 To save you time, I am sharing my research of the best travel backpack 2019 with you. They will help you to ask the right questions and choose the best travel backpack for your needs.
In this article, you will learn:
Which type of luggage is right for you: backpack or rigid suitcase?
Why I advise you to use two backpacks and which additional backpack to choose,
Which questions to ask yourself to make the right choice,
Which elements to look at
What are the best backpacks currently on the market with backpack reviews.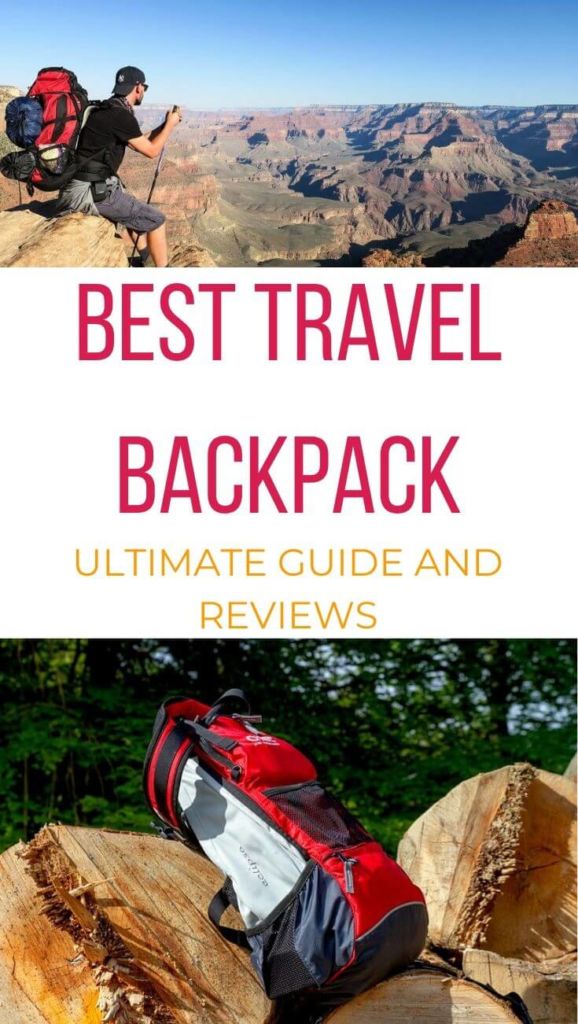 Article summary – Best travel backpacks 2021.
What is the best travel backpack? Deuter AirContact.
>> Cliquez ici ou sur la photo pour lire d'autres avis clients et commander ce sac
Compare best travel backpacks 2021.
| | | | | |
| --- | --- | --- | --- | --- |
| Name | Type | Capacity (L) | Note (/5) | Price |
| GREGORY BALTORO 65 AND DEVA 60 | Trekking bag | 60 or 65L | 4.7 | Check |
| DEUTER AIRCONTACT 40+10SL | Women backpack | 40+10 | 4.7 | Check |
| OSPREY AURA AG 50 | Women backpack | 50L | 4.5 | Check |
| MILLET UBIC | Light bag | 50+10 | 4.4 | Check |
| OSPREY FARPOINT ET FAIRVIEW 40 | Carry on backpack | 40L | 4.3 | Check |
| DEUTER AIR CONTACT PRO 60+15 et 55+15 | Trekking-camping bag | 60+15 or 55+15 | 4.3 | Check |
| OSPREY SOJOURN | Suitcase backpack, travel with kids | 60L | 4.3 | Check |
| DEUTER TRAVELLER | Travel with kids | 70+10 | 4.3 | Check |
Feel free to sign up for Amazon Prime's free trial to benefit from free accelerated delivery and download series, music and books.
Click here to start your free trial now.
FAQ on best travel backpack.
How big of a backpack do I need for backpacking?
On average, count 50 litres for a woman, 60 litres for a man.
To be adjusted according to the destination – hot or cold – the duration of the trip, your ability to travel light, the presence of children or not. You will find all the elements to make the right choice in my article.
What is the best travel backpack?
My favorite brand is DEUTER.
Given the number of people they met on a trip or hike with a Deuter bag they were delighted with, I am not the only one!
What weight for a backpack?
Your backpack should not exceed 12 kilos on the outward journey.
Try to travel light. As you travel, you will realize that you are carrying things unnecessarily.
When you return, don't worry about clothes or shoes that have aged badly.
Can you carry on a travel backpack?
Yes, choose a 40 litre and check the dimensions imposed by the airline company.
Best international carry on backpack 2021.
OSPREY FARPOINT 55 carry on AND FAIRVIEW 40 REVIEW
If your priority is to travel light, to be able to keep your bag with you in the cabin, to save on checked baggage costs for low costs or to protect your computer equipment, the Osprey Farpoint 40 (male version) and Osprey Fairview 40 (female version) are the ideal choice.
Advantages.
Complies with the maximum dimensions of European legislation.
Internal pocket for tablet.
Padded laptop case.
Scratch-resistant pocket for glasses and electronic devices.
Padded carrying handles.
Luggage-style opening, with lockable zipper.
Light when empty.
Reasonable price.
Disadvantages.
Lack of ventilation in the back.
Less comfortable to wear on your back than a traditional bag.
Not suitable for hiking.
>> Click here or on the pic above to read more reviews and see the price
Best travel hiking backpack 2021.
GREGORY BALTORO 2021 65L AND DEVA 60L REVIEWS
If you are looking for a backpack that is both comfortable and suitable for long treks, the Gregory Baltoro 65 (male version) and Deva 60 (female version) are the best choice.
Advantages.
Very comfortable thanks to its Response A3 suspension system.
Full front opening.
Upper pocket for solar panel.
Robustness.
Hydration bag, which can be used as a backpack.
Disadvantages.
heavy when empty; the counterpart to the comfort system as I explained when I told you about the weight (2.9kgs).
Relatively expensive.
DEUTER AIRCONTACT PRO 60+15 review. Deuter 55+15 review
If you have to carry a lot of camping equipment and you are strong, the Deuter AirContact pro is more suitable (SL or Slim version for women).
The Deuter Air Contact Pro is also a little more resistant and waterproof than the Gregory Baltoro/Deva.
Advantages.
Very comfortable thanks to the Air Contact system.
3 litre compatible hydration system.
Small detachable 15-litre bag (daypack) for day trips.
Adapted to heavy loads.
Robustness.
Front opening in U.
Disadvantages.
Heavy empty: 3.2kgs. Once again, the counterpart to ergonomics.
>> Click here to check the price and read more reviews
Best travel backpack for women 2021.
OSPREY AURA AG 50 REVIEW
The Osprey Aura AG 50 bag is the most highly rated bag by women. Adapted to the female morphology, it is also very well ventilated.
There is a men's version just as well noted by them : the Osprey Atmos AG 50.
Advantages.
Pretty light.
Very comfortable.
Very good ventilation.
Robuste.
Cap that can be transformed into a ventral bag.
Compatible with hydraulic tank.
Disadvantages.
>> Click here to check the price and read more reviews
DEUTER AIRCONTACT 40+10 SL review: the best Deuter backpack for travel.
This is my backpack and the one I recommend. Osprey's Aura bag may have been very well noted, but it suffers from an inconvenience that is crippling to me: the lack of a front opening, making access to the main compartment very difficult.
Front opening backpack is essential for me as it is very easy to pack and find everything.
The SL or Slim model is designed for both women and thin men. There is of course a "classic" AirContact with the same advantages and disadvantages.
It is also ideal for a multi-day hiking stay in the Pyrenees.
Advantages.
Aircontact system for very good comfort and ventilation.
Front U-shaped opening allowing you to store and access your belongings as if in a suitcase.
3 litre compatible hydration system.
Very robust.
Disadvantages.
Rather heavy: 2.3kgs (counterpart of the ergonomic system).
>> Click here to check the price and read more reviews
Best travel backpack suitcase 2021.
OSPREY SOJOURN 60 REVIEW
The Osprey Sojourn bag is made for those who are looking for a compromise between backpack and suitcase. This is what we call a suitcase backpack!
This type of bag is ideal for those who want to be able to alternate between backpack and suitcase but it is not suitable for hiking or long periods of back carrying.
Advantages.
3 in 1: bag, backpack, suitcase on wheels.
Robuste.
Opening suitcase and easy access to things.
Folding handle.
Lockable zipper.
Disadvantages.
Not suitable for "backpacker" or hiking mode.
Portage not very comfortable.
Very heavy empty.
Rather expensive.
Best lightweight backpack 2021.
MILLET UBIC 40 REVIEW
If you are looking for a good compromise between lightness, carrying comfort and price, choose Millet Ubic 40. In this 40-litre version, it is even accepted on most airlines.
Advantages.
Light empty.
Good wearing comfort.
Moderate price.
Resistant.
Disadvantages.
No complete front opening, making it difficult to access things.
>> Click here to check the price and read more reviews
Best backpack for traveling with children.
DEUTER TRAVELLER 70+10 review
If you are travelling with young children or even a baby, you will appreciate this backpack that is both large and practical for families.
Advantages.
Suitcase-style opening.
Large volume.
10-litre backpack, zippered on the main bag.
Resistant.
Compartments.
Easy to organize and find your way around.
disadvantages.
Very heavy empty.
No wheels.
Not suitable for hiking.
High price.
Backpack or rigid suitcase? Why and when to choose the backpack.
A backpack is not only for young people who sleep in dormitories and travel with a minimum of comfort.
A 46 years old, my way of travelling is much better for a backpack than a rigid suitcase.
To determine if you should choose a backpack or rigid suitcase, you can ask yourself several questions:
What is your type of travel? If you move around a lot, the backpack is more appropriate.
Independent travel or organized travel? When travelling independently, you will have to take care of your luggage yourself. The backpack is more practical. When travelling on an organized trip, your luggage travels in the hold of the bus and is often handled by the tour operator's staff. You can choose the suitcase.
What mode(s) of transport will you use? If you take the local buses, hitch a ride, opt for the backpack, which is easier to handle and easier to fit in a corner. If you have your own vehicle, you can take a rigid suitcase. You sometimes travel on motorcycles, leave with a backpack.
What activities will you do during your trip? If you are going on a trek, camping, walking instead of taking a taxi or bus, choose the backpack.
Do you travel with your family? For families who travel a lot, it may be much easier to carry a backpack so that they can have their hands free to take care of the children than to carry a suitcase on wheels!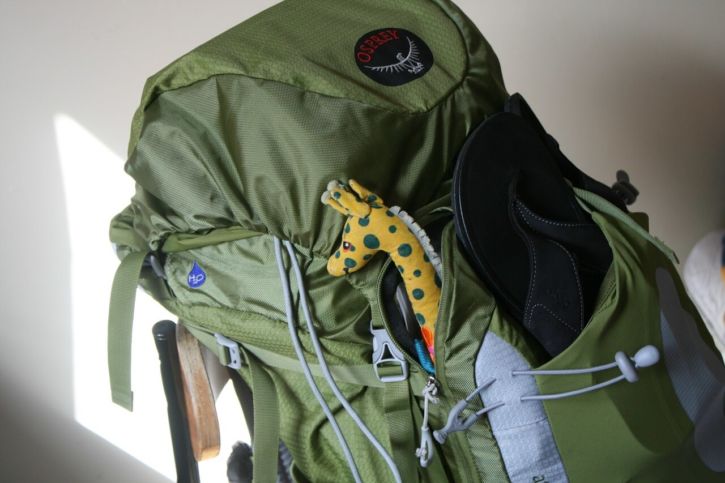 How to organize backpack for travel? one or two backpacks?
I recommend that you travel with two backpacks, especially if your main bag does not travel in the cabin with you. What else would you do with what you must keep with you? Camera, laptop, contact lenses, chargers, papers, money, etc.
This will also allow you to walk around with your little bag and leave the big one at your hotel or guesthouse.
Best travel Daypack.
Depending on what you need to put in it (for example, a reflex camera + a camcorder + a laptop, it takes up space), I recommend an ultra-light and compressible 20 or 30 liter bag. Strong, waterproof, you can compress it and store it in your big backpack when you move around with both bags.
The bag here or below is 68 grams for a volume of 20 litres.
What questions to ask before choosing your backpack?
Many factors should be considered when choosing a backpack: type of trip, planned activities, climate, duration of trip.
Answering these questions will help you determine what type of backpack is right for you – classic or wheeled – and its capacity.
It is indeed essential to choose a bag that is neither too big nor too small. Too big, you will be tempted to take too many things that will ultimately be useless. It will be too heavy and you will end up cursing it every time you have to carry it. Too small, you will regret not being able to bring back more memories or having them sent to your home.
For which type of trip and which activities?
The answer will allow you to choose between classic backpack and backpacks on wheels.
The classic backpack is also perfectly suited for hiking, camping, lighter and cheaper than the backpack on wheels. It is perfect for those who travel often and carry their bags a lot. It is totally versatile.
The backpack on wheels is more suitable for "intermediate" use. If you want to be able to put down your bag and move it without carrying it, this is the one for you. It also opens completely, like a suitcase. It has a foldable handle. It can be locked. It's a compromise between the backpack and the rigid suitcase. However, it weighs more, is generally a little more cumbersome and more expensive. Above all, it is not suitable for hiking or long walks. The weight is less evenly distributed inside the bag.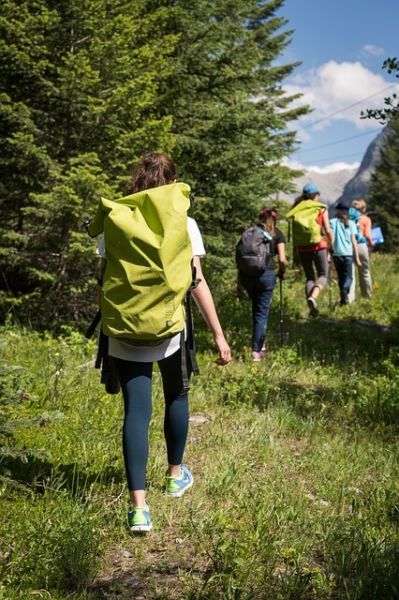 For which climate?
The climate – or destination – will determine the capacity of your bag.
If you only travel long distances in the sun and make short trips to France or Europe, you can be satisfied with a 40+10 bag, i. e. a 40l backpack with an extension of 10l.
Conversely, if you go to a very cold destination for a month or if you go camping, a 60+10 or even 70+10 bag will be more suitable.
For how long?
If you only travel for short trips, it would be a shame to choose a large backpack!
Can you travel light?
If you travel with your family and you have to carry the children's things, if there is a baby, you will have to provide extra space in your backpack.
If you are travelling on a backpacker's trip but are invited to a wedding, conference or other event, you will need additional space for dress, shoes, handbags, etc.
Examples.
Best travel backpack for Europe in winter, with few difficult journeys = 60 or 70l rolling backpack.
Thailand backpack trip, with many trips by local bus = classic backpack 40+10.
Travel with a one-week itinerant hike in the Pyrenees in summer = classic 40+10 backpack.
How to choose a travel backpack?
These are the characteristics to observe when choosing a travel backpack.
Backpack size.
I have already told you about the capacity of the bag, expressed in litres. It will also determine the actual backpack size.
A 40+10 bag will go up less high at your head than a 70 or even 80 litre bag. I let you imagine the difference in sensations between a bag that goes up from your pelvis to your shoulder blades and a bag that goes up above your head!
Your bag must be adapted to your size and morphology.
The brands have developed a whole range of backpacks specially adapted to the female morphology, which makes them particularly comfortable: shorter back waist, often wider and inclined belt, with an additional cushion to better fit the shape of the pelvis, narrower straps at the chest, higher chest strap.
If you are a woman, choose the woman's version of the bag you are interested in !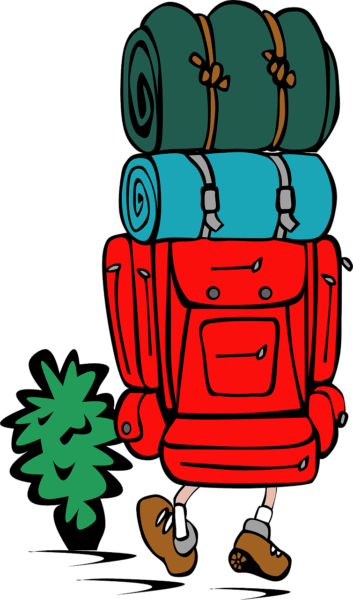 Front or top opening?
Opt for a front opening bag ! A front opening backpack is a suitcase style opening backpack.
This will make it much easier for you to access your stuff when you don't want to unpack your bag. You will avoid having to flip your entire bag to get the lost pair of socks at the bottom.
Your belongings will also be less crumpled since you prepare your bag by putting everything flat, like in a suitcase.
Prefer U-shaped openings allowing full access (this is what I have on my Deuter Air Contact) to L-shaped openings or simple zips.
Carry on backpack.
If you have the possibility to travel light, why not choose a backpack that you can take in the cabin ?
Please take a good look at the maximum dimensions of the company you are travelling with.
To simplify, if you opt for a 55 x 35 x 25 cm bag, it should be accepted in the cabin on most airlines.
Two Osprey bags match: Osprey Farpoint 40 and Osprey Fairview 40, so 40 liters backpacks.
Compartments and pockets.
All bags have at least two compartments, allowing in particular to separate clean and dirty clothes, shoes, etc.
Some of the pockets are very practical, such as the hidden pockets inside to prevent pickpockets from easily accessing valuable items, the side pockets that can be used to put a thermos of tea or coffee, bottle holders, etc.
Some bags are even equipped with a hose to be able to quench your thirst.
If you opt for a cabin bag, you might appreciate having a pocket to slip your laptop.
All these compartments and pockets will allow you to organize your bag in order to easily access the most useful and less easily what you occasionally use.
Fasteners, straps and other comfort elements.
It is essential that your backpack is comfortable.
The best backpack brands pay particular attention to the ergonomics.
The belt and straps are among the most important elements for your comfort.
The belt and strap system will help to distribute the weight evenly and concentrate it mainly on the hips.
It is important that they are made of an anti-perspirant material, well padded, adjustable at all levels and in height, or even removable.
This will allow you to perfectly adjust the bag to your morphology, compress it and hold it well so that it does not move, while accompanying the movements of your body without blocking them.
The padded back straps of my Deuter Air Contact are even adjustable in height, to perfectly match my size.
Belts, straps and bag ergonomics will also be provided so that air can circulate.
Other important features include.
material: waterproof.
quick access to the integrated waterproof bag protector, or even to your water bottle, snacks, card.
resistant material, strong seams, closures.
a handle to easily move the bag without putting it on your back.
The empty and loaded weight.
Last but not least, the backpack weight.
The empty weight is less important than the loaded weight.
Bags that have excellent ergonomics are often heavier than others, but thanks to this work on ergonomics, they are more comfortable to carry.
For a woman, it should be between 45 and 55 litres, or 12 to 14 kilos maximum. Mine is a 40+10.
For a man, it should be between 50 and 60 litres, or 13 to 15 kilos.
You will see that we always tend to take useless things and I have never completely filled my bag.
On the way back, remember that you can always add souvenirs in your side bag. There is also a good chance that you will not bring all your belongings back ( used pants, damaged t-shirts, shoes in poor condition…) and you will "consume" some of them during your trip (contact lenses, toothpaste, paper tissues, etc.).
Conclusion – best travel backpack reviews.
I hope this best travel backpack reviews will help you to choose the ultimate travel backpack for your needs.
Finding the right backpack for the way you travel is one of the most important elements in preparing a trip.
Making a wrong choice can easily ruin some of the fun of travel, especially if you have to carry a bag that is too heavy and/or uncomfortable.
In short, to choose the right backpack for your trip:
Think about the type of activities you will do: classic backpack or wheeled backpack.
For which climate: less capacity for hot climates.
For how long: short = small bag.
Travel with child, ceremony: more capacity.
Backpack adapted to your morphology: man/woman.
U-shaped front opening: better access.
Cabin trip: 40-litre bag.
Compartments and pockets.
Comfort: straps, ties, belt.
Material.
Load weight.
If you're looking for an anti-theft travel backpack, read my guide here
For other product reviews on travel accessories, it's here.
This article contains compensated links. As an Amazon Associate I earn from qualifying purchases. Consult the disclaimer on the site for more information.
Save on Pinterest for later.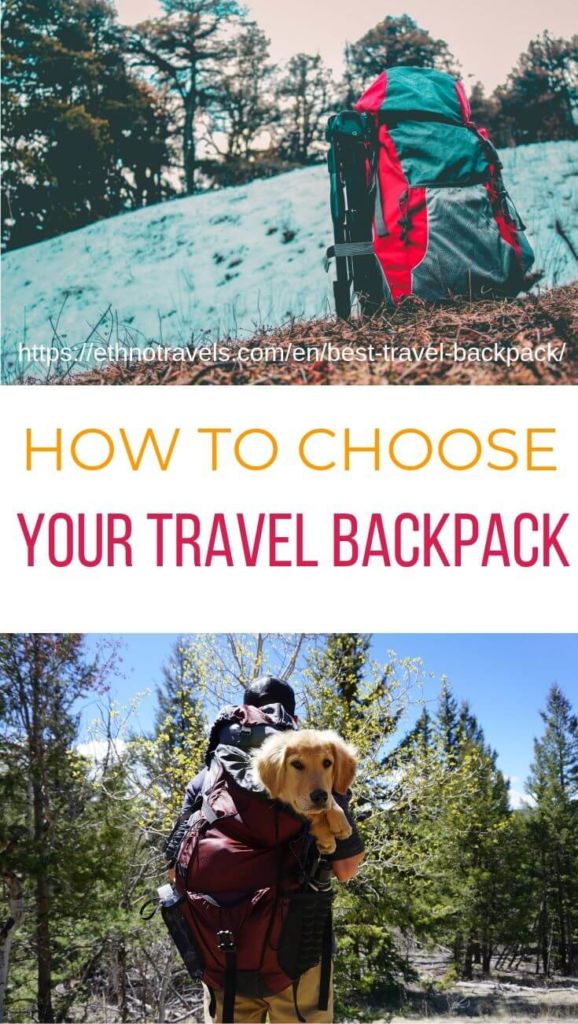 How to choose the best travel backpack in 2021