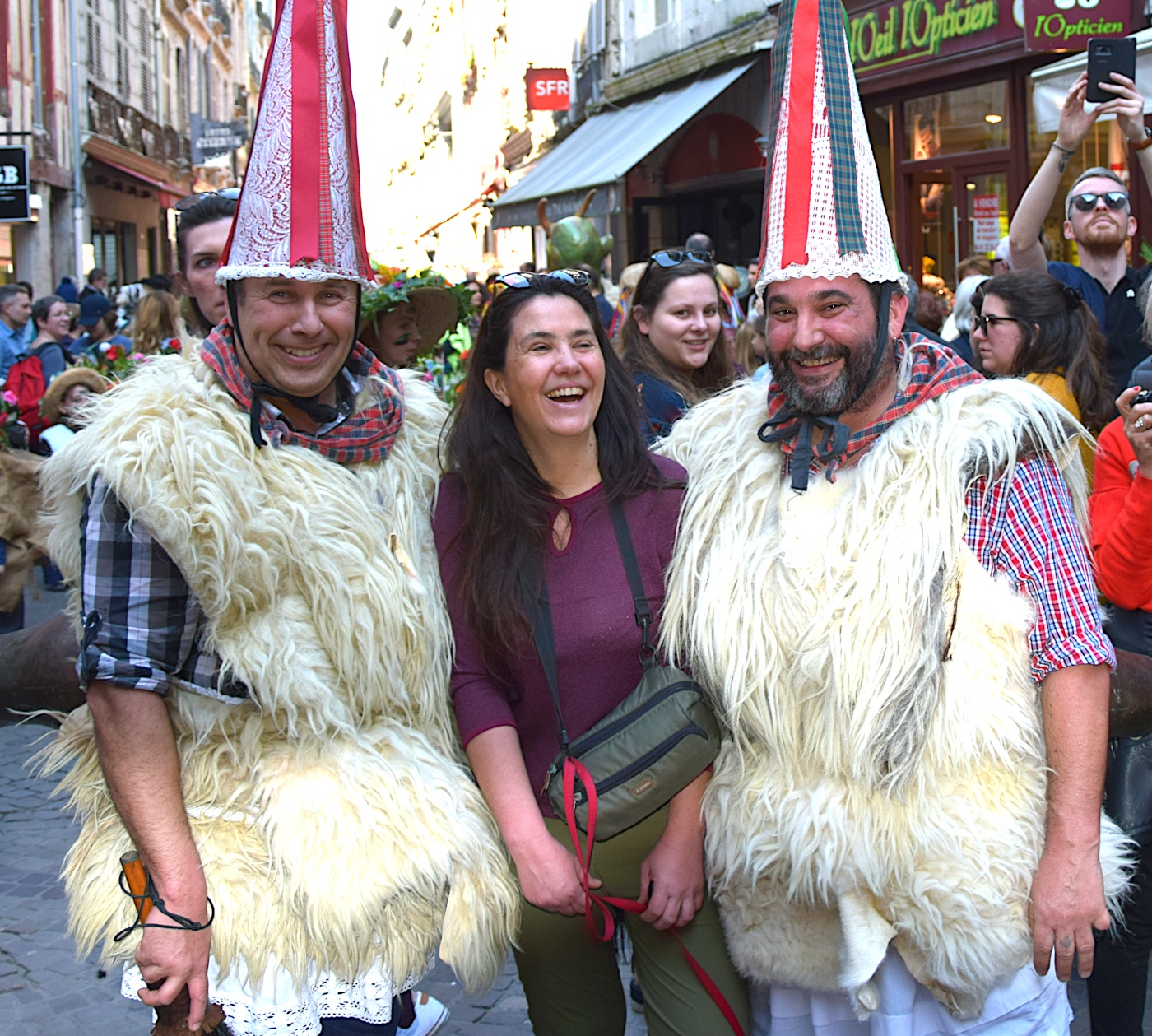 We don't just offer you an apartment to stay in the South of Landes. We offer you an environment and personalized advice so that you can live the best during your stay in the Basque Country Landes with us. And on top of that, if you want to practice your French, this is the place!!!
I am Stephanie and my vacation rental is located in the south of Landes department, 16 kilometers east of Bayonne. When I moved from Anglet to Biaudos in 2014, I found a large house allowing me to stay on the second floor and to welcome travelers coming to visit the Basque Country and Landes on the garden floor.
I am also a local guide and a responsible tourism consultant, specializing in the culture of indigenous peoples. I live with my little westie, Jahan.
The south of Landes is ideal to be quiet, while allowing easy access to beaches, inland villages, mountains, marine lakes and historical and famous places.
About your host family, Stephanie and Jahan.
Yep, Jahan and I are pretty much inseparable and a great pair!
Since 2015, we welcome you to our home in the middle of a large 2,500m2 orchard. While Jahan entertains you with his clowning and cuddling, I offer my travel planning skills to help you create your personalized itinerary for free.
I am originally from Aisne, Aube and… from Gascony ! Biaudos is therefore a bit of a return to my roots for me. Little Jahan was born at Rivière Saas et Gourby kennel, from a mother from Landes and a father from the Spanish Basque Country.
I worked for 19 years as a sales manager and trainer at SNCF. Although I am passionate about leadership and personal development, my way of looking at SNCF passengers as travelers and not just customers was no longer in line with a company that favored aggressive management.
Being a solo traveler for many years and blogger since 2007, I decided in 2017 to found my own self-business promoting and safeguarding local cultures. In particular, I have created an agenda of more than 100 traditional Basque festivals, spread over the 7 provinces.
As a result of this work, I was co-opted and trained by a local guide to become a group tour guide for vacation villages. I now offer my help in preparing tours and guiding to tourist agencies and tour operators outside the region and internationally as an independent bilingual tour guide; as well as to individuals looking for private guiding in the Basque Country Landes.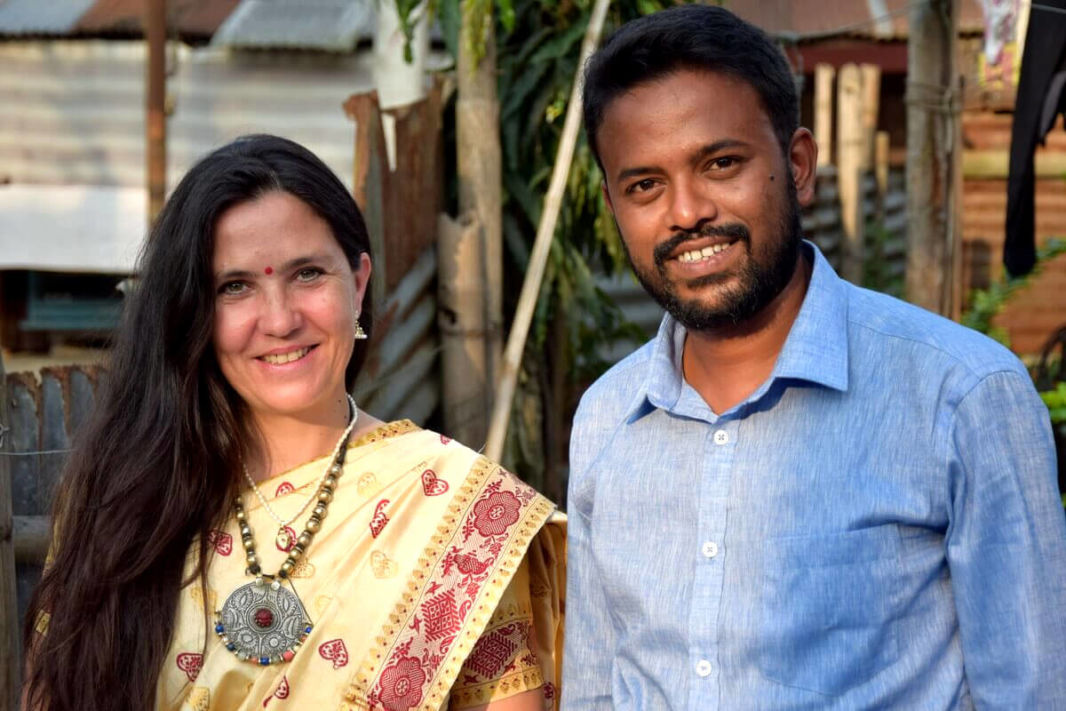 Holidays in Landes – 5 people flat in a Basque house.
We welcome you in a non-smoking apartment – you can smoke in the orchard – independent for 5 persons, with access to the outside facilities, including the orchard of 2 500m2 and its fruits.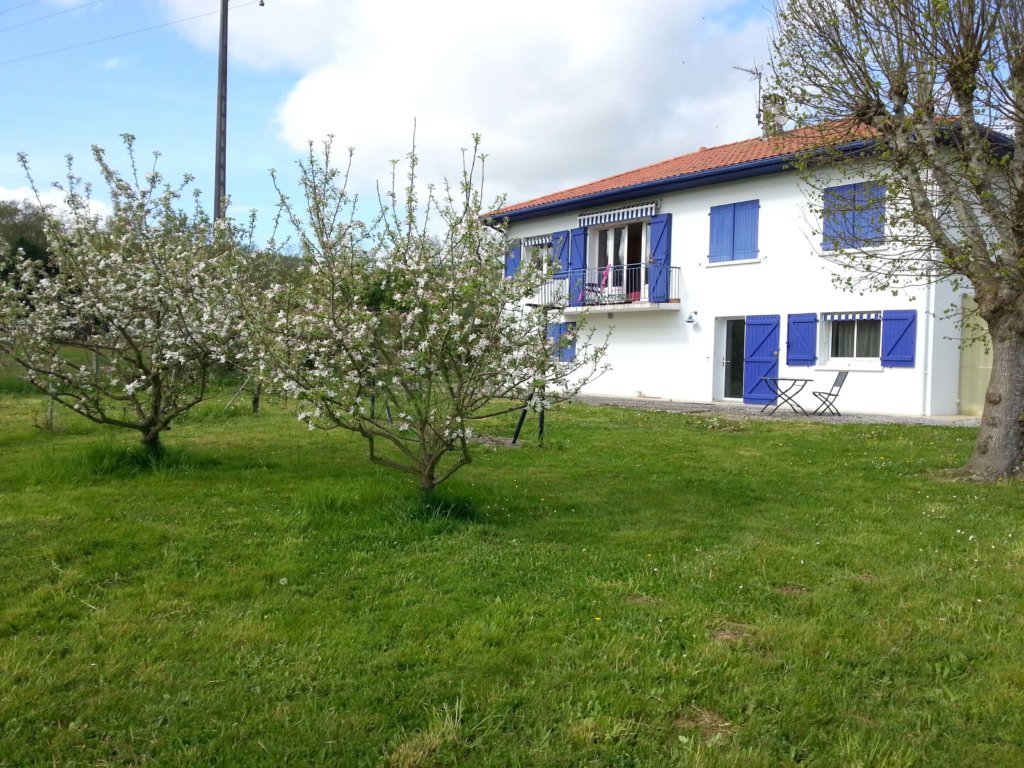 The apartment of about 60m2 includes:
a room with a double bed.
a room with a single bed wider than a standard bed.
a large living room with a fully equipped kitchen, a sofa bed with a Bultex King Size mattress, a desk, a flat screen TV, a library, a dining area.
a toilet.
a bathroom with Italian shower and sink.
numerous storage spaces (2 dressing cabinets, shelves, storage space for suitcases under the beds, drawers under the beds, kitchen furniture).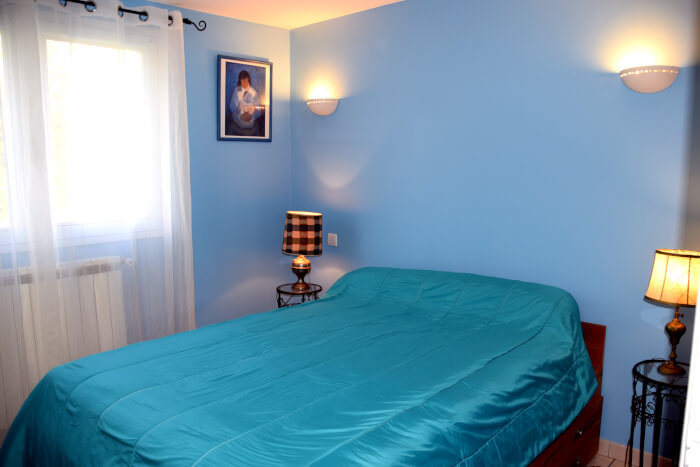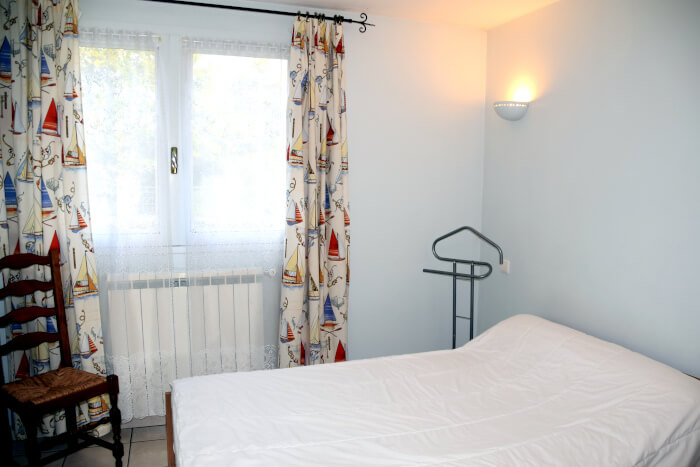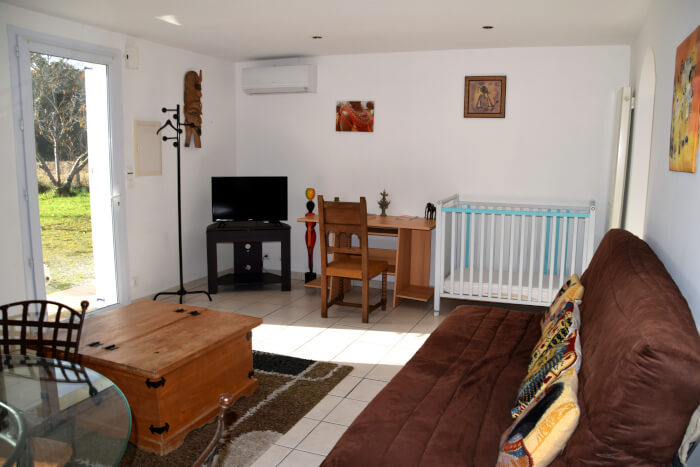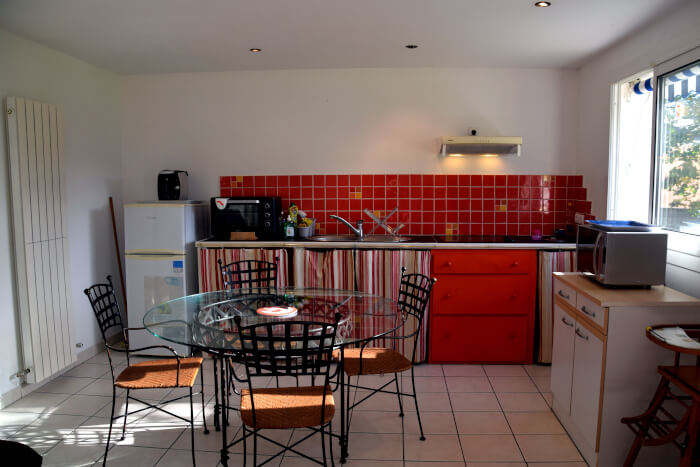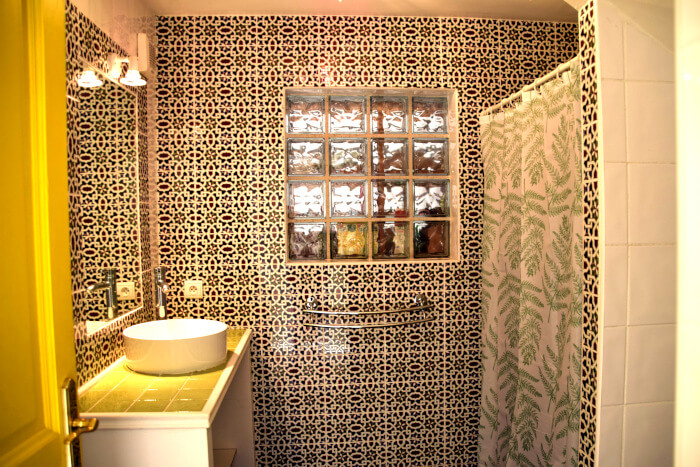 Baby equipment.
One baby is accepted in addition to the 5 persons, at no extra charge.
I can provide you on simple request:
a baby bed and sheets.
a high chair.
a bathtub.
Additional equipment.
Central heating in cold season. Heating with a heat pump and large radiators in all rooms.
Air conditioning (on request). To preserve our beautiful planet, we only use the air conditioning in periods of high heat. Also, the air conditioning must be turned off when you are away.
Free parking. We recommend that you park your car on the left side of the house. Your car will be in the shade most of the day and will not be in the way.
Television and library. The apartment is equipped with a large television and many books.
High speed wifi. Secure wifi access with password.
One level accommodation. Direct access to the outdoor dining area and the orchard. No stairs.
Garden equipment. Table, chairs, deck chairs, barbecue.
Orchard of 2 500m2. Feel free to eat the fresh fruit.
Pet friendly. Dogs are accepted upon request.
Where will you stay?
Biaudos is located in the south of the Landes, 16kms east of Bayonne. It allows to go very easily to the Basque coast (17kms); to the marine lakes of Hossegor (24kms) and Soustons, the natural reserve of the current of Huchet; the villages of the Basque hinterland without passing by the coast and its traffic jams; the medieval villages of the Country of 3 Gaves (Navarrenx, Sauveterre and Salies de Béarn).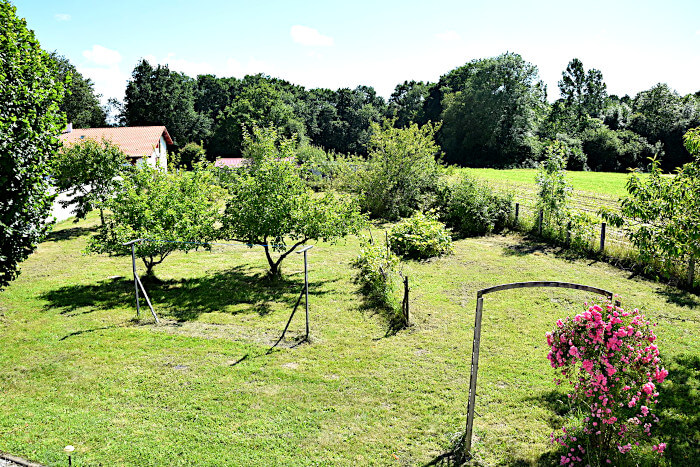 Services included.
I will help you organize your visits for free, during your stay with me, by giving you personalized advice according to your desires, tastes and needs.
If you want to practice your French, just tell me and we will do it.
A few tips for your stay in the Basque Country Landes area.
The Basque Country, it's not only during Summer!
Each season has its particular charm. We particularly like spring for the hikes with the asphodels, the birth of the griffon vultures and pottok (Basque horse). Winter is also a period that we like very much for the magnificent illuminations, in particular Biarritz in light and the new animations shows of Bayonne.
The most traditional Basque festivals also take place out of season. Among our favorites: the carnivals of Navarre and the Feast of God. Check my calendar of festivals here for more information.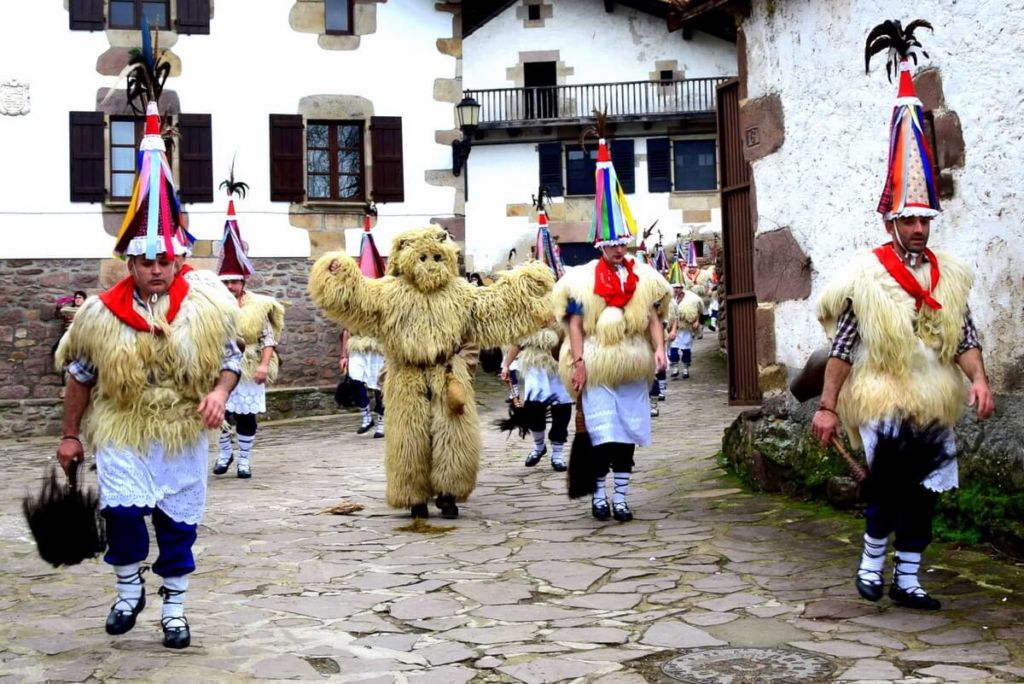 Do not neglect the Landes and the nearby Bearn!
More in the north, we particularly like Capbreton, its fish market and its pier, the tour of the Lake of Hossegor and its oyster huts, the tour of the Lake of Soustons Vieux Boucau, its island and its dunes, the Cape of Homy and the lighthouse of Contis. The marine lakes are ideal for the bathings of Jahan… and children!
Further east, we particularly like the medieval villages of the 3 Gaves : Navarrenx, Sauveterre de Béarn, Salies de Béarn.
What do I need to know about the Basque Country?
Basque people are autochthonous people; but please, don't call them "indigenous", "tribe" or "minority". They would feel it as in insult as these words are not so respectuous in France. Basques are the first inhabitants of the place, located in 7 provinces in France and Spain.
Basque people have their own language. But French is commonly used to talk. Nevertheless, roadsigns can be very confusing. On the French ones, you will both find French and Basque. On the Spanish ones, you will find Spanish and Basque. For example, the Spanish town after Irun and the border is called Fontarrabie in French, Fuentarabia in Spanish and Hondarribia in Basque. Saint Sebastian is called San Sebastian in Spanish, Saint Sébastien in French and Donosti or Donostia in Basque. Should I say that Iruña is the Basque name for Pamplona and should not be confused with the border town of Irun!!!
That's why, if you go by yourself, I will always give you all the names of a place and you should take note of it. I had many French guests who could not visit Pasaia, Victor Hugo's village, just because they didn't remember the right name and indication…
How to contact Stephanie and book the flat and/or request a guiding service?
You can contact me via the form at the bottom of the page, Facebook or by phone at +33 626 03 43 11
Some traveler reviews on your Basque stay.
"Two weeks spent criss-crossing a magnificent region on the good advice of Stephanie. Moments shared with our hosts (we can't forget Jahan, the little Westie delighted our children!). A big thank you for your warm and simple welcome!
"A warm welcome, a quiet and perfect setting. The accommodation is spacious. Perfect for a stopover or a longer Basque stay."
"Very nice accommodation, well furnished, well located, Stephanie is very accommodating and gives you the best welcome ever. We recommend without hesitation."
"You will meet a friendly Stephanie with her warm welcome and her availability to provide you with ample information to make your Basque stay most enjoyable. You will never regret having chosen to stay with her. Good luck Stéphanie, we will surely come back one day.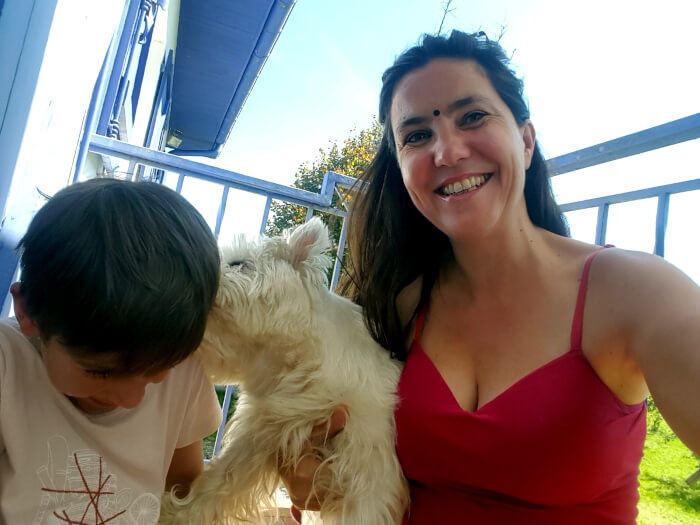 Frequently asked questions about your host family in France.
Is the kitchen fully equipped?
Yes, there is a mini-oven, a microwave oven, a cooktop, a sink, a refrigerator-freezer, a Tassimo espresso machine, a toaster and a kettle.
Are linens provided?
Yes, I provide sheets and towels according to the number of tenants, as well as tea towels. I change them every week on request.
Is there a washing machine?
I give access to my washing machine, which is located in my garage, upon request.
How far away are the beaches?
The first beach of the Basque Country is at 17kms (Anglet, Biarritz, Bidart, Guéthary, Saint Jean de Luz, Hendaye, Fuentarrabia, Saint Sebastian, Zarautz, Zumaia), the first beach of the Landes at 18kms (Tarnos, Ondres, Labenne, Capbreton, Hossegor, Cap de l'Homy). You can also swim safely in the marine lakes of the Landes and the nearby nautical bases.
What free personalized travel service do you offer?
I answer all the tourist questions, before and during your stay. I give personalized advice for your visit according to your tastes, desires and the duration of your stay. I provide you with my good addresses and tips. As a tour guide for travel agency groups, I offer you this service, which is normally part of the package for professionals.
Are pets allowed?
Only dogs are allowed on request, provided they do not cause any damage and are sociable with other animals – westie Jahan – and humans. The orchard is fully fenced and there is no risk of running away. If you let me know in advance and I can be available, I can keep your dog during your visit to the nature reserve of the current of Huchet – forbidden to dogs.
Is it possible to rent via Airbnb ?
Currently I don't. I have rented for several years via Airbnb and have been extremely disappointed by their poor after sales relationship. Airbnb actually deletes some customer reviews, which I find unacceptable. I am currently testing Booking, but I no longer trust these platforms.
Is Direct Rental Safe?
Yes, of course! At the time of your reservation, I send you a rental contract in due form and you only pay a deposit, depending on the date of your stay. In the event of cancellation following a new confinement, the deposit or the sums paid are entirely refunded to you for the part of the stay not carried out.
Tarifs*
Rates*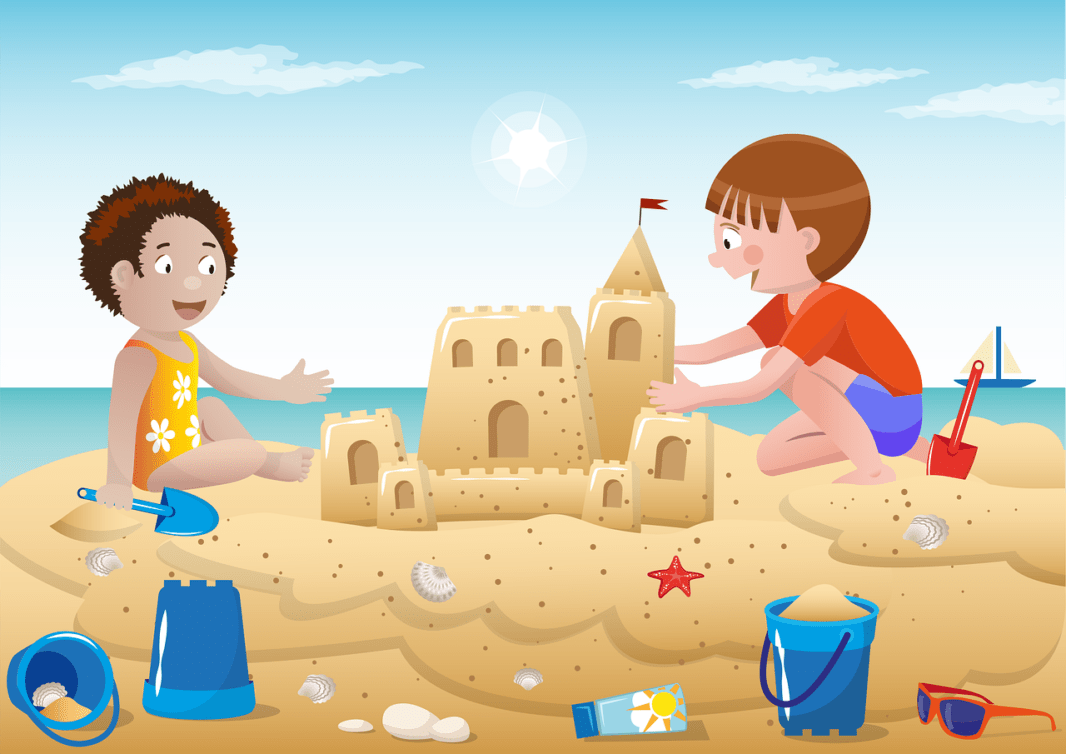 School vacations
700€ per week
Rental from Saturday to Saturday in July and August.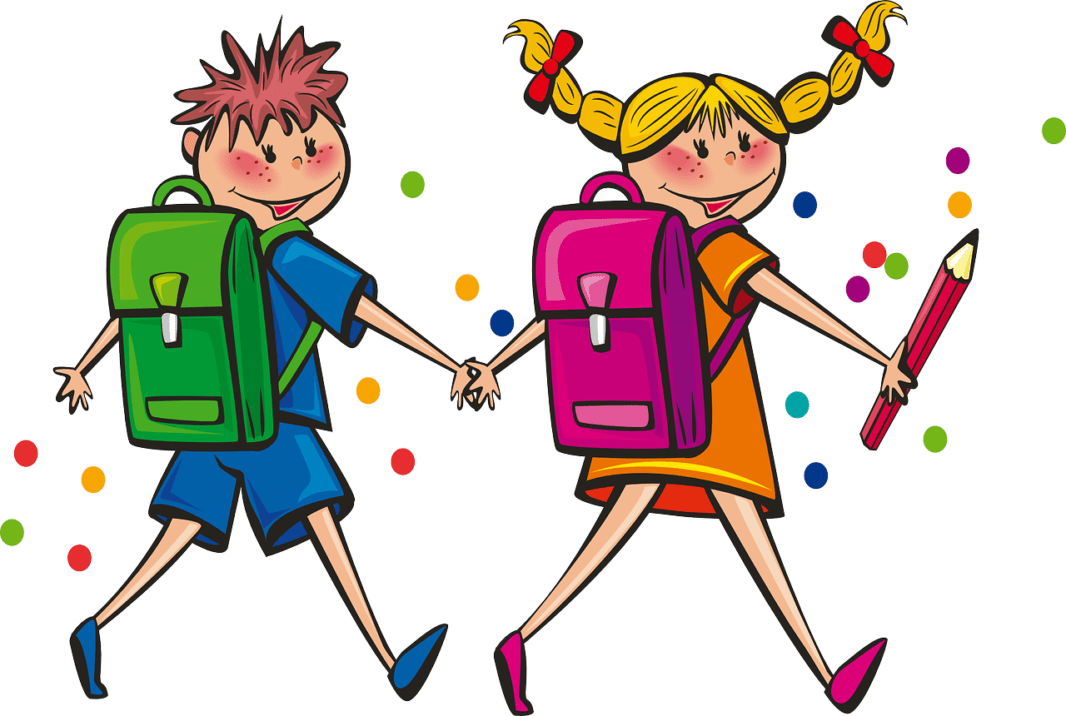 Outside school vacations
From 85€ per night
* Cleaning at the expense of the tenant.
Want to find a homestay family in Asia too?