Thanks to Shakeel, you can now homestay in Bastar, either in his home or in another tribal guesthouse, and discover the culture of the many local tribes.
Shakeel is also a local guide. Although he does not belong to any tribe, he lives with them in the tribal village of Chote Kawali, near Nangur in the southern part of the district.
You won't find a better way to discover the culture of Bastar than in the company of Shakeel and his friends.
About Shakeel.
Shakeel is originally from Kondagaon, a town north of Jagdalpur. He first worked in marketing and design, then as a sociologist, before becoming a self-employed tour guide in 2008. During the pandemic, he did not hesitate to go to the most difficult villages to bring basic necessities and care.
We got in touch before my first trip to Bastar in October 2012 and met on that trip. Very quickly, we started working together. It is with great pleasure and a great shared love for the tribal culture and the Human in general, that our numerous discussions allowed us to develop more and more tourism in Bastar, and in particular in the tribal villages. And it is with great happiness and emotion that I see the tribes benefit from this work, respecting their way of life.
Here in Bastar, you will not find on one side the rich tourists in their sumptuous accommodations, and on the other side the tribes living in deplorable conditions. You will live among the tribes, in simple conditions, sharing their meals, their festivities, their joys and sorrows, their discoveries, their ingenuity…
We do not return the same from Bastar…
And by visiting Bastar with Shakeel, we are helping the entire tribal population of the district.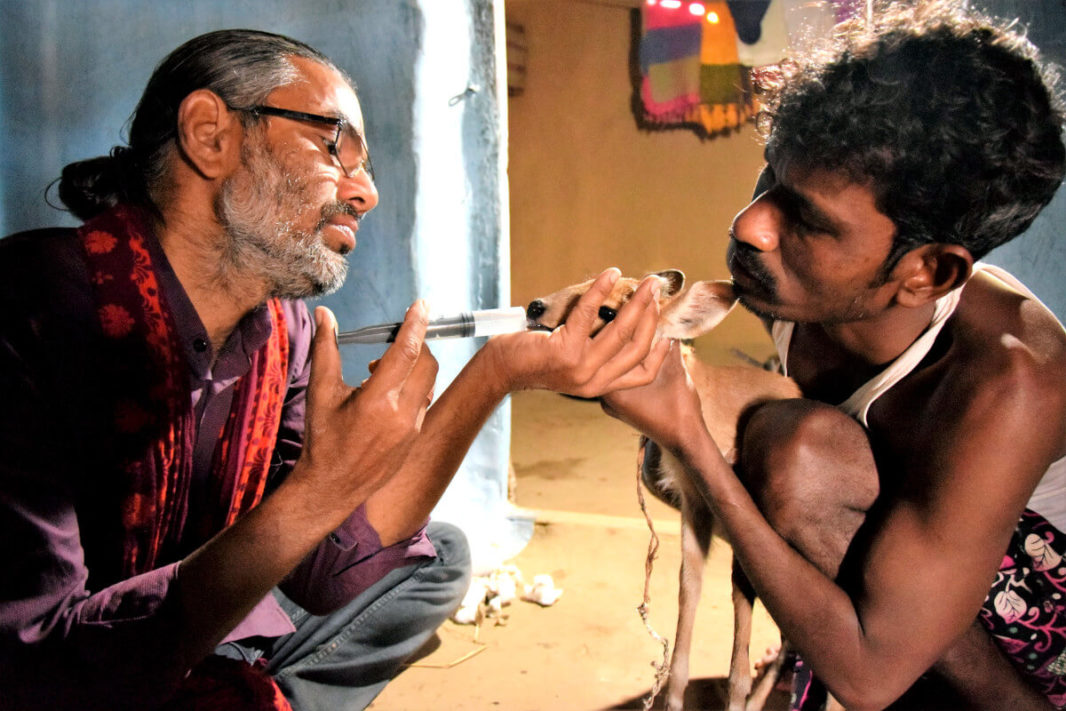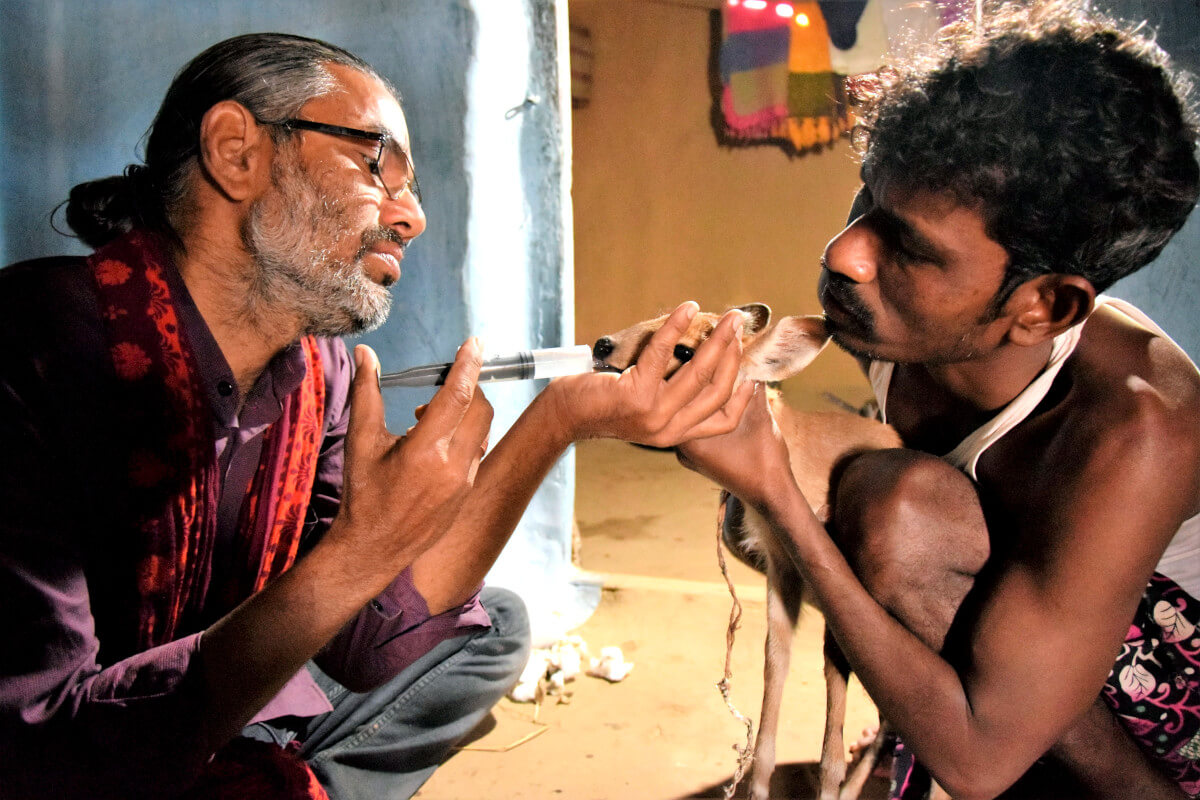 Homestay in Bastar.
Shakeel now offers several hosting solutions:
in his tribal house in Chote Kawali, the Homestay Tribal Bastar.
Nag Homestay, in Naya Para.
at Mahesh's house.
at the Ginta Homestay, in the middle of a Dhurwa and Bhatra village near the Kanger Valley.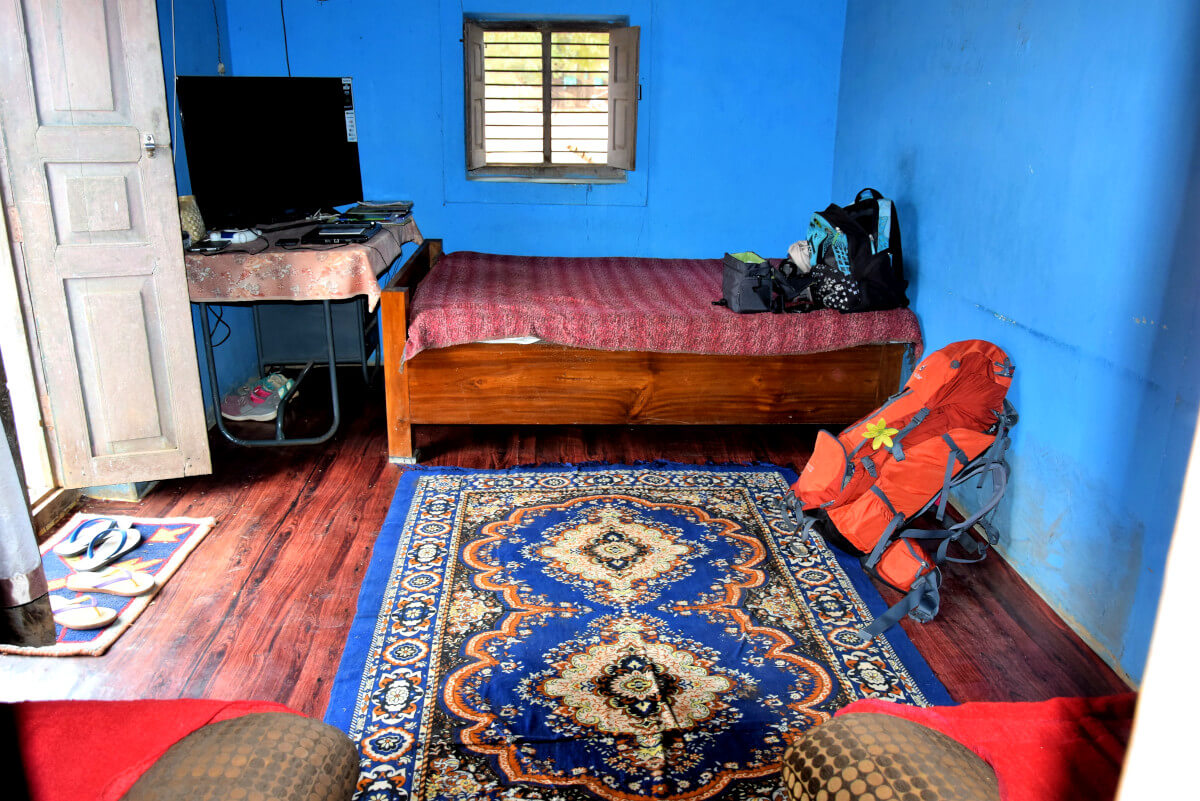 The accommodations are all in traditional mud houses. Even if the comfort is modest, these houses already represent a greater comfort than some dwellings which are only simple wooden huts. Some mud houses have an outdoor kitchen under a roof and/or on the ground. The bathroom can also be outside, just surrounded by wooden poles. Pots are always used, since there is no running water.
You will be extremely surprised by the incredible cleanliness of the "most basic" mud houses.
In the photo below, you can see Shakeel preparing the chicken he bought to share with his tribal friends in their kitchen. This is exactly the kind of cooking that tribal people are used to, either right in the house or outside.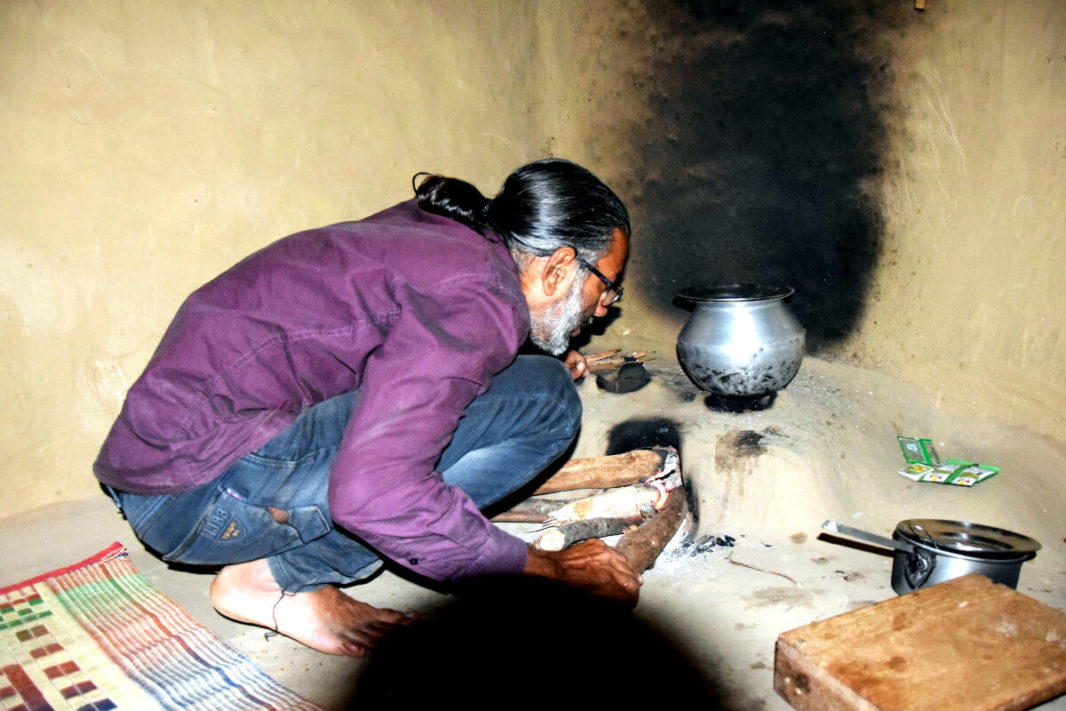 Stay in the tribal villages in order to share time with the tribes, but not for luxury. Shakeel and I are very careful not to develop the guesthouses in a way that would go against the desires of their owners. We don't want the district to become a place where you have the rich tourists in their luxurious accommodations on one side, and the tribes living with their animals and in the greatest simplicity on the other. If you want to meet the tribes while being comfortably accommodated – which is your right! – stay in Jagdalpur instead. You can always ask Shakeel or one of his tribal friends to guide you through the tribal villages and markets.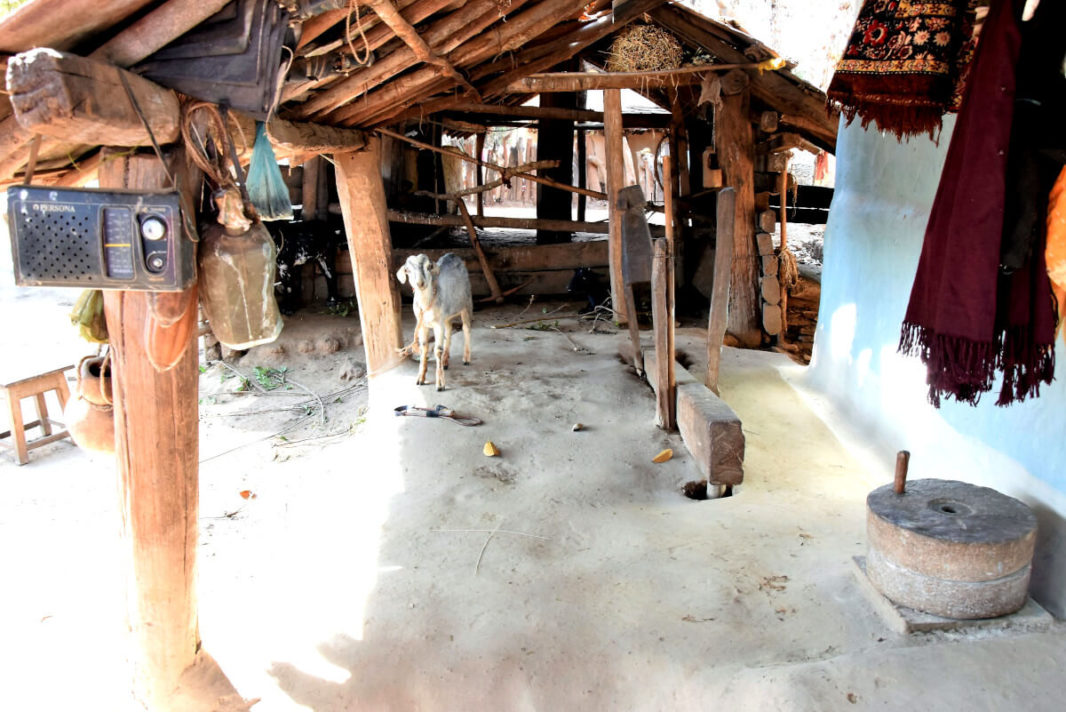 Where are Bastar homestays?
Chote Kawali and the other villages are very close to Nangur and the Kanger Valley, 23kms south from Jagdalpur.
Although this number of kilometers may not seem like much and you may think that Jagdalpur is an easier base for visiting Bastar, I would advise you to stay in one of the guesthouses that Shakeel takes care of. The roads are indeed often in very bad condition and, depending on the season, some of the places and villages where Shakeel will take you may be easier to access from the south.
Some tips from Shakeel.
This region is the homeland of the Dhurwa, Bhatra and Gond tribes, and is somewhat affected by the Naxalites nowadays.
I speak English quite well and am able to guide you around the area I know very well. I can provide you with basic accommodation (at my house or elsewhere) and delicious food (vegan or not). You can walk, rent bikes, motorcycles (with or without driver) or a car to move around the nearby forest areas.
There is no bus service available from Jagdalpur to reach my village Kawali, but you can hire a cab to reach my village.
I have the following routes (all distances from kawali):
Visit many tribal villages – more than 10 villages are within walking distance from Kawali village to observe local agriculture and use of forest products (women collect roots, leaves, branches, fruits, spices, wild bamboo, ants – to eat, silk cocoons, medicines, minerals, etc.), local economy, bamboo basket and mat making, tasting local food and drinks, etc.
Observation of religious activities
Visit to the colorful weekly markets: Nangur village (Friday, 1 km.). Koleng village (Saturday, 20 km), in the heart of Kanger Valley National Park. This market is mainly frequented by the tribal people of the remote forests. At Tokapal (Monday, 25 km). In Dharba (Wednesday, 30 km), weekly markets.
Cockfighting: gathering at Alnar (almost every day in winter, 12 km).
If you prefer to stay in hotels/guest-houses rather than with local people, you can use Jagdalpur as your base. You can also stay in remote villages like Milkul-wada, Koleng too. This is a country where English does not exist, so you may have problems communicating with the villagers, but to sum up, you will have an amazing and interesting experience.
Stephanie's advice.
Leave it all to Shakeel and don't plan a specific schedule. You can always resume your race against time once you leave Bastar. Often Shakeel will be notified of a local festival, a wedding, or a special ceremony as he wanders around. If he changes the program he told you about at the beginning of the day, it will always be to give you the best Bastar experience.
Warnings.
If you speak very little English, I would not recommend visiting Bastar without a French-speaking guide. Shakeel doesn't speak French, and a few years ago we got very bad feedback from a French couple with whom communication was very difficult. There were a lot of misunderstandings. The couple came away unhappy with their stay with Shakeel. Shakeel and I were very frustrated to see dissatisfied travelers bombarding me with emails of complaints, even though both he and I had spent a great deal of time on them. Fortunately I have known Shakeel very well since 2012 and knew that some of the facts were completely unfounded.
I'm not going to lie to you: I feel bad for sending clients to Shakeel who were not at all suited for Bastar. Instead of simply warning them repeatedly, I should have simply refused to refer them to Shakeel…
This is also the reason why I no longer act as an intermediary between you and Shakeel. If you can't communicate in English with Shakeel, imagine that on the spot, it will be absolutely impossible and you will come back as bitter as this couple…
If you need a French speaking guide for Bastar, please let me know. We are looking at ways to continue to allow travelers from all sort to experience the tribal culture of the district. In particular, I am considering proposing again a small group tour, which would be guided by Shakeel and me, and therefore in French, and sold by a French travel agency. I need to know your opinion on the subject and if some of you could be interested.
To contact Shakeel and sleep in a homestay and/or ask for a guide.
You can contact Shakeel by email ghanasar at gmail.com or through Facebook
Some traveler reviews on Shakeel.
"Shakeel ji is a wonderful host and the most amazing guide one could have to explore this part of the country. He went that extra mile to make sure I was comfortable and safe from the moment he waited patiently for four hours at the train station to pick me up, to help me book bus tickets and make sure I was safe and comfortable on my bus when my train home was suddenly cancelled. He knows the area like the back of his hand and is the perfect person to take you to places that normal tour operators won't go. The accommodations are pretty basic, but that's what you can expect when you want to live in a tribal village and experience life as the tribes do. I will definitely return to the Bastar area as three days is not enough time to explore this area and when I do I hope to stay there again." Anupama, India.
"My wife and I recently had the chance to spend three days with Shakeel at his home in Chhattisgarh, exploring the local Adivasi markets, waterfalls, villages and homes. Staying at Shakeel's home was definitely the highlight of our month-long trip to India. Not only is the Bastar district fascinating, but Shakeel was the perfect host: thoughtful, accommodating, knowledgeable, his way of showing us interesting things (and cooking delicious food!). The place itself was clean and quite beautiful, and Shakeel's description in the listing is accurate – this place involves staying in a rural setting, and is not for those expecting luxury accommodations. All in all, I can't recommend it highly enough, and I hope to return soon!" Eric, Oakland, California.
"Shakeel is such a nice person, he is the perfect guide for Bastar. He knows so much about the tribals and he is definitely appreciated by them. So visiting villages with him is the best way to approach the people. I'll have to come back to see everything I missed during my too short visit." Nicole, Pully, Switzerland.
To know more about Bastar and Chhattisgarh.
Looking for another homestay family to stay in another country?
You need to contact me for additional information about Bastar and Central India?
Please, fill the form below: