Last Updated on
Summary.
Where is the Basque Country located?
The Basque Country is situated both in Spain and France.
It counts 7 provinces, 4 in Spain, 3 in France.
Each region has its own dances, traditions, beliefs, festivals. Many cities or villages often have their own dance!
As with the Basque cuisine, each province has its own cultural identity despite a strong Basque identity above all.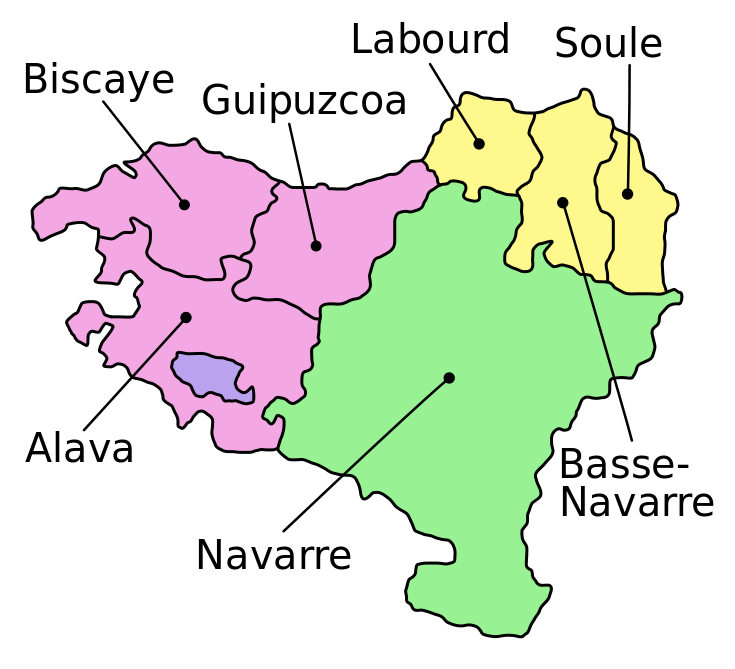 If you look at the map, Biscay (Bilbao), Guipuzcoa (San Sebastian), Alava (Vitoria-Gasteiz) and Navarre (Pampeluna) are the 4 Spanish Basque provinces.
Labourd (Bayonne), Basse-Navarre (Saint Jean Pied de Port) and Soule (Mauleon) are the 3 French Basque provinces.
In this article, festivals will therefore be classified by month but will also include the province, or even the village, where they take place.
You will also find links to Booking allowing you to have direct access to hotels in the area.
I have added only those that are the best rated for each place.
Which Basque festivals will you find in the Basque Country agenda?
You will find in the Basque Country agenda some of the most traditional Basque festivals.
It is not an exhaustive list but a passion for traditional cultures, which led me to list the festivals and celebrations I heard about or attended.
For several years, I collected them in a diary and at the end of 2018 I installed a calendar on my website so that you can organize your stay in the Basque Country according to these events or simply organize your schedule if you live here.
Disclaimer.
Beware: I'm not a tourist information but an independent travel blogger.
I struggle myself to get the information for the festivals, that's why I give it a list here so you know which festivals are interesting. But always check with the local tourism office for the dates as it's subject to change.
How to use the agenda of the Basque Country festivals?
Multiple options are available to you:
– you are not looking for a specific festival: search in the calendar according to the dates you are interested in.
– you are looking for information about a specific festival or place: use the blog search function (the magnifying glass).
You Need a holiday rental or guide in the area?
The concept of my ethno location is to show you the Basque Country as a local by giving you all the information you need and helping you to discover places and traditions even most locals don't know!
You can see the description of the apartment for 5 people, on the ground floor of my house and in a totally enclosed orchard of 2 500m², here.
I also offer my guiding services whether or not you stay with me.
You are a Basque company and you want to be included in the agenda? Contact me.
You can contact me directly by calling 0033626034311 or via the contact form below.
Receive the checklist to organize your next independent trip and my advice to travel serenely close to the people. It's FREE!